Prof Luke O'Neill wins the 2017 Provost Innovation Award
27 November 2017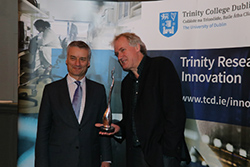 Professor of Biochemistry, Luke O'Neill was awarded the highest accolade at the Trinity Innovation Awards 2017 ceremony, where nine leading Trinity researchers and inventors were acknowledged for their innovative research and entrepreneurship.
Luke won the overall Provost Innovation Award for his outstanding contribution to innovation throughout a career where he has consistently translated his academic success into patents, licences, industry collaborations and start-ups.
More details are available on the Trinity News and Events website.