Prof Andrew Bowie presented with 2017 ISI Public Lecture Award
27 April 2017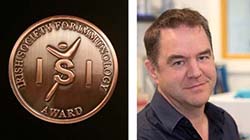 Professor Andrew Bowie (School of Biochemistry and Immunology, Trinity Biomedical Sciences Institute, TCD) was presented with the 2017 Irish Society for Immunology Public Lecture Award, on Thursday 27th April.
This event was hosted in association with the Irish Times.
As part of his award ceremony, Professor Bowie presented a public lecture entitled: "Viruses and us: playing host to the enemy" In his lecture, he discussed the fascinating relationship between us and viruses – how viruses invade our cells, how our cells are equipped to detect and thwart such an invasion, and why the same cellular anti-viral detectors that protect us from these invaders can also cause damage, chronic inflammation and autoimmunity.
This lecture also marked part of the ISI's contribution to the European Day of Immunology 2017.