Postgraduate Students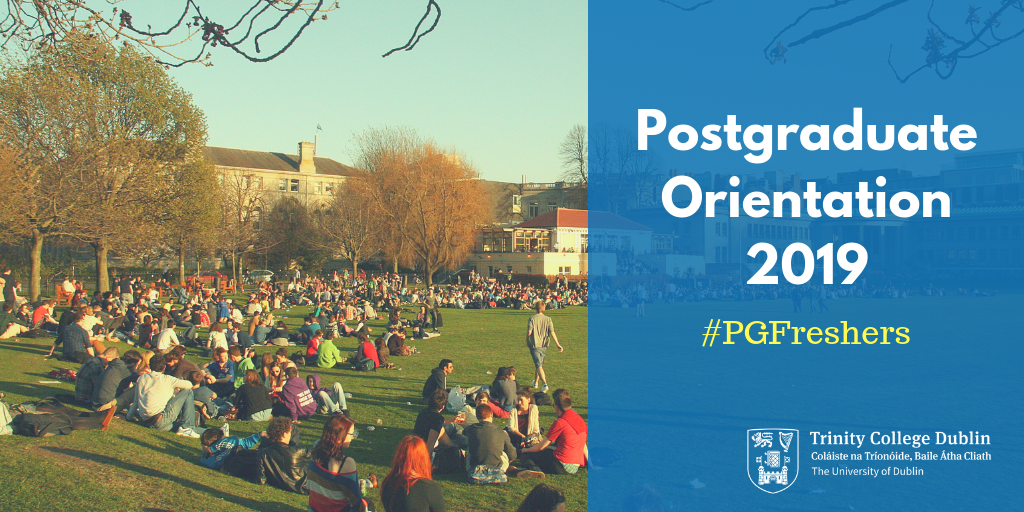 Slides from Postgraduate Orientation September 2018
Welcome to Trinity!
If you are just starting as a postgraduate student, or if you missed orientation in September, there will be a morning of postgraduate orientation on Friday 18th January 2019. This will cover student services in Trinity, the student-supervisor relationship, thriving as a postgraduate student and a Library tour.
Details of the timetable are available on the timetable page.
Please register here: https://www.eventbrite.com/e/postgraduate-orientation-january-2019-tickets-54532368783.
Postgraduate Orientation will be from August 26th - 30th 2019. If you are new to Trinity (or just new to postgraduate study) we recommend you attend the week to learn about supports & services, academic skills for postgraduate study, your student-supervisor relationship and much more.
Key dates
| | | |
| --- | --- | --- |
| | 27-31 August 2018 | Postgraduate Orientation Week |
| | 3-7 September 2018 | Freshers' Week (Orientation for Undergraduates) |
| | 10 September 2018 | Michaelmas Term teaching begins |
| | 30 November 2018 | Michaelmas Term ends |
| | 10-15 December 2018 | Michaelmas Term Examination Period |
| | 17 January 2019 | Visiting and Erasmus students Orientation |
| | 21 January 2019 | Hilary Term teaching begins |
| | 12 April 2019 | Hilary Term teaching ends |
| | 22-26 April 2019 | Hilary Term Examination Period |
| | 29 April - 3 May 2019 | Trinity Week |