Changing Landscapes: Extreme Weather in Ireland
Our climate is changing. Extreme weather conditions are becoming more common in Ireland. A prime example of this occurred in Inishowen in Co. Donegal in August 2017. At the very top of the Inishowen Peninsula is Malin Head, Ireland's most northerly point, which stretches out into the North Atlantic Ocean. In 2017, the Inishowen area was hit by severe flooding, which caused substantial damage to land, property, homes and livestock throughout Inishowen all the way to Derry City. At the time, RTÉ News reported that these were "unprecedented levels of flooding in the north west." 63% of the month's average rainfall fell within nine hours on August 22nd, 2017. Roads and bridges suffered significant damage, trees came down, cars were overrun with water, property and houses were flooded, entire fields of crops were lost.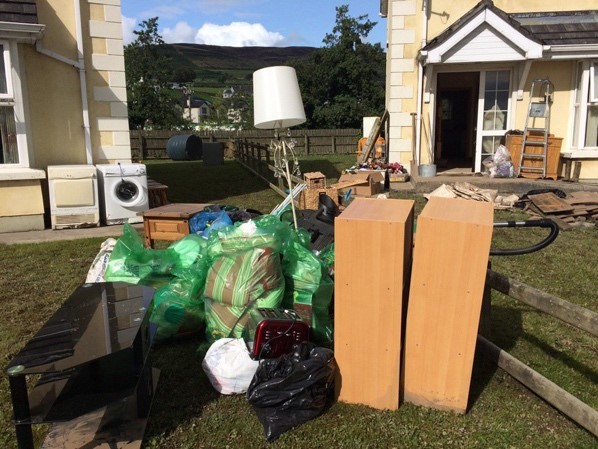 TD Kevin "Boxer" Moran, Minister of State at the time with responsibility for the Office of Public Works and Flood Relief, stated that he was working to ensure that "every possible assistance is available to persons affected by the event and to ensure that damaged road and bridge infrastructures are addressed as soon as possible." He advised that people affected by the floods should contact their local Department of Social Protection Intreo Centre. RTÉ News reported that local residents were devastated by flooding, with one quoted as saying, "Everything's gone, ruined lost."
RTÉ's Teresa Mannion, whose reporting on extreme weather conditions and "unnecessary journeys" became a brief media sensation in 2016, tweeted the photo on the left from the region on August 23rd 2017. She reported: "People in Burnfoot, Inishowen say they have lost everything after flooding." The Irish Times quoted senior engineer with Donegal County Council Brendan O'Donnell as stating that it was impossible to plan for this kind of extreme weather: "It's not something we could have planned for. Sheer volumes of water could simply not get away, with many roads acting as rivers or water conduits." But planning for this kind of weather was exactly what the people of Inishowen sought to do. Local Senator Padraig Mac Lochlainn told the Times that the people of Inishowen would "sit down and plan a route forward, but we do need Government assistance."
Protection and management of the natural landscape had already been identified as integral for the area. A year before this event took place, a grass roots organisation was established: the Inishowen Rivers Trust. It became a registered charity in March 2018. The aim of the charity, according to their website, is to "conserve, protect, rehabilitate, and improve the rivers and natural waterbodies of the Inishowen Municipal District", with the goal of "the advancement of environmental protection or improvement for the benefit of the public."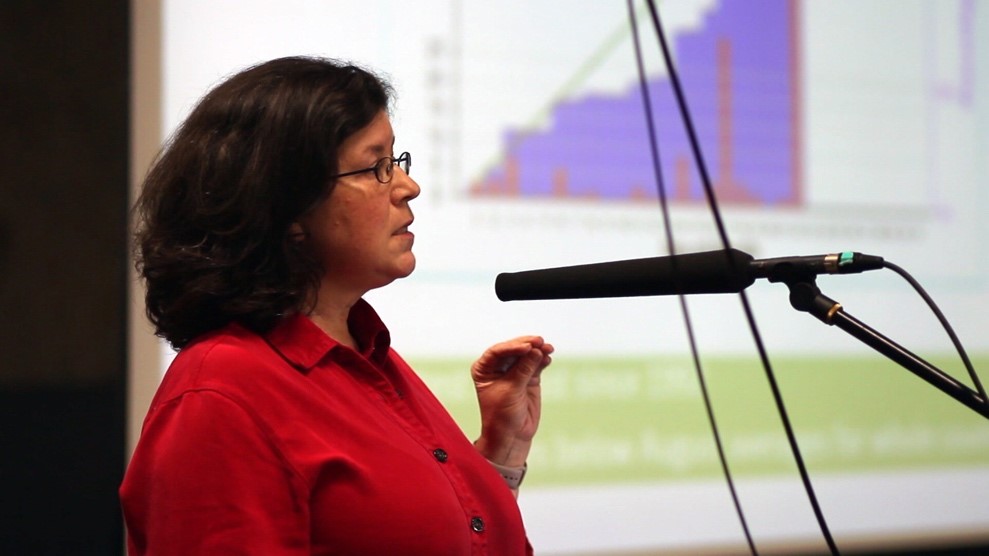 In 2018, the Trust commissioned Dr Mary Bourke (pictured left) from the Department of Geography in Trinity College Dublin to carry out a study into possible options for implementing natural water retention measures in Inishowen.The goal was to mitigate against future flood damage. "Natural" measures refers to the use of existing aspects of the landscape including using peatland areas to drain and block water, debris dams, and floodplain storage. This is preferable to the construction of walls and infrastructure, which can be very costly and also intrusive on, and potentially damaging to, the environment. It means using the natural vegetation and hollows of the land. This is both affordable, and brings employment to the local community.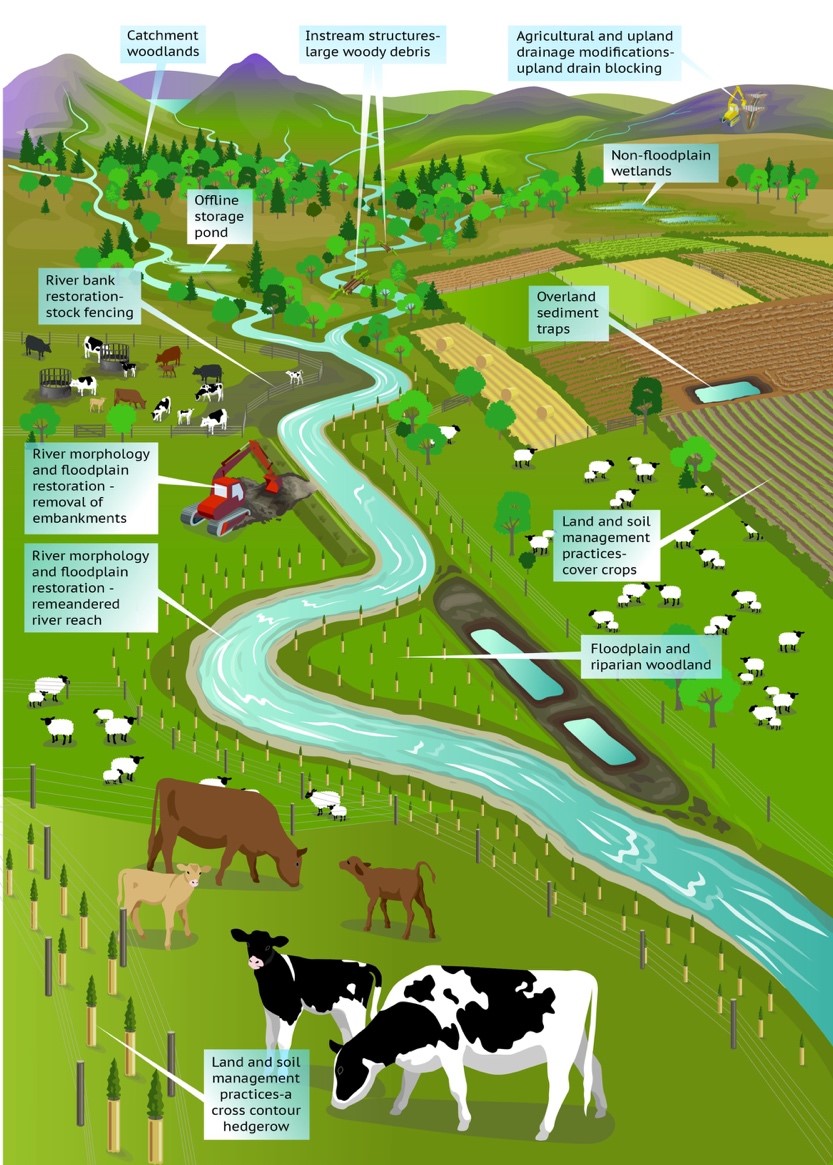 The Office of Public Works (OPW) supplied the funding for this project, suggesting that the flooding in August 2017 added extra pressure for immediate action to be taken. Indeed, in May 2018, "Boxer" Moran published 29 Flood Risk Management Plans to address flood risks in Ireland. Since 2018, Dr Bourke has worked with the Trust and the local community, including landowners, to assess the opportunities for nature-based approaches, that have been applied successfully in Scotland, for example, for slowing the water's arrival water into areas prone to flooding in Inishowen. The diagram on the right - taken from the Scottish Environment Protection Agency's Natural Flood Management Handbook - illustrates these natural water retention measures.
Dr Bourke is a leading academic in the field of geomorphology, particularly in relation to extreme environmental events such as flooding. She has published over seventy texts on the issue, and has been invited to speak at dozens of Irish and international conferences. When I sat down with her, she told me that in 2017 she made the decision to focus her academic research on helping counteract climate change and encouraging sustainability in the natural landscape in Ireland. She is also interested in the impact of the landscape and environmental events on the people who live there. As the events outlined above demonstrate, environmental events such as flooding can have a major, and traumatic, impact on a local community.
Dr Bourke has conducted extensive research into methods of using the natural landscape to slow down the flow of water, and retain water so that excessive flooding does not occur. Dr Bourke was invited by the Inishowen Rivers Trust to submit a tender proposal to act as a consultant on a natural flood management plan. She then contacted Trinity College Dublin's new consultancy office, CONSULT Trinity, to seek advice on consultancy fees, insurance and VAT. When she was subsequently awarded the funding, CONSULT Trinity took care of the contract negotiations, invoicing, and disbursement of fees on her behalf.
Consultancy is becoming an increasingly popular activity for academics in Ireland. Over the past ten years in the UK, and increasingly now in Ireland, consultancy has become a tried-and-tested method of communicating the value of academic research in solving specific problems outside of an academic context. Academics have found that many organisations – such as charities, NGOs, policy-makers, or companies – see the benefit of input from experts with such unique skills, experience, and critical thinking approaches. They value the opportunity to publicise that they are working with Trinity, as Ireland's highest ranking university, and a leading academic in their field.
Dr Bourke explained that she worked with the Inishowen Rivers Trust to organise a series of events around raising awareness of flooding in the local community. She also worked to develop an action plan of how to identify the most beneficial steps forward. They developed an "opportunity map", a plan to slow the flow of water using the natural landscape. Human impacts on the land has created problems, she told me, especially because "we straightened the rivers in Ireland." The installation and trial of natural measures is now being progressed. She describes the issue as "gathering momentum."
Dr Bourke has contributed to consciousness-raising of the importance of biodiversity and repairing the natural landscape, but she says it is also about "co-design with the local community," about "building narratives" and "understanding the stories" of the people who live in a place. This includes the "emotional scarring" caused by people's experiences with devastating flooding. It is about helping people to "understand why it happened."
By applying research within the context of these local communities' narratives, real impact can be made. As the work has been processed using Trinity's consultancy office, she comments that she was free to get on with the project, while "the processing of the project could be taken out of my hands and I knew I was effectively legally protected. It was very beneficial to have the costing of the project arranged on my behalf, and I could use the money generated to fund PhD students and their research." In addition, the consultancy provided her students (Rob Halpin and Fiona Brady) with the unique opportunity to get 'real world' experience in applied geographic research. She said that "it has certainly exposed them to the type of careers they can engage in, as many want to have a positive role in meeting the challenges of climate change".
Dr Bourke highlighted that the project also positively impacted her life in Trinity. She began to include some of the material from the project in undergraduate lectures, thus training young people to be more aware of biodiversity and sustainability issues relating to the Irish landscape. Dr Bourke stated that she is "actively recruiting new PhDs and post-docs," and that "this is a growth area in research groups" in Ireland.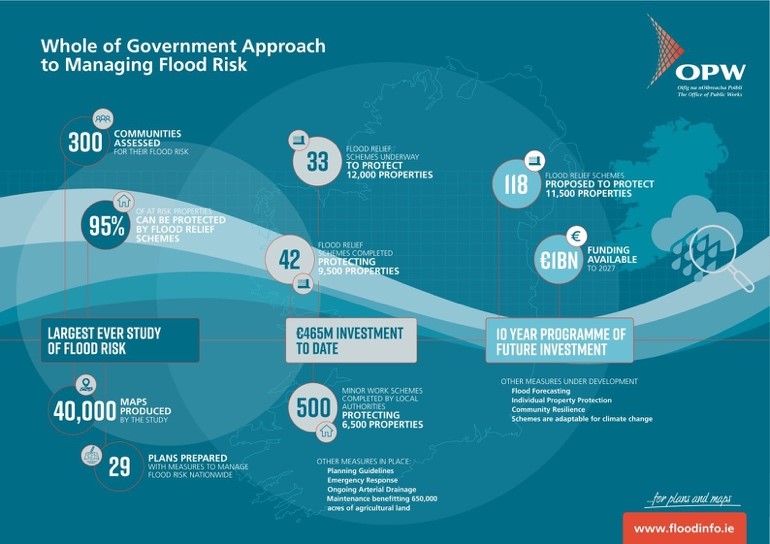 This certainly seems to be the case. Currently on Mr Moran's website, under the title "Boxer Delivers", there is a statement announcing that on January 12th, 2020, the Government revealed a €7 million investment to "advance a planned programme of maintenance works" for flood alleviation along the River Shannon. Mr Moran lost his seat in the recent election to Sinn Féin candidate Sorca Clarke, so responsibility for this investment will fall elsewhere. As recently as January 30th, 2020, Conor Galvin from Flood Risk Assessment and Management at the OPW published a piece on their website about the National Water Retention Measures being undertaken to "deliver multiple environmental benefits for habitats, carbon sequestration, water quality, flood mitigation, and public amenity." They are putting in place measures that "address water-related challenges by restoring or maintaining ecosystems as well as national features and characteristics of water bodies using natural means and processes."
The article specifically mentions Dr Bourke and her work, and continued collaboration with other universities and institutes in Ireland and the UK. The launch of the results of Dr Bourke's study takes place on Friday February 14th 2020, in Carndonagh. According to the event page, the launch "provides an opportunity for the local community to engage with flooding experts and consider the implementation of such measures locally." This suggests that Trinity academics can have a real influence on our social and political reality, and that working to apply academic research and expertise outside of academic contexts can open up new opportunities for real change.
Article by Dr Kate Smyth, Consultancy Development Officer, CONSULT Trinity, Trinity Research and Innovation.

For more information on academic consultancy visit CONSULT Trinity
Find out more about writing for researchMATTERS here.