National Collection of Children's Books: Repositioning Children's Literature in Ireland
Coming to the Trinity Long Room Hub on Tuesday the 24th of May 2022 is Curiouser and Curiouser: The Great Children's Book Panel Quiz Show,a special event held in partnership with the International Literature Festival Dublin, the School of English, the Trinity Long Room Hub Arts and Humanities Research Institute, and the Office of the Dean of Research.
This entertaining and educational event will then be followed by the launch of the Research Impact Case Study for the National Collection of Children's Books (NCCB) project by Trinity's Dean of Research, Professor Wolfgang Schmitt, and an in conversation chaired by Professor Carmel O'Sullivan, Head of the School of Education in Trinity College Dublin and the convenor of the Arts Education Research Group (AERG). The conversation  will provide an in-depth opportunity to discuss the National Collection of Children's Books and highlight areas of future research.
As well as showcasing the world-class research being conducted in literary studies within the university, this event marks an important milestone in research impact for the Arts and Humanities in Trinity College, Dublin. In 2020, the Office of the Dean of Research initiated a two-year pilot project to create a Research Impact Unit. TCD's Research Impact Unit works closely with the Trinity Long Room Hub team, the Office of the Dean of Research,  the Library's research informatics unit and other units across the university, to support the development of, and communicate the diversity of impacts arising from Trinity's research. The Research Impact Unit's aim is to develop a repository of impact case studies aligned to the University's Research Strategy, capturing and reporting on both quantitative and qualitative data to raise the profile of our research, both internally and externally.
The NCCB Research Impact Case Study
The Research Impact Unit has been working closely with the Co-PI of the NCCB, Professor Pádraic Whyte, associate professor of English and a director of the Children's Literature MPhil programme at the School of English, in order to foster interest and engagement with the project's vital online platform. The NCCB is the result of a cross-disciplinary, inter-institutional, and multi-year collaboration which has changed the landscape of children's literature in Ireland. This Irish Research Council-funded scheme was the result of research led by Dr Whyte and Dr Keith O'Sullivan (Dublin City University) in collaboration with five partner libraries. It has already proven to be a valuable tool for international and transdisciplinary research, and over 73,300 users have accessed the platform since 2015.
Research Impact initiatives such as the NCCB Case Study encourage scholars to consider new opportunities and avenues to publicise and share their research. Between 2020 and 2022, the Research Impact Unit has celebrated the diversity of research impact at institutional and individual levels through case studies, researcher profiles, webinars, applications, and events. The National Collection of Children's Books Research Impact project follows on from the college's first case study under this pilot which focused on the 1641 Depositions Project and was launched in 2020 by President Mary McAleese. The 1641 Depositions Project has been instrumental in re-imagining how we engage with digital cultural heritage and made headlines worldwide.
This second case study demonstrates the versatility and flexibility of research impact as a model for communicating the diversity of impacts. The NCCB project was completed just six years earlier, and the collection encompasses a wider collection of literature. The children's collection compiled by the NCCB project encompasses educational texts as well as literary texts, everything from picture books to Young Adult fiction, from four-hundred-year-old texts to books published up to 2014. Research impact at Trinity, prioritising as it does a researcher-centric approach which reflects each researcher's differing aims and aspirations, encourages diversity of thought and practice and has emerged as a model for fostering research of all types across the disciplines.
The National Collection of Children's Books
The NCCB project includes an online open access platform with information on over 250,000 children's books in more than 90 languages from five Dublin libraries. The database includes a detailed analysis of more than 500 educational and literary texts, including books from Ireland or about Ireland, and books explicitly targeting girl readers. The NCCB has also demonstrated its world-leading qualities in archival research, with Timothy Young, curator of the Betsy Beinecke Shirley Collection of American Children's Literature at Yale University, observing that "The NCCB project showed me that there is great value in bringing together information about books in a common discipline from disparate libraries. … I think of the NCCB as a very smart proof-of-concept - easy to navigate and with great faceting for focusing in on key information."
Certainly, the NCCB is an ambitious and innovative approach to children's literature in Ireland: before 2015, no central mechanism existed for researchers to simultaneously search for and explore children's books across the various collections held in Dublin's libraries. This meant that previously the extent and scope of the holdings of the various collections were largely unknown, as not all catalogues in the participating libraries were open access and available online. The NCCB has radically changed Ireland's research environment, providing immediate access to scholars and the general public alike.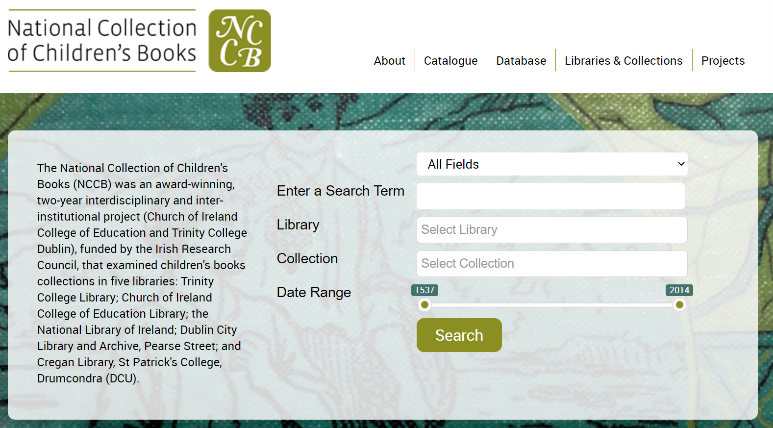 The online platform consists of two main components: a catalogue and a database which includes records of all titles of children's books collections from five of Dublin's key libraries: The Library of Trinity College Dublin; Church of Ireland College of Education Library (CICE); the National Library of Ireland; Dublin City Library and Archive, Pearse Street; and Cregan Library, St Patrick's College, Drumcondra (DCU). In this way, the NCCB has been a valuable tool in increasing our critical understanding of and access to children's literature as well as increasing the interconnectivity of Ireland's pre-eminent literary institutions.
The project itself is an exemplar of the collaborative research taking place in Trinity College Dublin between schools and alongside external bodies. Research took place over two years, from December 2013 to December 2015. The core research team comprised two principal investigators, Dr Pádraic Whyte (TCD) and Dr Keith O'Sullivan (formerly CICE, now DCU); two TCD postdoctoral researchers, Dr Ciara Boylan (now NUIG) and Dr Ciara Gallagher (now Kid's Own Publishing); and, a research assistant and catalogue developer, Mr Paolo Defant. The upcoming event at the Trinity Long Room Hub will be an important way of continuing this vital collaborative and interdisciplinary effort, with artists and academics sharing and building upon their knowledge in a collegiate atmosphere of friendly competition.
Celebrating Children's Literature on May 24th, 2022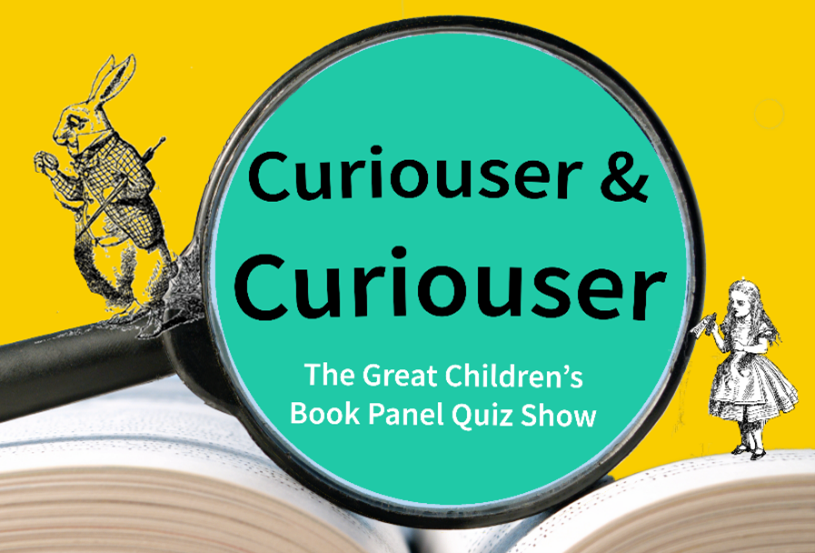 Curiouser and Curiouser, hosted by Professor Whyte, will feature both children's authors and researchers in the field of children's literature. Starting at 17:30, two teams of experts will compete in a panel quiz show demonstrating their knowledge of and enthusiasm for children's books, both old and new. Participants include current Laureate na nÓg, poet and children's author Áine Ní Ghlinn, Peter Hunt, leading expert in children's literature, and Siobhan Callaghan, IRC postgraduate scholar working on refugees in children's literature. This will enable the public to engage with some of Ireland's foremost specialists in the field and showcase some of the valuable insights that the NCCB can provide.
The following events, which include the launch of the NCCB's Research Impact Case Study by Professor Wolfgang Schmitt and an in conversation chaired by Professor Carmel O'Sullivan, will provide an opportunity to highlight areas of future research for the NCCB. Research funding, which was provided by the Irish Research Council, has been integral to the everyday running of the project. It was key to providing support to the researchers and creating the online platform. Going forward, funding will be vital to keep the catalogue and database up to date as well as continuing archiving activity. Future considerations include making the materials accessible to a wider audience – including schoolchildren – and establishing links with other literary bodies: collections in important libraries such as the John Manning Collection held in University College Dublin would be valuable additions to the NCCB catalogue.
A free event that will be both educational and entertaining,  Curiouser and Curiouser will appeal to  anyone from ages fifteen and up with a love of children's literature. Registrations are now open at Eventbrite. You can visit the National Collection of Children's Books here to access information on over 250,000 children's books kept in the collection's five partner institutions. For any queries regarding TCD's Research Impact initiatives in the Arts and Humanities, you can contact Trinity Long Room Hub's Research Impact Officer, Dr Giovanna Lima, at Giovanna.Lima@tcd.ie.
- Reporting by Dr Sarah Cullen, Office of the Dean of Research