Trinity Research Excellence Awards 2020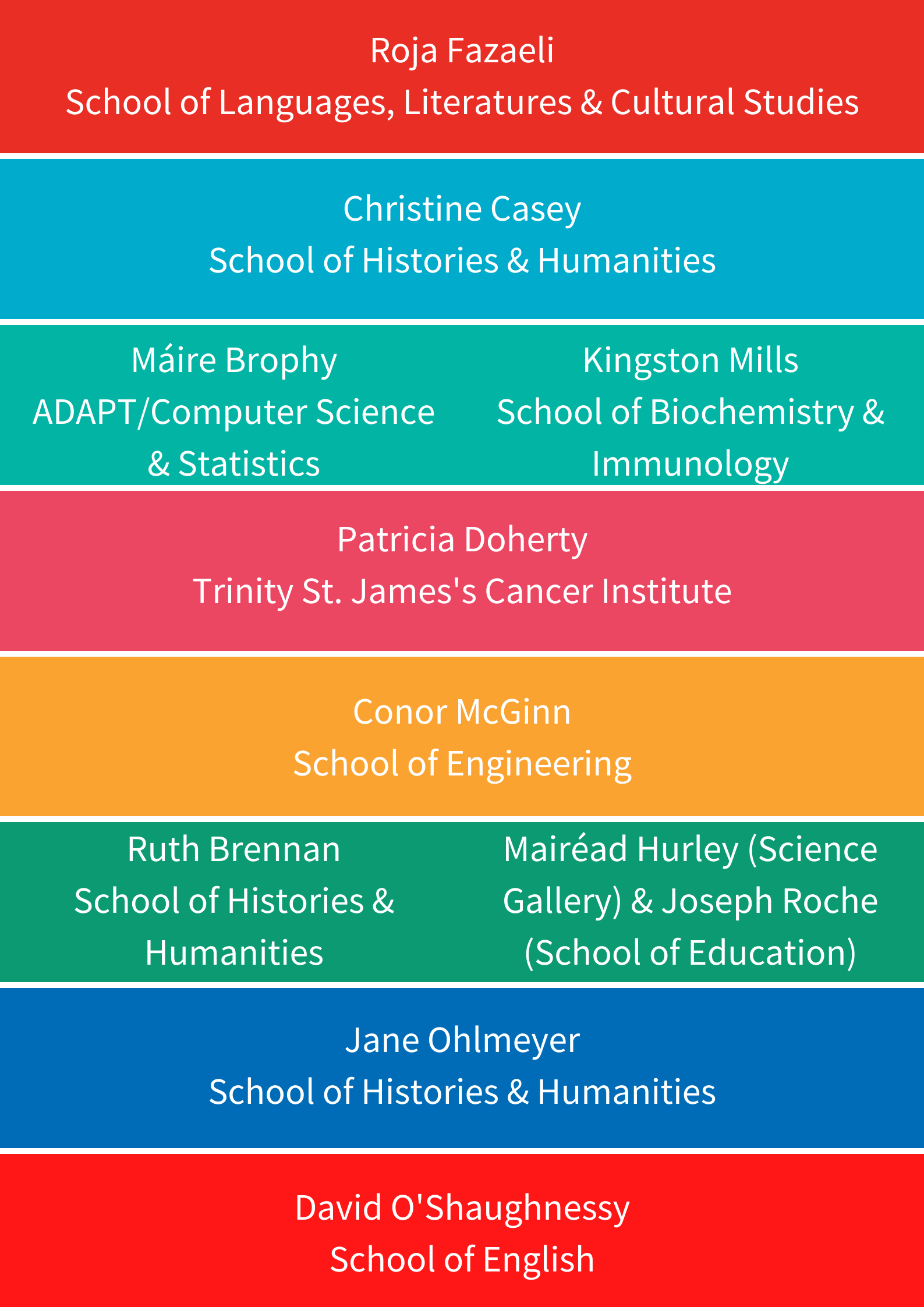 When the
Living Research Excellence Strategy
and
Research Charter
were launched in 2019, discussion soon began about how we could live the principles articulated in those documents. One of the suggestions that was brought to the Office of the Dean of Research was that a set of awards dedicated to research should be created. Trinity already has a number of excellent internal awards - for innovation and civic engagement, for example - but there had never been a specific award for research.
In developing the awards, however, we soon hit on the problem of what their ideal format could be. Traditional awards can often impose time limits on activity, or place people in categories according to their apparent "seniority". They can also tend to only recognise certain activity that might not always reflect the depth and range of research activity that happens in a university. We wanted to avoid these pitfalls, and to create a set of awards that would include everyone, academic and professional staff alike. We also wanted to encourage the recognition of all kinds of research activity. To do this, the Office of the Dean of Research decided to link our awards to the principles in the Research Charter which outline our vision of how research is done here.
We asked the Trinity community to nominate those colleagues they felt most embodied the spirit of the principles, and they responded with incredible enthusiasm! We received nearly 100 nominations from all across the university that highlighted all sorts of research activity. Most notable across all the submissions, was the huge respect and admiration everyone had for their colleagues. Of course, this also made the awards committee's task even more difficult in deciding who the recipients would be.
We had planned to hold a ceremony on April 2nd at which the awards would be announced and celebrated. Although an in-person event is no longer possible, we are still pleased to announce the recipients of the Trinity Research Excellence Awards for 2020. Over the coming weeks, we will be highlighting each of the recipients and their work on researchMATTERS. All of the nominees have shown an inspiring commitment to living the principles of our charter in how they conduct their research. We are delighted to share the list of recipients with you here, and extend our congratulations to them and all of our colleagues who were nominated for an award.
TRINITY RESEARCH EXCELLENCE AWARDS 2020

Cherish academic freedom, diversity of scholarship, and pursuit of truth

Roja Fazaeli, School of Languages, Literatures and Cultural Studies

Position research at the heart of Trinity

Christine Casey, School of Histories and Humanities

Foster and grow research talent

Máire Brophy, ADAPT/School of Computer Science and Statistics

and

Kingston Mills, School of Biochemistry and Immunology

Harness our collective expertise for the greater good

Patricia Doherty, Trinity St. James's Cancer Institute

Broaden our local and global impact

Conor McGinn, School of Engineering

Engage profoundly with our publics

Ruth Brennan, School of Histories and Humanities

and

PROBE: Mairéad Hurley (Science Gallery) & Joseph Roche (School of Education)

Stand up for research

Jane Ohlmeyer, School of Histories and Humanities

Dean of Research award

David O'Shaughnessy, School of English