About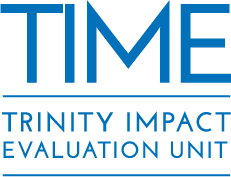 The Trinity IMpact Evaluation Unit (TIME), is a research centre based in the Department of Economics in Trinity's School of Social Sciences and Philosophy. TIME brings together researchers in economics, development practitioners, and policy makers in a collective effort to estimate the impact and understand the underlying mechanisms of development projects, aid, and investments.
TIME contributes to the global debate on development. Our vision is to provide strong evidence to inform policy, so that better investments with a real impact on the development process can be made.
The central objective of TIME is to produce research of the highest academic standard while, at the same time, facilitating the dissemination of research more widely and providing training to development practitioners on rigorous methods of impact evaluation.
TIME currently consists of nine development and political economists. The eight core members of TIME are Prof. Andrea Guariso, Prof Martina Kirchberger, Prof. Michael King, Prof. Nicola Mastrorocco, Prof. Tara Mitchell, Prof. Gaia Narciso, Prof. Carol Newman and Prof. Alejandra Ramos. In addition, there are eight PhD students and two post-doctorate researchers affiliated with TIME. This represents one of the largest research clusters of development economists in Europe.
The current portfolio of TIME projects spans a wide set of relevant issues, such as financial products and technology, health and nutrition interventions, community engagement and urban pollution, solar lighting and education, organized crime and media bias.
TIME has entered a partnership with Irish Aid/Department of Foreign Affairs (DFA) which will help establish Ireland as a key player in international development research in Europe.
The partnership with Irish Aid/DFA provides support for an annual Workshop in Development Economics and a Summer School on Impact Evaluation which focuses on developing the skills required to conduct, evaluate and manage programmes on impact evaluation. The workshop which attracts leading development economists from across the globe, examines issues such as climate change, conflict and migration.
Get in Touch
We invite NGOs, policy makers and international organizations that are planning a development project to get in touch with us. We can help in the design of interventions and impact evaluations according to the best practices established by academic research. We also invite researchers working on projects similar to ours to write to us. This will mutually reinforce our knowledge on specific themes and interventions.