START with the EU Corner!
Welcome to our virtual EU Corner! Find out more about how the European Commission supports research, and learn about some of the EU-funded projects at Trinity!
What does the EU fund at Trinity?
A major way the EU funds research is through the framework programmes. These structure how public money is spent on research and innovation across Europe and the collaborations supported include not only universities and research organisations, but also cities and towns, start-ups and SMEs, citizens, and civil society organisations. The current programme, Horizon 2020, ran from 2014-2020 and had an overall budget of €77 billion. 2021 will see the start of the next phase, Horizon Europe, which is set to fund the new generation of knowledge and innovation. This programme will see the introduction of several ambitious new initiatives including the Horizon Europe missions (inspired by the Apollo space missions) which will create large-scale international collaborations in order to tackle the big issues of our time, from cancer to climate change, and the European Innovation Council (EIC) which has the goal of becoming 'Europe's unicorn factory' by supporting high-risk, science-driven start-ups in scaling up.
The core parts of the EU funding programme include 'top down' schemes such as the Global Challenges (health, security, environment, etc.), where the Commission asks applicants to address specific societal and scientific problems. There are also 'bottom up' schemes where researchers are free to choose their own project focus. These include the European Research Council (ERC) grants, which fund the cutting-edge projects of leading researchers in their field, and the Marie Skłodowska-Curie actions (MSCA), which enable researchers to move within and beyond Europe, developing new skills and exploring career opportunities outside the academic sector.
As Ireland's leading university, Trinity College Dublin has achieved major success over H2020, drawing down over €132 million in EU funding for research. Trinity researchers hold 44 of the highly prestigious ERC awards and 82 MSCA grants, including 4 COFUND fellowship programmes (which contribute to Ireland's research capacity by attracting excellent PhD and postdoctoral candidates to the country). Below are just a handful of the innovative, exciting and collaborative EU-funded projects to be found at Trinity.
SHOWCASE: EU-funded projects at TCD
SHARECITY
Lead Investigator: Prof. Anna Davies
Funding programme: ERC Consolidator Grant
Based: Geography, School of Natural Sciences
We may still imagine Ireland as a place of quaint cottages and open pastures, but the future is urban. The UN predicts that by 2030, 60% of the world's population will live in urban environments. A key challenge for our burgeoning cities is access to food: increasing media attention on food banks and food 'deserts' has alerted us to the fact that many people globally do not have stable access to nutritious food. Waste is another critical issue – it is estimated that 88 million tonnes of food are wasted every year in Europe. This not only represents a loss of money and resources, but also contributes to climate change. One way to address these issues is through collaborative food sharing initiatives. These initiatives come in all shapes and sizes from grassroots community gardens to multinational social dining platforms, but all have the potential to reconfigure our urban food systems. Increasingly these organisations are using smart technologies and associated social media platforms, apps and websites (or ICT for brevity), to mediate their sharing.
SHARECITY has mapped and analysed ICT-mediated food sharing initiatives, with the help of international crowdsourcing, in 100 urban areas worldwide. From this, the team have developed the SHARECITY100 Database – a free, accessible and interactive online map providing information on around 4000 food sharing initiatives. Following this, in-depth research conducted with food sharing initiatives across nine cities led to the development of a bespoke online sustainability impact assessment toolkit for food sharing initiatives – SHARE IT – which allows such initiatives to identify, collate and communicate the impacts they create. The project is producing vital data that will help us to understand emerging trends and further support sustainable food sharing activities through internet and computer technologies.
Lead investigator Anna Davies also won the ERC's 'Public Engagement with Research Award' for her online and social media activities – you can keep up to date with SHARECITY's findings via their
social media
and
blog
(which includes a piece on Dublin's own community gardens!).
ERC Awards
ERC awards support investigator-driven, frontier research across all fields, and are awarded on the basis of scientific excellence. These grants, which support five-year projects, are among the most sought-after and competitive in the world of research. Watch the videos below for more examples of ERC projects being carried out at Trinity College Dublin by Redmond O'Connell, Matthew Campbell, and Conor Buckley.
Connecting Nature
Lead Investigator: Prof. Marcus Collier
Funding programme: H2020 Smart and Sustainable Cities
Based: School of Natural Sciences and Trinity Business School
If you have visited the TCD campus in the past year, you may have noticed some changes to the landscape – the lawn at Front Arch has been replaced with wildflowers to support pollinating insects and the new Trinity Business School has a 'living wall' – a vertical garden that both promotes biodiversity and provides occupants with access to nature. These are examples of 'nature-based solutions' – making use of natural processes in order to promote social, economic and environmental benefits. Nature-based solutions are an innovative and sustainable way for cities to address some of their most urgent challenges such as climate change, clean air and water, waste management, and health and wellbeing. However, more knowledge and tools are needed to enable cities worldwide to take up these ideas.
Connecting Nature is a €11.5m Horizon 2020 project linking 31 partners in 18 different countries, plus Brazil, China, Korea and the Caucasus. The project is devising new methods to realise the many benefits of nature in cities, creating innovations in communication and collaboration, new models for financing, and new ways of measuring the positive effects and impacts of nature-based solutions on all our daily lives and livelihoods. Connecting Nature will guide city designers, planners, governments, businesses, and communities along the path to making cities more attractive places in which to live, work and play.
Connecting Nature sees nature as a technology that can provide solutions to climate pressure in cities. A vital part of the project is co-creation – where communities collaborate and work together to agree on a plan of action. This, the team believe, is the key to modifying our unsustainable behaviour and creating a brighter future. To learn more about the project and how to get involved, visit the website at www.connectingnature.eu or follow on Twitter @ConnectingNBS. Presentations on the activities of partners worldwide can also be found on the project's YouTube channel.
SHAPE-ID
Lead Investigator: Prof. Jane Ohlmeyer
Funding Scheme: H2020 Governance for the Future
Based: Trinity Long Room Hub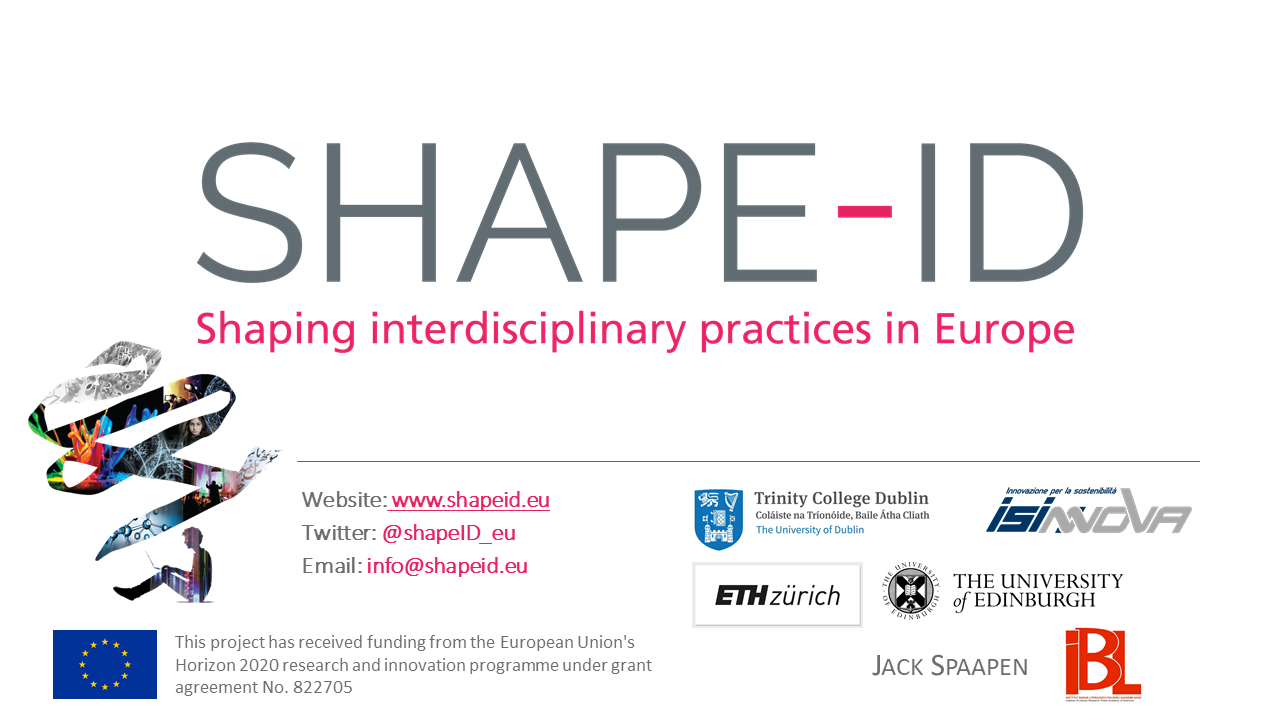 When we think about complex real-world problems like the COVID-19 pandemic, there are many different dimensions to consider. The pandemic is not just a medical or scientific challenge but a social and cultural one. We don't just need a vaccine to get through it, we need to understand how people behave and why they might or might not be willing to take a vaccine. Governments face an ethical dilemma over prioritising the economy, on one hand, or the health of vulnerable populations on the other. At the same time, the pandemic is leading people to rethink their values concerning foreign travel, commuting, and how we define 'essential' work.
Now think about the subjects people specialise in at university: Medicine. Biology. Law. Philosophy. Economics. Politics. Sociology. History. Zoology. Can any one of these areas solve such a complex challenge alone? Imagine them coming together to develop a better understanding of the multifaceted public health challenge that COVID-19 represents and work on long-term measures for pandemic preparedness. That's interdisciplinary research. Instead of staying in their own academic disciplines, researchers can work together to address complex challenges in a more holistic way. What about involving civil society groups, industry and small business owners, artists, patients and all kinds of people who are affected by the problems and who have important knowledge and experience to bring? That's transdisciplinary research.
In the past, these kinds of research have been hampered by the traditional structures of universities, which tend to create a division between STEM (science, technology, engineering, maths) and the arts, humanities and social sciences; and limit collaboration with those outside academia. Research policy, funding and publication opportunities often reflect and reinforce these divisions. A major cultural change is needed to enable more of this kind of collaboration, to address not only future pandemics but other major crises we are facing, such as climate and environmental emergencies, ongoing inequality, unparalleled technological development and challenges to democracy.
SHAPE-ID is a research project funded by the European Commission to look at how we can change the research culture which is currently divided on disciplinary and sectoral lines. SHAPE-ID aims to make it easier for researchers to work with other disciplines and with those from outside academia who understand problems from different perspectives. Working with partners in Switzerland, the UK, the Netherlands, Italy and Poland, we aim to identify the most important pathways for these different groups to engage with one another and to design an online 'toolkit' – a collection of resources such as examples of best practice or guidelines for funders – to help them be part of this change. We don't maintain that everyone should be interdisciplinary – but if we want to develop solutions to major problems that consider the role of behaviour, belief, culture, values, imagination and stories, as well as technology, economics and scientific developments, we do need to make sure that they can be.
SySTEM 2020
Lead Investigator: Dr Mairéad Hurley
Funding Scheme: Science with and for Society
Based: Science Gallery Dublin

The year 2020 has shown us how vital technology has become to education, with many schools and universities moving their teaching online at short notice. It is more important than ever that we develop innovative teaching methods, evaluate what works and what doesn't, and discover new ways for children and teenagers to engage with learning outside of formal environments. We also need to ensure that education is accessible to all learners, including those from minority, economically disadvantaged, and migrant communities.
The SySTEM 2020 Project, coordinated by Science Gallery at Trinity College Dublin, is building an understanding of the theory and practice of science education outside the classroom. We want to support children and young people to become future citizens in the world of fast-evolving science and technology. We are achieving this by mapping the field across Europe, evaluating transdisciplinary learning programmes, examining individual learning ecologies through learner-led self-evaluation tools, and designing best practice principles for educators in the field.
Our research and tools will help to frame science learning priorities and future educational policies. Together we can enable the EU to predict and respond to changes in science education outside the classroom, to develop an equitable and diverse science learning landscape.
Partners: Science Gallery at Trinity College Dublin (IE), Waag (NL), Ars Electronica (AT), Ecsite (BE), Aalto University (FI), Centre for Social Innovation (AT), Kersnikova Institute (SI), Museo Nazionale Scienza e Tecnologia Leonardo da Vinci (IT), LATRA (GR), Centre for Promotion of Science (RS), Bloomfield Science Museum Jerusalem (IL).
For more information, visit the project website: https://system2020.education/

This project has received funding from the European Union's Horizon 2020 research and innovation programme under grant agreement No.788317
Human+
Lead Investigators: Prof. Jane Ohlmeyer & Prof. Vincent Wade
Funding programme: Marie Skłodowska-Curie Actions (COFUND)
Based: Trinity Long Room Hub and ADAPT Centre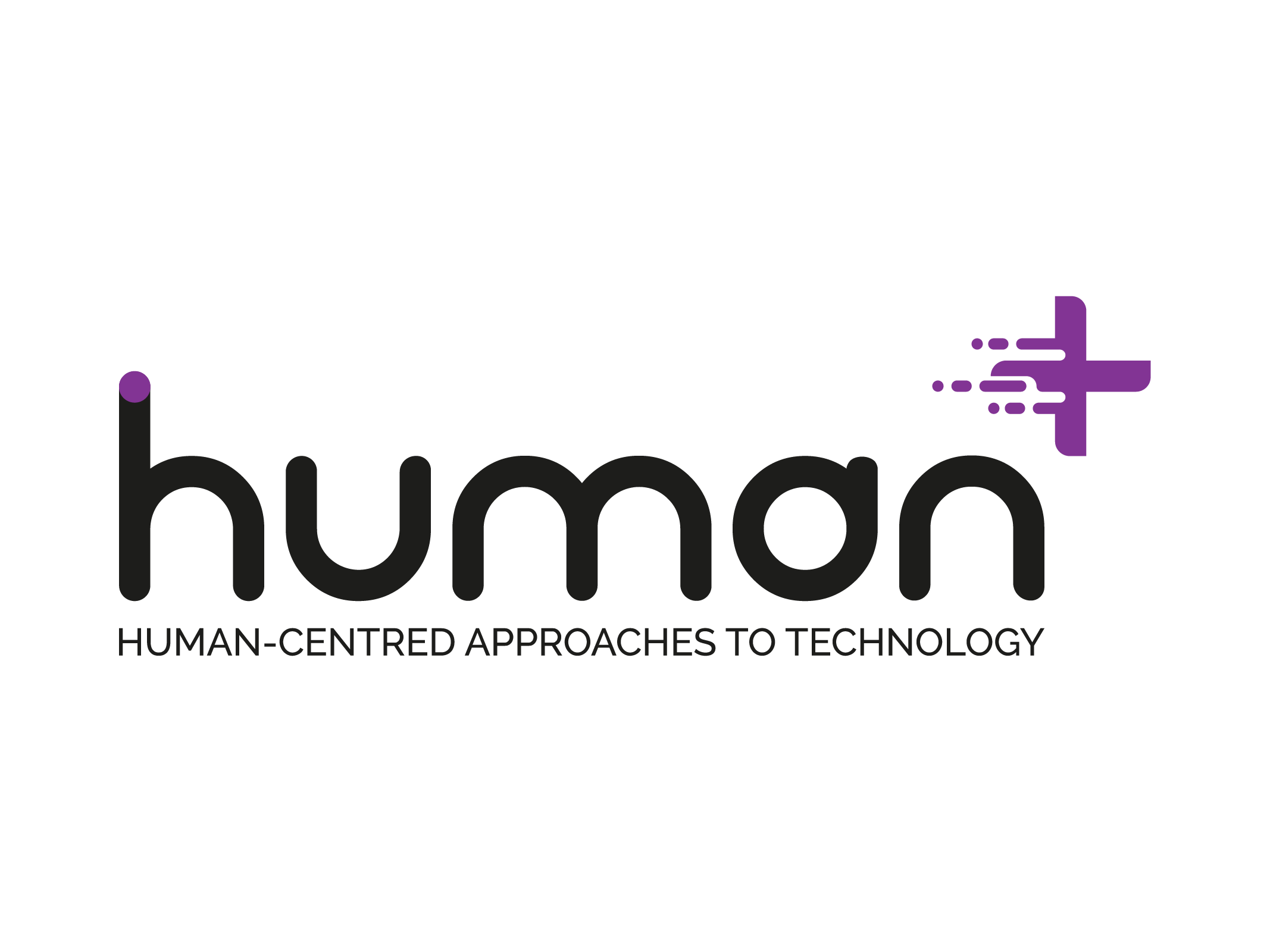 We live in an age of rapidly accelerating technological innovation, with computers and artificial intelligence playing an ever more dominant role in our everyday lives. But what happens when technology outpaces our ability to foresee its wider consequences, or has negative impacts on human life, e.g. increasing social inequality? Popular media such as the TV series Black Mirror often presents our future as a technological dystopia – a world of social isolation and high-tech surveillance. So how can we better understand the relationship between man and machine, creating technologies that are thoughtfully, ethically, and inclusively designed? 
Human+ is a five-year international and interdisciplinary fellowship programme focused on human-centred approaches to technological innovation. 18 postdoctoral researchers will be funded for a fellowship of 2 years as part of this project. They will join a unique training programme that includes interdisciplinary and collaborative research skills to bridge the gap between science and the humanities, as well as opportunities to engage with Irish enterprise.
Are you an experienced researcher with an interest in human-centred technology? Applications to the fellowship are open until 30 January 2021. See the Human+ website for more detail on eligibility and the application process: https://humanplus.ie/.
*********************************************************************************************
For Researchers: EU Funding at Trinity
Are you a TCD researcher interested in learning more about European funding opportunities?
Sign up for Research Focus, a weekly email newsletter of new and forthcoming funding calls.
Go to the Research Development Office website to learn more about European, international and Irish funding opportunities.
Contact the Research Development Office with any queries concerning the application process, including available supports.