Four years of doctoral research? Try presenting it in three minutes!
Céline Thobois, Lórien MacEnulty, Marjorie Metzger, and Sean McKenna sat down together to discuss their experience taking part in the international 3 Minute Thesis competition earlier this year.
So, you just casually stumbled across the word "deubiquitinase" and want to know why it's important for contemporary research? No?! But surely you're reading Samuel Beckett's plays for leisure and rethinking therein what it means to be human?
Still no? No problem! Some of the doctoral students of Trinity College Dublin have you covered with a series of three-minute crash courses on cutting-edge research topics. The renowned globetrotting competition, the 3 Minute Thesis (3MT), was brought right to Trinity's doorstep earlier this year, assembling PhD students from the Arts, Humanities, Social Sciences, Health Sciences, Science, Technology, Engineering and Mathematics in the ultimate test of academic expertise: can you communicate your research to a lay audience in three minutes or less?
That first 3MT competition in March serendipitously brought together a Beckett specialist, a physicist, a neurobiologist, and a chemist, all of whom haphazardly participated in the event's French equivalent, Ma thèse en 180 secondes (MT180), the final of which took place at UCD. Below, read the conversation between this motley crew of scholars as they reflected on their experiences in both competitions.
Céline: Let's start with brief introductions of who we are and what we do. We should be able to do that now!
Lórien: Hello. My name is Lórien (yes, like in Lord of the Rings). I'm from the USA, specifically the state of Colorado. I earned my bachelor's degrees in Physics, Mathematics and News Journalism from Drake University in Iowa, but now I'm embedded here in the School of Physics at TCD as a second-year PhD candidate. I research the efficacy of computational methods in accurately representing quantum materials.

Marjorie: And I thought the resemblance with Lothlórien was unintentional! It is without doubt the best reference I ever heard of. I am a LOTR fan and incidentally from Alsace, France. (We Alsatians say German Shepherd, by the way). I first studied Neuroengineering in EPF Lausanne, Switzerland, before coming to Dublin three years ago for my PhD in clinical medicine. My project investigates alterations of brain electric signals linked with cognitive impairment in Motor Neuron Disease (MND).
Sean: Hi, I'm Sean McKenna from Cambridge, UK. I earned my undergraduate degree in Chemistry from the University of York. I spent a year studying at Nanyang Technological University in Singapore before moving into industry in the UK for a few years. I'm now a third-year PhD candidate in the School of Chemistry at Trinity, and my research is on the development of chemical probes for measuring the activity of deubiquitinating enzymes.
Céline: I'm originally from Auvergne, France. I hold a DEUG degree in French Studies from Université Clermont Auvergne, a BA in English Studies and an MPhil in Irish Studies from Université Lille III. I am now a final-year PhD student based in the School of Creative Arts at TCD. My research looks at the interactions between the human, the environment and technology in Samuel Beckett's drama. But my temporary role is to facilitate our conversation, and actually, one of the questions that was repeatedly asked by colleagues and friends is what motivated us to register for the competition, so we may want to address this first.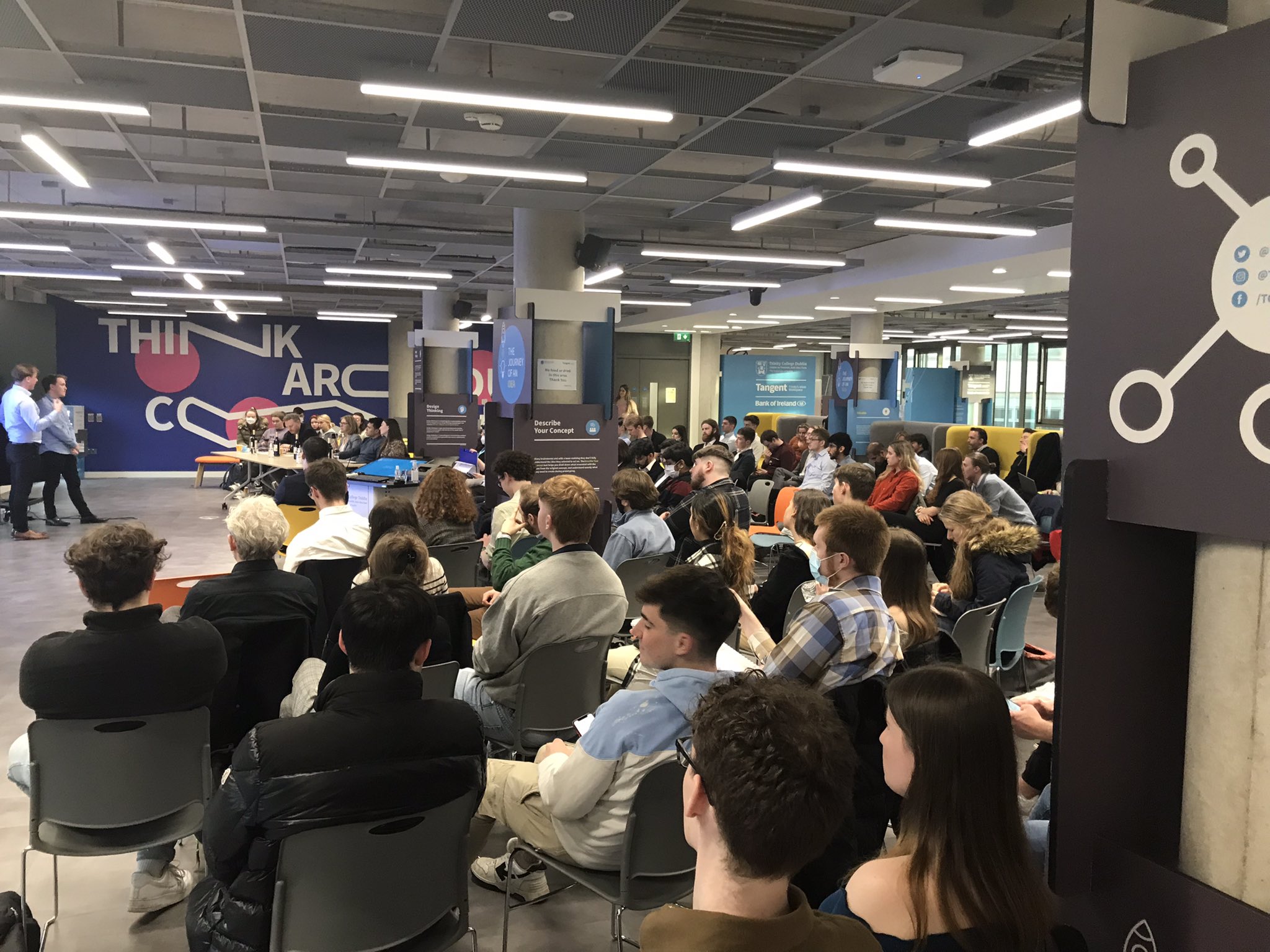 Marjorie: Once, I mentioned genetic aspects of Parkinson disease to someone I just met while carpooling, someone who happened to be the son of a patient. Now, only around 15% of Parkinson cases are familial. As researchers, genetic risk factors and their links with phenotypes are common conversational topics, which is not really the case for the general public. Familial cases are rare, and nobody should be informed of the possibility while carpooling with strangers. Factual integrity is one thing, but we cannot highlight enough how important it is to practise the popularisation of research findings. Using the "right words" outside of the lab is always extremely important but becomes crucial in medical fields. As I can attest, it may have direct, real-life consequences. One misplaced sentence could cause an unreasonable and unwarranted amount of stress. I learnt my lesson, since that day, I practise popularising research findings any chance I get.
Lórien: Joining Trinity's 3MT was, admittedly, a publicity stunt I'd undertaken on behalf of my research group, the Quantum Theory of Materials Group (shameless plug), followed by a sort of a "why not?" decision to join the French MT180. The interface between science and general public communication is not often encountered willingly by scientists in my field—an unfortunate, but completely avoidable, symptom of the field's complexity. To overcome this, I told myself that in participating in these competitions, I would prove, both to myself and to fellow scientists, that our research can be communicated in layperson terms without compromising its factual integrity.
Sean: Honestly, it just seemed like an interesting challenge! Lórien is absolutely right, though. Science communication is a demanding task. I am from a family of non-scientists, so my passion for chemistry tends to be met with blank expressions by my relatives. It's become something of a lifelong challenge to try and communicate why the science I do is cool! I try to use engaging storytelling and analogies to explain my research. As soon as I heard about the 3MT, I began to think about how I could tell this story in just three minutes.
Céline: The first motivation for me was to meet PhD students from other disciplines and faculties, and, being in my final year, it was also a good way to focus again on the general axis of the research at a time when I am immersed in details. Of course, I was also interested in the communication challenge in itself; speaking of which, I wonder if you could explain what you found particularly difficult about this form of presentation?
Lórien: The hard part for me was materialising publicly on the heels of Covid. Sean will remember my spectacular fumble in the semi-finals of the 3MT early in March, where around minute 1:00 of my speech, I both forgot my line and panicked: about eight painful seconds of silence ensued as I closed my eyes and reminded myself that it's ok to mess up, especially on one's first public speaking event since lockdown 2020. The lesson here is: make sure you have a good-looking slide! It may compensate for your awkward oration.
Marjorie: I fully agree and I may add the difficulty of presenting to such a varied audience. While we usually present to peers, we had to adapt to a wide range of backgrounds.
Sean: I'm going to buck the trend here; I quite like speaking in front of an audience! I still suffer with nerves, but as Lórien valiantly demonstrated, you can push through a moment of hesitation and still deliver a great talk. To answer Céline's question, the greatest challenge I experienced was finding a way to deliver a cohesive story with the appropriate scientific content in three minutes. The original version of my 3 Minute Thesis ran to nearly seven minutes! It took many rounds of edits to cut the talk down to one simple idea that I felt would resonate with an audience. Editing was a tough process, but ultimately valuable.
Céline: The competition is indeed mostly about rhetoric but having only one static slide for the whole presentation added to the challenge. It pushed me to think about how I could introduce my research in one image. By contrast with other forms of presentation, such as the Pecha Kucha for example (20 slides in 20 minutes), which has other benefits of course, one needs to create an impactful visual rendition of the essence of their research, and it is clearly not easy. I think Marjorie's take was very smart in that respect. To express the idea of being entrapped in one's body, she used a picture of Kilmainham Jail. The metaphor was very potent, and the visual was also culturally responsive. Oddly enough, the hardest part for me remained getting into the acting zone, to tell the story and make it fun and relatable. It took a lot of work to get there.
Lórien (to Céline): I think I speak for us all when I comment on just how spectacularly you improved going from the English 3MT to a flourishing, flawless French MT180, for which you received Second Place and Public's Choice. What power-source did you tap into? What's your secret?
Céline: Thank you for your question; this is very kind of you. One of the things that made me very nervous after 3MT and while watching videos of past competitions was the importance given to the research methodology. This requirement fits better scientific projects than research in arts and humanities, so it's not surprising that across languages, there is a significantly higher number of winners coming from the sciences than from the arts. Don't get me wrong, I am glad scientists are doing so well; but I think the ratio also reflects an intrinsically formal issue. I hope the competition's criteria evolve to be even more inclusive of different kinds of research, but as a result of current expectations, finding how to explain the theoretical underpinnings of my research in a way that matches scientific presentations was a big part of the job.
The other major change came with the realisation that I missed a part of the exercise for 3MT, as my presentation was more or less an abstract of my research. For MT180, I watched a lot of presentation recordings, including that of Sally Finn-Kelcey at the 2021 MT180 international final. Then, I wrote the full script anew, bearing in mind that I wanted to give an experience of my research to the audience rather than a summary; that's why I started with the moment of silence for example. I made sure to put into practice rhetorical techniques that I had studied for years and rehearsed over and over again with a friend who is a really awesome speaker. What about you, then, how did you rework your presentation between two competitions or two rounds of one competition?
Sean: Simply, I can speak more quickly in English than French. As a result, I had to cut several lines from my original 3MT speech to be within time for MT180. There was a line or two I regret losing, but in the end, it was the only way to make the speech work.
Marjorie: Fewer words and fewer words because less is more.
Lórien: Interesting you say that, Marjorie and Sean; when I was researching my own translation, I found a study concluding that, on average, French is spoken around seven syllables per second, which is about one syllable per second faster than English. I was curious, so I looked at my own speeches, and I found about the same proportion there: 700 syllables in my 3MT speech versus 820 in the MT180. It goes to show, with only three minutes under your belt, every syllable counts!
Céline: You all chose to translate your presentations, so we may take a moment now to reflect on the language component too. Interestingly, we have two native English speakers (Lórien and Sean) and two native French speakers (Marjorie and I) around the table, which means that we all presented in our native language and in a foreign tongue.
Lórien: Indisputably, it was harder for me to speak in French than in my mother tongue. Imagine a seven-year-old talking up the complexities of quantum physics. That's what I feel like. And God-forbid someone asks me a question; then I'd have to improvise. Imagine now a four-year old…All jokes aside, I was forced to change my style of oration. I could no longer rely on the formal, business-like way of speaking I usually employ with English; so, I leaned into it and made my French speech more colloquial, easy-going—that's the only way I know how to speak French, really.
Marjorie: Lórien is too harsh on herself, her French is very impressive. For me, it was easier to feel confident in my native language, obviously, but it nonetheless came with challenges, notably because I work in English. I had to work on translating part of the technical vocabulary I use daily.
Sean: Presenting in French was a serious step up in difficulty for me. I used to study the language years ago, but my limited proficiency has waned badly. I had a pass at translating my English presentation into French with help from both friends and family, but I was less happy with the translated version, even after hours of workshopping. Funnily enough, while Lórien was able to be more colloquial in a second language, I felt like I had to be more formal to ensure I was understood. I have incredible respect for anyone who has to present in a second language, because I found it daunting!
Céline: Your feelings about language are very much shared. Coming back to the broader scope, what do you think are the main benefits of participating in such a competition?
Lórien: I would hope that scientists come away from the 3MT with a greater respect for journalists. Working at the junction between mass communication and physics, I'm quite familiar with the culture of anti-media sentiment that pervades the physics community. I think it's borne out of a fear of two things: 1) that one of your contemporaries is listening to what you're saying and conspiring to correct you in a grotesquely public and bad-faith power-play, and 2) a less-than-expert audience member will take an adulterated version of your science and use it as fodder for their faddish conspiracy theories and/or extremist political agenda. Both of these bely a massive distrust of your audience, one that they absorb and then project back onto you. At that point it doesn't matter if you publicly communicate your science or not: both will result in propagation of the elitism-fueled distrust between the public and academia. That's why we need journalists and public communicators of science—wielding words, they convey the meaning and necessity of our science, whilst artfully bypassing, even assuaging, this distrust.
Céline: In the same vein, I would say 3MT and MT180 contribute to breaking a pervasive hierarchy between different areas of research by facilitating the meeting and promotion of all disciplines. For example, I study the Anthropocene (the geological era in which humanity has become a steering force of Earth systems) from a philosophical and creative perspective. At MT180, I had the opportunity to discuss the concept for the first time with a PhD student in geology, and both of our projects were taken equally seriously. Beyond all the skills we can hone in such a competition, 3MT is therefore a unique opportunity to meet other PhD students outside of one's field. And unexpected collaborations can emerge from it, which is a valuable outcome in an academic world where interdisciplinary research is becoming more prevalent.
Marjorie: There are so many benefits, both for the scientific community and for us personally. Working on conciseness is key. It helps for publications actually, because we have to work a lot on synthesising ideas. And now I can easily find words to describe my work to random strangers or relatives, in both languages!
Sean: There are two main benefits I found. The first is that as an exercise, participation in these events forces you to completely flip how you think about your science. Day to day, I am working through a series of problems, and each one I solve represents incremental progress in my research. It's easy to become entrenched, even maudlin, in that process. So, taking part in these outreach events is like a breath of fresh air. The scope is broad and there is a challenge to both communicate and entertain. It requires a completely different skill set. Secondly, it's been so much fun to learn about other people's research! The talks delivered at these events have been fascinating and brilliant. It's been such a pleasure to receive insights on these topics from passionate and intelligent communicators.
Céline: I think it is time to disclose the results of both competitions at this stage. [Drum roll.] And the winners are: Sean McKenna for 3MT and Lórien MacEnulty for MT180! Congratulations again to both of you. Presentations recognised at MT180 can be watched here. Lórien, you will now represent Ireland at the international final of MT180, which will take place in Montreal in October, so the journey continues for you. Can you tell if you will prepare any differently for that and perhaps how?
Lórien: I'm not sure yet. I'm considering transforming the whole tone of my presentation, letting the more international platform really refine what's most important and what needs to be said. For sure, I want to make this presentation spectacularly meaningful. Tune in on October 6 for a manifestation of these aims.
Céline: As we say in the theatre: "break a leg!", and we'll make sure to cheer on you even at a distance. To wrap up this conversation, I would like to invite everyone to share one piece of advice to future competitors.
Marjorie: We all remember better when facts are associated with emotions. Don't be afraid to be personal.
Sean: That's excellent advice from Marjorie. I'd add that you can be a far more confident presenter when you have taken plenty of time to rehearse your speech. Knowing your lines back to front means that you'll feel less nervous stepping in front of the audience, plus rehearsal allows you to play around with placing emphasis, pauses, perhaps a joke into the speech. Avoid notecards. By the end, you will know what you want to say and how you want to say it, and your delivery will be more organic.
Céline: I totally agree with you both. I would also say: simplify, simplify, simplify. It is not about how much you will be about to tell, but it is all about how impactful it will be, so don't be afraid to give away seconds of silence, and avoid bombarding the audience with too much information. What matters most is to get people excited about your research.
Lórien: Pop culture references are incredibly humanising. It's not wrong to say that Euler's formula is the little black dress of mathematics, and your audience will applaud you more for having made that association.
Céline: Thank you all for your time and for sharing your experience.
We would like to thank the organisers and the sponsors of 3MT and MT180 for the opportunity to share our research in this way and for helping us hone our communication skills. We extend our gratitude to both juries and all attendees who listened to us with care, benevolence and rigour. Finally, we acknowledge our funders: the Irish Research Council, the Trinity Provost PhD Awards, the Thierry Latran Foundation and the Synthesis and Solid State Pharmaceutical Centre (SSPC) of Science Foundation Ireland (SFI).
* Photo credit Sean McKenna via Twitter