A new Research Charter and Living Research Excellence Strategy for Trinity

We launched the new Research Charter and Living Research Excellence Strategy on June 6th, 2019 and to prolong the excitement we decided to write a piece about the event! As he opened proceedings, the Provost noted that it is the first time in our 427-year history that we have a Research Charter and a dedicated Research Strategy.

The launch took place in the beautiful Douglas Hyde Gallery (DHG). The DHG was co-founded by the Arts Council and Trinity College Dublin in 1978 as Ireland's first publicly funded gallery for contemporary art. Housed in the university's Arts Building, the Gallery was designed by the architect Paul Koralek (who also designed the Berkeley Library).

We emblazoned the white walls of the DHG with the seven principles from our Charter. The DHG looked magnificent and was a fitting location for the occasion. More than 250 colleagues from all parts of Trinity College Dublin attended.
Origins of the Charter and Strategy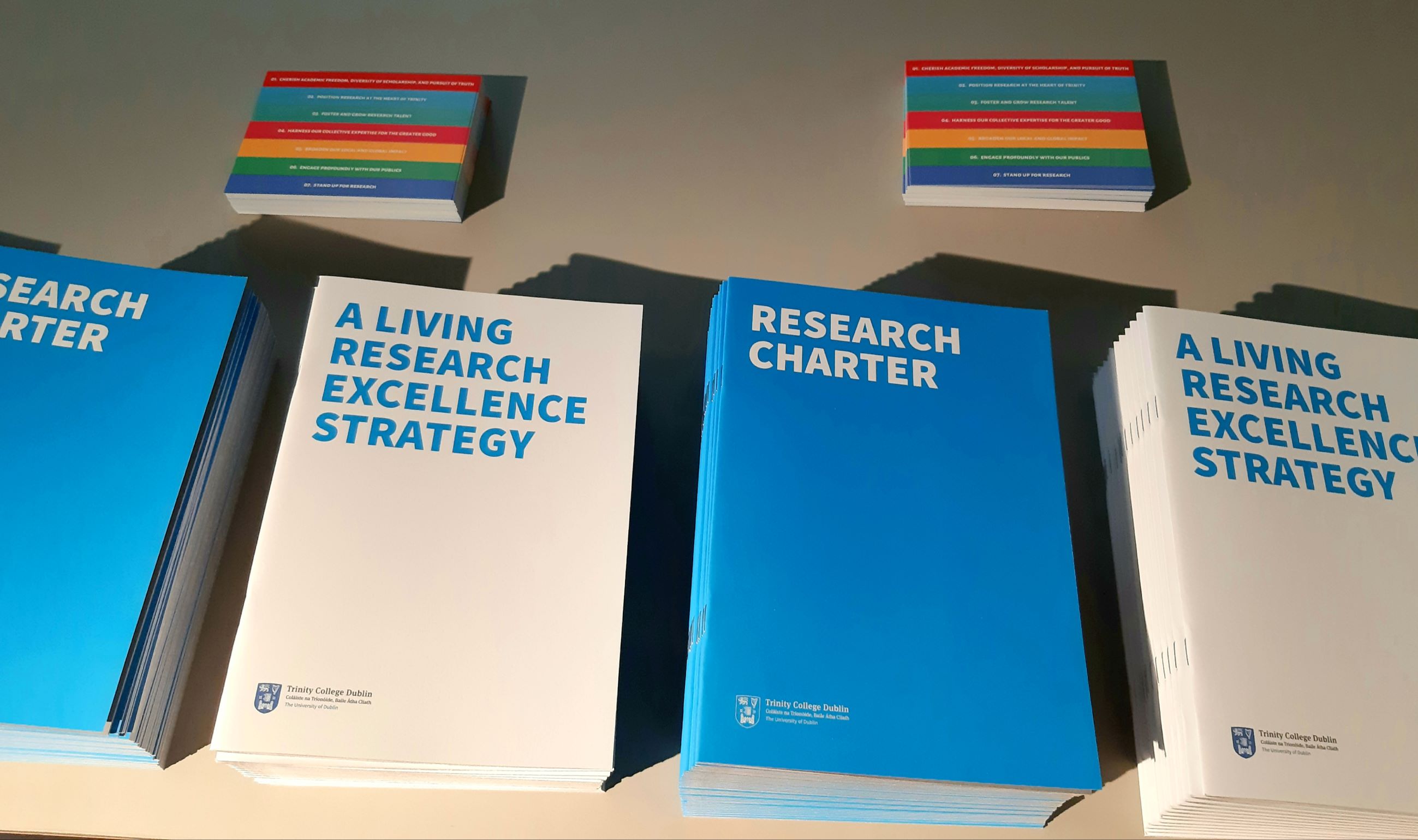 The launch afforded us the opportunity to explain the origins of the Research Charter and Research Strategy.
The Research Charter and Research Strategy are the outcome of a highly collaborative process which garnered hundreds of different inputs from across the university. When we set out to create a strategy it became clear that there was a real hunger to reassert some core principles around our research and to reset what matters to us in terms of research. The Research Charter, based on seven principles, was borne out of this desire.
01. Cherish academic freedom, diversity of scholarship, and pursuit of truth
02. Position research at the heart of Trinity.
03. Foster and grow research talent.
04. Harness our collective expertise for the greater good.
05. Broaden our local and global impact.
06. Engage profoundly with our publics.
07. Stand up for research.
The Living Research Excellence Strategy followed the Research Charter – we asked ourselves how we could live the principles in the Research Charter, or what kind of things would stop us from living those principles, and after much collecting of ideas, mapping of approaches and working together, the actions in the Research Strategy resulted.
The word LIVING was very purposely chosen to reflect that the Research Strategy is not static but something dynamic – a living, breathing document that as we learn and get more answers we update. It is clear to everyone in Trinity that research brings challenges; some of these challenges open up opportunities, and some of them will require much work by us all to solve.
Diversity of Research
One of the key principles in our Research Charter is to cherish the diversity of research that happens in Trinity, and we decided to use the occasion of the launch to illustrate some of that diversity. Guests arriving at the venue were greeted by music deriving from the research of Prof. Enda Bates (Engineering), Prof. Richard Duckworth (Music) and M.Phil Student Satyajeet Prabhu (Music).
To further showcase the fact that research is in our DNA, we had four speakers at the launch, starting at undergraduate level and continuing on.
Philip Smyth, a third year Medicine student and Laidlaw Scholar, spoke about his research on brain trauma in the ED and the value of being able to do research as an undergraduate. Laura Finnegan, a Trinity Scholar, and one of our 1600-plus PhD students and the recent winner of the Mary Mulvihill prize for Science Communications spoke about her work in gene therapies for blindness and the importance of communicating research stories. Anna Barcz, a visiting Marie Skłodowska-Curie COFUND Fellow based in the Trinity Long Room Hub spoke about the value of the Hub community in supporting her research and the work she is doing on the twentieth century's environmental history of Central and Eastern Europe.  Lorraine O'Driscoll, a recent Irish Research Council Advanced Laureate awardee, recipient of Science Foundation Ireland and European Union funding and more, and recent winner of the Distinguished Lecture medal at the Eurolife Research Innovators in Oncology Symposium spoke about her research in tackling cancer and how her work goes from fundamental science to clinical trials.
Large Scale Initiatives & Opportunities
The event also gave us the opportunity to flag some of our current and projected large-scale initiatives. 
There is enormous opportunity for us as we engage the local community in extending our campus in the Grand Canal Innovation District. The E3 research institute will be the anchor tenant here, with much more to come. E3 will look to provide solutions for world problems that are in harmony with the planet. It will draw on expertise from the Schools of Engineering, Computer Science and Statistics, Natural Sciences, as well as leverage the talent of research institutes such as AMBER, ADAPT, CONNECT, iCRAG and more.
The plans for a comprehensive Cancer Institute with St James's Hospital will allow us to draw on expertise in medicine, immunology, genetics, public health, nursing, medical humanities and more, to offer the very best to people in this country and to lead the way internationally.
There is further opportunity for us in building on our research around the Sustainable Development Goals and bringing multiple perspectives to bear on these goals - we have such strong foundations in engaged research for societal impact in areas such as environment, brain health equality, ageing, children, international development and more.
We have huge opportunities through focusing on the research-policy interface, building on expertise in the social sciences, health sciences, arts and humanities – this allows our work to get out there and contribute further to changing the world
And we also have opportunities in the emerging world of open scholarship which ranges from promoting Open Access to engage more widely with society, to rocking the foundations on which the academic world as we know it is built. We are exploring what we in Trinity want from this world and where we want to go. Helen Shenton and our colleagues in the Library are leading out on this with the team in our office.
Stand up for research
The event also provided an opportunity to focus on standing up for research. It has become more than clear to us that we will always need to keep proving ourselves when it comes to accessing research resources.
If, for example, a mathematician creates a proof – that proof will be examined by peers and stress-tested and if it withstands the stress-testing it is there for all time. It is QED. For those who decide on what resources are given to research there is no such thing as QED.  There is no one set of statistics or one great story or set of stories (of which we have many) that nails the argument.
We know we need to constantly and persistently make sure resourcing excellent research is always on the agenda of politicians and decision-makers. We need to constantly make the case for basic research as well as applied research to be funded. We need to constantly show how all the different elements of research are part of an interdependent system. We need to constantly make the case for working outside the constraints of limited priorities.  We need to stand up for research.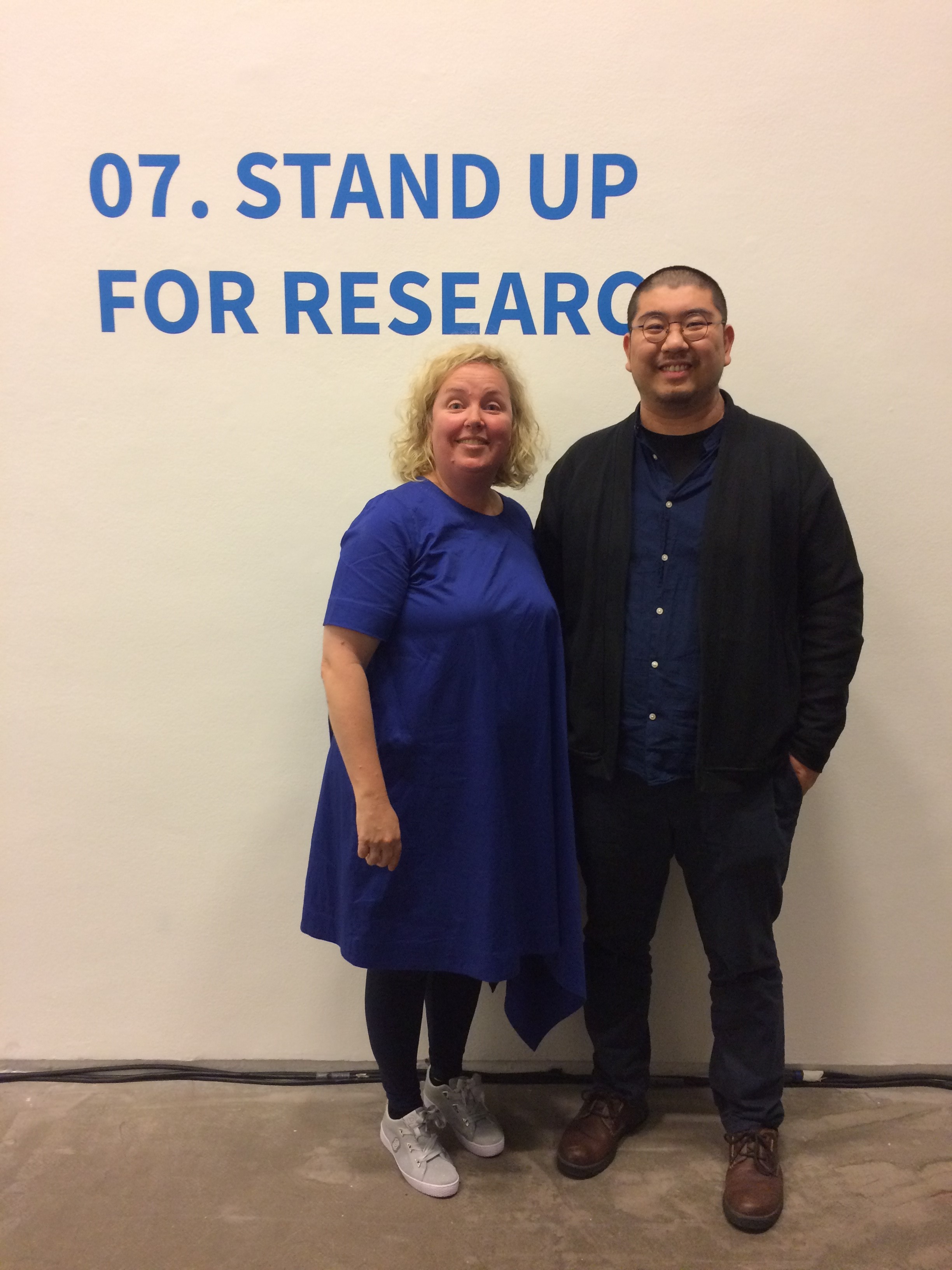 Communicating Widely
Our new research webpages are online.  In the spirit of being an international campus and shouting loudly and proudly about research, our Charter has been translated into different languages. Chang Zhang (pictured left, with Dean of Research Linda Doyle) from the Trinity Centre for Asian Studies is responsible for the Chinese translation. We have it in Irish, Spanish and Irish Sign Language (ISL) too. The Charter was translated into ISL by John Bosco Conama and the fantastic video created by Haaris Sheikh.
Thanks
There are many to thank of course. We were delighted to have the Provost Patrick Prendergast open the launch. The Research Charter and Research Strategy are a result of cross-university engagement. The Research Committee played a huge role as did all those who contributed. The success of Trinity research is down to the talent of individuals, the commitment of support staff, and the ambition of the institution. We were thrilled to have the event in the DHG and the Director Georgina Jackson and her team helped make it a great event.
---------------------------------------------
Linda Doyle, Ruth Doherty, Jennifer Daly
Andrew Bowie, Lorraine Leeson, Fiona Killard, Sarah Bowman, Shane Collins