Between the Lines: Rosie Lavan
Between the Lines asks researchers about the process of writing a book.
Dr Rosie Lavan
from the School of English reflects on the process of writing her book,
Seamus Heaney and Society
.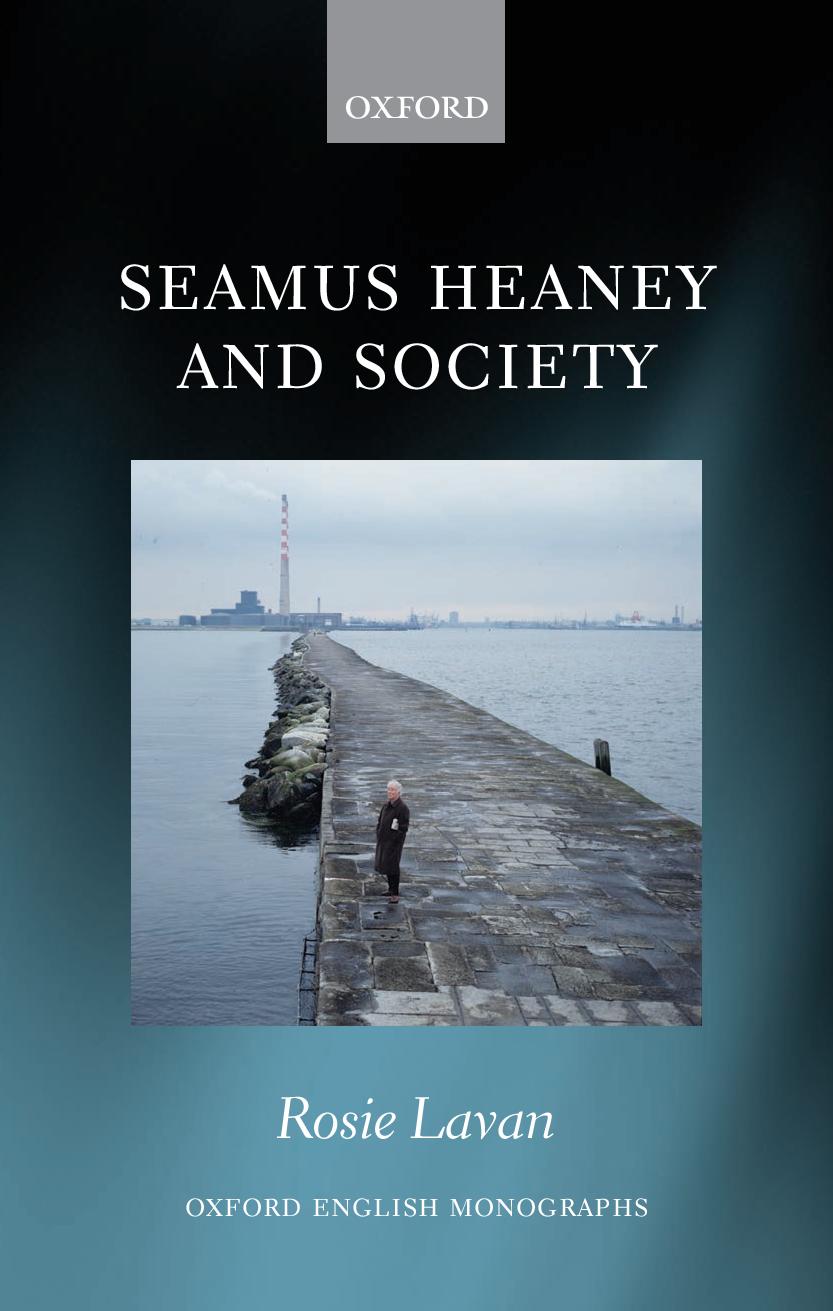 When did you first come up with the idea for the book?
The book is based on my PhD thesis, which I wrote at the University of Oxford between 2011 and 2014.
Did you start out with the intention of writing a book about a particular topic, or did a book begin to make sense as you were researching?
The project has had several stages in its evolution. Originally my PhD was to be about Seamus Heaney and the senses – how he evokes and represents perception in his poetry. Many of my copies of Heaney's books have annotations that reflect that early interest and the enthusiasm with which I was pursuing it. Then I began to be especially interested in Heaney's writing of and about memory, which was a natural next step from the focus on perception. But I am instinctively a historicist in my approach to literature, and I am fascinated almost to the point of obsession by the contexts of twentieth-century literature in Britain and Ireland. So the interest in memory as a theme or concept began to encompass an interest in recovering the original contexts and conditions of Heaney's poetry. In the early stages of my PhD, under the guidance of my endlessly patient and encouraging supervisor, Bernard O'Donoghue, I continually allowed myself to get sidetracked when I discovered aspects of Heaney's work which seemed to me to be little known or underacknowledged in existing criticism. I was delighted, for example, to call up in the library the issue of British Vogue from September 1965 which ran a feature on the young poet, and fascinated to read early essays by him in The Listener, the BBC magazine which covered current affairs and culture, alongside articles about Che Guevara or Martin Luther King. There is in one sense nothing remarkable about any of this: Heaney was coming of age and coming to prominence as a writer in the late 1960s, and gaining a profile in magazines like The Listener which had an admirably broad-minded editorial scope. But in another sense, and to me, such coincidences in print were relentlessly fascinating, because they revealed new contexts in which we might appreciate his work, and understand his emergence as a writer – and all the more so as we tend to take for granted the world of a contemporary writer, because it's our world, too. The more I thought about 'context', the more other contexts seemed to present themselves are worthy of discussion. Heaney's work in education, for example – for the greater part of his career he earned a living as a teacher, a university lecturer, an educational broadcaster, and a teacher of teachers. This is well known, but again it seemed to me there was much to uncover and discuss. The more I pulled at these threads, the more I became convinced that these different areas and aspects of his career could shed new light on his poetry.
What are the book's main ideas?
At its heart, the book seeks to show how Heaney's work in the print and broadcast media, in education, and in his de facto role as a public figure in Ireland, the UK, and the US, shaped his poetry and his ideas about poetry throughout his career. It is interested in institutions – publishers (like Faber & Faber), broadcasters (like the BBC), and universities (like Berkeley, Harvard, and Oxford) – with which he had long associations. It considers how Heaney balanced his public obligations with the much more private work of his poetry, and it takes 'society' as a principle of connection, and in order to situate his work in this network of associations.
What did writing a book allow you to do that wouldn't have been possible in another medium eg. journal article?
I'm tempted to modify this question slightly: I think writing a book showed me what wasn't possible in writing a book. I revised this book extensively, and in the process found it necessary to remove some chapters which I was very attached to. One, for example, about Heaney, photography, and memory, was subsequently revised and published separately as an essay in the Honest Ulsterman. It was quite hard to let that go, because it deals with some of my favourite poetry by Heaney, and involves some theories and concepts which I am absolutely fascinated by. Ultimately, though, I realised that the book needed to take a different direction, and needed a more consistent critical tone, and the kinds of ideas I was handling there didn't quite fit.
How long did it take to write?
The thesis was completed within three years; the book was then revised over the summers of 2016 and 2017. I moved from Oxford to Trinity in 2015, and that important development in my career is reflected, in part, by my development as a critic, so – partly in response to readers' reports on the book, and partly because my own critical outlook was changing – I decided to introduce material I hadn't covered in the thesis. The actual writing and pulling together of the final manuscript was accomplished in quite concentrated periods of work, but I had to allow for the processing of permissions requests – working on a contemporary writer obviously raises important questions of copyright – and then the production of the book itself.
Did you ever experience any moments of writer's block? What did you do to overcome this?
Yes – I did, and I do. Frequently. My usual strategy is to print off whatever I have managed to compose on the laptop, read through it, and then start working with paper and pen or even pencil. I'm innately distrustful of computers, and I find working by hand somehow resets my thought processes. I can happily write thirty or forty pages of A4 which I'll then type up. I really enjoy and value that stage of transferring the handwritten work to the screen and it is often a very creative phase in itself, as I once again rethink ideas and the way I'm expressing them. I also love the process of editing, partly because I spent time working as a journalist before I did my PhD. Before that I was quite precious about my writing, and inclined to favour style over substance, but journalism taught me the virtue of ruthlessness. I should say that I'm also an incurable daydreamer, and distraction is sometimes a good cover for writer's (and indeed researcher's) block. In fact, without my daydreaming, I may never have called up that issue of Vogue.
If you could go back in time and give yourself one piece of advice before you started writing, what would that be?
Be patient. If someone had said to me in September 2014, when I handed my PhD thesis in, that my book would be published in April 2020, I'd have been extremely disheartened. I've learnt that the production process can be quite stop-start, and there's a lot of work towards an academic book which has nothing to do with writing it. But the two summers I spent revising the book were extremely well spent. I'm pleased the book is in some ways very different from the thesis, and glad, too, that it reflects my time in both Oxford and Dublin.
Rosie Lavan
Rosie Lavan is an assistant professor in the School of English at Trinity, where she teaches poetry and modern Irish and British literature. She is the author of Seamus Heaney and Society (2020), and she is currently working with Bernard O'Donoghue on a new edition of the poems of Seamus Heaney, for Faber and Faber. Before her academic career she worked as a journalist in London.
Seamus Heaney and Society was launched at a special event in the Trinity Long Room Hub on 2 September, which is available to watch here.