Between the Lines: Rachael Walsh
Between the Lines asks researchers about the process of writing a book.
Dr Rachael Walsh
from the School of Law reflects on the process of writing her book,
Property Rights and Social Justice: Progressive Property in Action
.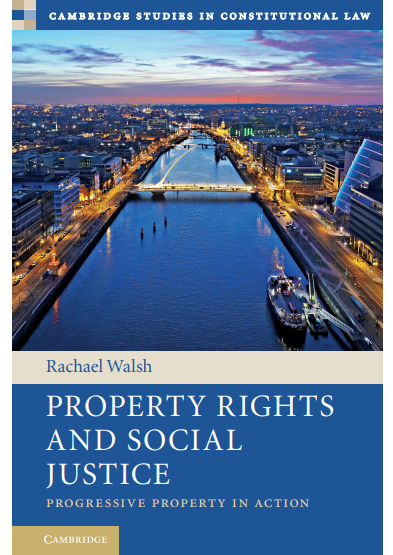 When did you first come up with the idea for the book?
The book has its origins in my doctoral thesis, which I completed at Trinity, but was the result of a (protracted!) period of reflection and publication on property theory issues. That time allowed me to develop a new perspective on how Irish constitutional property law could be situated within the property theory landscape, and on how Irish law could shed important light on debates in that dynamic field of international scholarship.
Did you start out with the intention of writing a book about a particular topic, or did a book begin to make sense as you were researching?
I always hoped to write a book that would provide a comprehensive analysis of how the Irish Constitution protects property rights, but the connection between that issue and wider theoretical debates about property rights and social justice became apparent as I worked on various conference papers and journal articles in the post-doctoral period.
What are the book's main ideas?
The book is about constitutional property law. Constitutional property law is a complex legal subject, since it forms an intersection between property law, property theory, constitutional law and various forms of administrative law (for example, environmental and planning regulation and financial regulation). Constitutional property guarantees operate as an interface for these bodies of public and private law with individual rights, and take various forms internationally.
The book analyses Irish constitutional property law as a case-study of how judges, in interpreting constitutional guarantees for property rights, mediate between such rights and social justice. The distinctive property rights guarantees in the Irish Constitution raise contentious questions about that relationship, for example: what values are vindicated through the protection of property as a human right; what types of valuable interests should be protected as property rights; what reasons should justify regulatory interferences with private ownership; what standards should be applied by judges when reviewing restrictions imposed on the exercise of property rights; and when should compensation be payable to adversely affected owners.
The constitutional relationship between property rights and social justice cross-cuts and influences many areas of high-stakes policy-making, for example in respect of housing and environmental protection. As such, judicial interpretations of that relationship set the legal limits for legislative changes on these important issues.
The book argues that because of that impact, judges generally defer to political determinations about the appropriate mediation of property rights and social justice, leading to weak protection for property rights. However, the distributive decisions that judges are required to make in constitutional property law inevitably result in legal ambiguity and uncertainty that can provide support for political conservativism in respect of social and economic reforms that restrict property rights. For example, the Irish Constitution is regularly cited by Government ministers as a barrier to certain responses to the current housing crisis, like rent freezes.
What did writing a book allow you to do that wouldn't have been possible in another medium eg. journal article?
The book format allowed me to undertake an in-depth analysis of Irish constitutional property law, as well as of contemporary debates in property theory about the relationship between property rights and social justice, and to connect those two central issues in my research. That was a lengthy and complex process, and it would not have been possible to achieve the necessary accuracy and detail in the legal analysis alongside the theoretical context-setting while maintaining the connection between these issues in a journal format.
How did you decide which publisher to place the book with?
Cambridge has an excellent series, Cambridge Studies in Constitutional Law, edited by Professor David Dyzenhaus, which I had always been attracted to, and which the book forms part of. I met with an outstanding editor, Finola O'Sullivan, to discuss the book proposal. She quickly displayed great enthusiasm for the project and an insightful understanding of its wider relevance, and I was confident that I had found the right publisher for the book. The series editor was also very supportive of the project, and it was wonderful to have academic input into the project at the proposal stage as well as comments from reviewers. My confidence in CUP as the right home for the book proved well-placed, as the publication process was extremely smooth and efficient.
How long did it take to write?
The book was in gestation at some level for a long period of time. The time period of focused work on the project, from signing the book contract to publication, was roughly five years –  although with another book project and a period of maternity leave involved in that time also!
Did you ever experience any moments of writer's block? What did you do to overcome this?
Overall, the book progressed well, in large part because I had taken a break from the core legal material for a significant period of time following completion of my doctorate, meaning that I was enthusiastic about it and had fresh insights when I returned to it. Where I did struggle with chapters, I found it extremely useful to present drafts and reflect on feedback from colleagues, particularly about the overall aim of the book and how the chapters worked together to achieve that aim.
What advice would you give someone thinking about writing a book?
If you are considering publishing a monograph based on your doctorate, don't rush into it. Spend time thinking and writing around the edges of the core project and crucially, presenting your ideas to different groups of researchers. For me, a book published in a shorter time-frame after completion of the doctorate would not have been of the same quality as the book I eventually completed.
And if possible, get a great research assistant to assist in the final push towards publication – I was very lucky in that regard!
If you could go back in time and give yourself one piece of advice before you started writing, what would that be?
Take on fewer concurrent projects. A monograph really does require focused time and attention, which can be difficult to carve out during the busy day-to-day of academic life, particularly where shorter projects with more pressing deadlines can monopolise research time. The book really came together when I 'cleared the decks' and was able to fully immerse myself in the book for 18 months.
Rachael Walsh
Rachael Walsh is an Assistant Professor in Law at Trinity College Dublin, Ireland. Her research is focused on the interface between public and private law in the context of property, with publications in the Modern Law Review, the Law Quarterly Review, the International Journal of Constitutional Law, the European Constitutional Law Review, and the Canadian Journal of Law and Jurisprudence, and leading international edited collections. She is also a co-author of the current edition of the leading treatise on constitutional law in Ireland, Kelly: The Irish Constitution (2018).