HUMAN+ Research Profile: Dr Kata Szita, Overcoming Loneliness with Augmented Reality
Can Augmented Reality be used to foster a shared sense of well-being and overcome loneliness? This is what Dr. Kata Szita has been exploring in her research during her HUMAN+ fellowship. Taking an interdisciplinary approach of cognitive science and digital media technology, her work focuses on how human behaviour and mental well-being are affected by the use of AR, as seen in popular smartphone apps like Snapchat in which the world around us is enhanced by computer-generated information that we can see and interact with.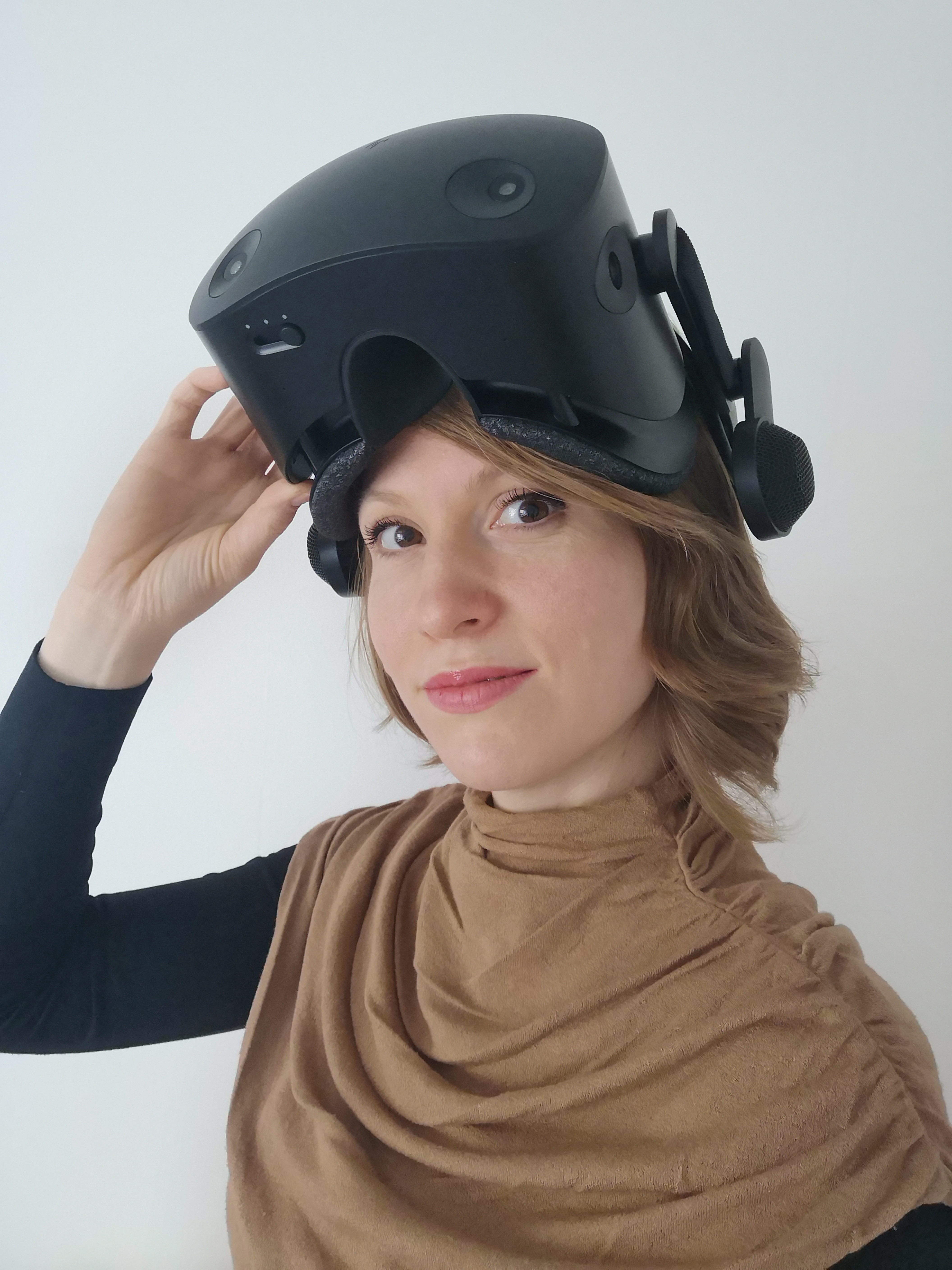 Focusing on how our brains and bodies react to extended reality (XR) experiences, Szita's research highlights how important virtual spaces are for human interaction and the need to foster positive and healthy online connections. She explores how AR can help by projecting humans into the surrounding world to create an immersive social experience.
Her research only became more vital with the advent of the Covid pandemic when more events were being held in virtual spaces. Suddenly, technology became a lifeline for many people. According to Szita, although there's a perception that AR and VR are inaccessible to a lot of people, there is actually an increasing number of people using them. She argues that these technologies can be brought into all our homes. For example, even as AR-specific equipment is becoming more obtainable, readily available household devices such as tablets and smartphones are ideal platforms for AR apps.
Szita is also interested in the effects XR can have on group behavioural dynamics, particularly how digital avatars influence human interactions. Using filters or full-body avatars doesn't only change superficial details about one's online representation: they can be used to explore new identities or as disguises. Online appearances can also change how individuals interact with each other, and in doing so change the whole dynamic of a virtual space.
It's clear that Szita's research forges the human-centric approach to technology development at the centre of the HUMAN+ ethos, as the mental and emotional well-being and behaviour of the individuals have always been the focus of her approach. With almost a decade of research at the intersections of digital media technology and human behaviour, Szita's work is grounded in interdisciplinarity. During this time, the multi-disciplinary field Cognitive Film & Media Studies has defined her research. It combines Computer Science, Neuroscience, and Psychology to provide a greater understanding of audiovisual media, content and technology. "It's still a small field but it involves researchers with different perspectives, like philosophers, arts scholars, neuroscientists and psychologists, so I could find my own focus which is on the technological and human side of audiovisual media."
HUMAN+ focuses on research areas that are often difficult to breach in academia, which is ideal for Szita. From her own experience, the connections between cognitive science and technology, human behaviour and media, are not always easy to navigate, because there are "many traditional disciplinary boundaries." Often, if a project (or a researcher) does not belong to one discipline, it can become harder to access funding or career advancement. In comparison, Szita notes, HUMAN+ focuses exactly on this connection between these two areas that work independently, but can be connected to provide new knowledge. This is what she finds "unique" about the fellowship.
Szita's two mentors are also based in separate fields. Jennifer O'Meara is Assistant Professor in Film Studies at the School of Creative Arts and Aljosa Smolic is SFI Research Professor in Computer Science at the School of Computer Science and Statistics. As someone who has always collaborated across disciplines, this integrative activity is not new to Szita; however, what is a welcome departure is having this connection to a team of experts by default, from the very start of the programme. This sentiment is reflected in the views of her two mentors.
Szita highlights that these interdisciplinary work relationships can be seen throughout HUMAN+, and can be seen in their HUMAN+Tech Talks starting in September 2022, and their workshops in the autumn term. "When organising these events, it was important to find out the best way we – fellows, mentors, PIs, and collaborators – could all benefit from them. These events also facilitate establishing contacts and interacting with various stakeholders including actors in the technology industry, policymakers and the general public."
These goals mean HUMAN+ encompasses a wide range of possible outcomes. Szita highlights the opportunity to forge ties with industry partners as key to her ongoing and future research: since her PhD, she has worked primarily in academic environments although she took up eventual consulting roles for industry actors, such as Volvo Cars in Sweden. She looks forward to her upcoming industry partnership with Volograms, a Dublin-based startup that builds an accessible volumetric video capturing platform for smartphones. "I work in a field that's very much connected to the tech industry but there's very limited mobility between the two," she observes, "so it's really important not just for this project but for the future to establish this connection, to get experience in industry research and create a network where my findings can contribute to technological innovations."
This is where Szita sees her goal as a researcher: bridging the gap between academic and industry understandings of extended reality technology. Her long-term goal is to establish a research group with close connections between the tech industry and academia, where technology companies would benefit from social scientists providing a broader understanding of human or social behaviour. She envisages her academic discoveries being "fed back into technological development," using XR technologies to reduce loneliness and foster positive online communities.
Szita sees many positives in Dublin as an international centre for research. People are open and social which makes it easy to start discussions. And, she notes, "If openness is part of a culture, it really helps for collaboration." Her industry partner is a Dublin tech company, which is ideal. However, throughout her career, from Hungary through Finland and Sweden to Canada and China, she has always looked for collaborators to learn from and to connect perspectives from different disciplines.
Szita makes it clear that we need to bridge the knowledge gap between human behaviour and technology. There are a lot of misconceptions about technology, within the humanities and social sciences: "There are rigid ideas of what academia should focus on, and new, emerging technologies, are often not part of the discussions. I find that heartbreaking and a big misstep." AR and VR and other new commercial technologies need to be examined, especially because of their use by younger generations. "It is going to define so much about their future, and that means the future of our society. I think dealing with these issues is really urgent because technology is becoming part of our life more and more – we can't ignore these things."
HUMAN+
Human+ is a five-year international, inter- and transdisciplinary fellowship programme that will conduct ground breaking research that addresses human centric approaches to technology development. Supported by the prestigious European Commission (EC) Horizon 2020 Marie Skłodowska-Curie COFUND Action, Human+ is led by the Trinity Long Room Hub Arts and Humanities Research Institute and ADAPT, the Science Foundation Ireland Centre for Digital Content Innovation at Trinity College Dublin. The programme is further supported by unique relationships with HUMAN+ Enterprise Partners who co-fund the fellowships and provide a unique perspective.
The HUMAN+ project has received funding from the European Union's Horizon 2020 research and innovation programme under the Marie Skłodowska-Curie grant agreement No 945447.