Between the Lines: Clare Clarke
Between the Lines asks researchers about the process of writing a book.
Dr Clare Clarke
from the School of English explains what went in to writing her book,
British Detective Fiction, 1891-1901: The Successors to Sherlock Holmes
.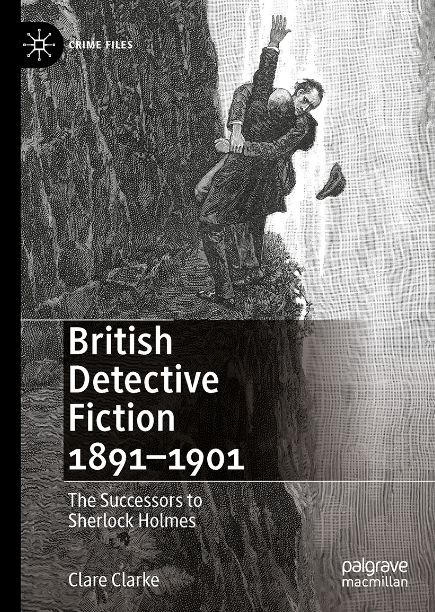 When did you first come up with the idea for the book?
The 1890s was the period in which Sherlock Holmes achieved massive popularity and acclaim following the publication of his adventures in the magazine the Strand; my PhD thesis, which became my first book, Late-Victorian Crime Fiction in the Shadows of Sherlock (2014), looked at a number of other less well-known detectives who were operating at the same time as Sherlock, but who took further Sherlock's propensity to sometimes work outside of the law. When I finished my first book, I closed in saying that while my book had uncovered a number of interesting detective series there were many more such stories still to be uncovered. At the time, I didn't think that I would be the person to continue the work uncovering the details of those other detectives. However, as time went on, I realised that there was quite a lot that I still wanted to say about other rivals of Sherlock Holmes. I decided that I would write a second book on the topic as a kind of companion piece to the first and hoped that I would be able to get this book researched and written within a couple of years (it ended up taking about twice that long!)
Did you start out with the intention of writing a book about a particular topic, or did a book begin to make sense as you were researching?
While I started out with the intention of writing about what I was then calling 'the rivals of Sherlock Holmes', as the project evolved I became more interested in what I now call 'the successors to Sherlock Holmes' – that is, the detectives whose adventures were published in the Strand and other rival magazines after Arthur Conan Doyle killed off Sherlock in December 1893. I also became more interested in book history and the history of the publications in which these stories appeared, so this became a project that is about late-Victoria newspapers and magazines as much as it is about Victorian detectives.
What are the book's main ideas?
This book was spurred by quite an old quotation from a very eminent crime fiction scholar, Professor Stephen Knight. In 1991, Knight wrote that "The vast majority of detective, and indeed crime, stories written in the nineteenth century did not appear in book form, but in the pages of elusive magazines and regularly appearing newspapers. This the sea in which the detectives are born and first swim." Now, at the time that Knight wrote this, it would have been incredibly difficult for scholars to get access to elusive magazines and ephemeral newspapers from the nineteenth century, which goes some way to explaining why the vast numbers of detectives who appeared in these formats were not known about by the public or studied by academics. However, recent processes of newspaper and magazine digitisation by organisations like Gale Cengage and the British Library means that dozens of ephemeral newspapers and magazines are now available in database form. For someone like me, these databases are treasure troves of untapped and unknown detective stories. So, as the book evolved, I became more interested in finding interesting examples of detective series that were published in the years after Holmes had been killed off and which appeared in a range of ephemeral formats from magazines to provincial nightly newspapers.
This book examines the developments in British serial detective fiction which took place in the seven years when Sherlock Holmes was dead. In December 1893, at the height of Sherlock's popularity with the Strand Magazine's worldwide readership, Arthur Conan Doyle killed off his detective. At the time, he firmly believed that Holmes would not be resurrected. This book introduces and showcases a range of Sherlock's most fascinating successors, exploring the ways in which a huge range of popular magazines and newspapers clamoured to ensnare Sherlock's bereft fans. The book's case-study format examines a range of detective series—created by L.T. Meade; C.L. Pirkis; Arthur Morrison; Fergus Hume; Richard Marsh; Kate and Vernon Hesketh-Prichard—that filled the pages of a variety of periodicals, from plush monthly magazines to cheap newspapers, in the years while Sherlock was dead. Readers will be introduced to an array of detectives—professional and amateur, male and female, old and young; among them a pawn-shop worker, a scientist, a British aristocrat, a ghost-hunter. The study of these series shows that there was life after Sherlock and proves that there is much to learn about the development of the detective genre from the successors to Sherlock Holmes.
What did writing a book allow you to do that wouldn't have been possible in another medium eg. journal article?
There's a freedom in writing a book that is not there when working with the constraints of a journal article. Double blind peer review is a fantastic system which allows you to have your work read by leading experts in the field and offers you the opportunity to respond to their suggestions. However, this can result in a change in shape in the work from your original plan or intention, towards something which is more in line with the journal's particular interests or agenda. Writing a book allows a certain freedom, where reviewers will make helpful suggestions on how to improve your book, but ultimately the ideas are yours and you make the decisions about what goes in and what doesn't. It's a privilege to be able to write a longform piece of work on an esoteric subject about which you're passionate. It is published, and it goes out into the world, and you just hope that readers find something in it to be passionate about also.
How did you decide which publisher to place the book with?
I had published my first book with Palgrave Macmillan as they have a series, Crime Files, which is dedicated to cutting-edge research on crime fiction. This seemed to me to be the natural place to publish my first book and, happily, the process was very straight-forward and we developed a good relationship. So, when the time came to pitch my second book to a publisher I naturally went back to Palgrave and was delighted when they offered me a contract straight away. For future books I would like to try and reach a broader public audience and to publish at a lower price point, so, even though my experience with Palgrave has been very good, I plan to approach a trade publisher for my next project.
How long did it take to write?
I incredibly optimistically hoped that I would be able to churn this book out in about two years. What I hadn't considered was that I was also in my first years of a full-time lectureship, as Assistant Professor in the School of English, and that there would be many more demands upon my time than there had been previously, especially as I was designing and preparing teaching for a large number of brand-new courses. Eventually, the book took about four years to write, which I'm still pretty pleased with!
Did you ever experience any moments of writer's block? What did you do to overcome this?
I don't really experience writer's block (touch wood), however, as any writer or researcher will tell you there are days when you just aren't feeling the magic happen. I try not to get too hung up on that and on days like that I dedicate myself to things like updating my works cited list or just typing out notes, to give a sense of forward momentum.
I've come to accept that working on research, particularly big projects, is not really feasible for me during term time, so the most of my writing is done outside of statutory term, when it feels like a pleasure to be able to devote time and space to thinking and writing.
I try to work in blocks of time throughout the day rather than sitting at my desk from 9 to 5 every day trying to write. So, I'll write for a couple of hours and then go for a walk, or watch some Netflix, or phone a friend, and then I go back to the work refreshed again and put in another few hours' work. I don't set daily or weekly word limits, rather I just make a commitment to spend a certain amount of time each day working on something related to my book. This method has worked for me so far, I hope that it continues to do so!
What advice would you give someone thinking about writing a book?
Writing a book seems like it will be a lot of fun until you are actually faced with a blank page and are in the process of writing. My main piece of advice, and this is something I tell my students as well when they are working on essays and dissertations, is just to write something/anything. It may well be rubbish, it may well end up being thrown out, or it may be the germ of something that can be improved. Writing a book is a marathon not a sprint, it will probably take twice as long as you hope it will, but eventually you will get to a place where you're happy with what you've written and then you'll have a book.
If you could go back in time and give yourself one piece of advice before you started writing, what would that be?
I would tell myself to chill out about arbitrary dates and deadlines. Writing a book is a privilege, but you also want your book to be the best book it possibly can be, and this takes time. It can't be done if you are stressed and worried and trying to write when you should be resting or just giving yourself space to think. I hoped to write this book in two years. It took four. I now realise that that's okay.
Clare Clarke
Dr Clare Clarke is Assistant Professor of Nineteenth-Century Literature in the School of English, Trinity College Dublin, Ireland.
She has published widely on crime and detective fiction.
Her first book, Late-Victorian Crime Fiction in the Shadows of Sherlock (Palgrave, 2014) was awarded the H.R.F. Keating Prize in 2015.