Irish Language Services
Click the links below for information on the Irish language services in Trinity College Dublin.
Irish Language Modules
The Centre for Language and Communication Studies offer language modules as part of the Broad Curriculum programme. Irish is one of the languages offered. Students can do these classes for credit, or as extra-curricular study. Click this link for more information about the language modules.
The Department of Irish and Celtic Languages offer modules in Early Irish, Scottish Gaelic, in the culture and literature of Ireland (through the medium of English or Irish), and in Modern Irish language. Click this link for more information about the Department of Irish.
Library Services
You can do business in Irish at the main lending desks in the Berkeley and Hamilton libraries, 9am - 3.30pm, Monday to Friday
Irish versions are provided of the Library Catalogue Search Interface, the Library Guide, and various other Library publications
You can apply for a Visiting Readers' Ticket through Irish at this link: TBC
Tours of the Library through Irish are held during Freshers' Week, and of the Book of Kells throughout the year (Book of Kells tours must be arranged in advance with Ann-Marie Diffley, adiffley@tcd.ie)
Further Information (in Irish): https://www.tcd.ie/Library/irish-in-the-library/index.ga.php
General Advice
If you have a question about Irish language matters, in Trinity College Dublin or in general, you are welcome to contact the Irish Language Office at gaeloifig@tcd.ie, and they will do their best to answer your question.
Talks & Tours
The Irish Language Officer is available to give talks about Irish language matters and to show Trinity's Irish language facilities to relevant groups. For example, the Irish Language Officer often speaks at the international student orientation sessions. Please contact gaeloifig@tcd.ie with details of your event in the first instance.
You could link your tour with a guided tour of the Book of Kells in Irish (which must be arranged in advance with Ann-Marie Diffley, adiffley@tcd.ie).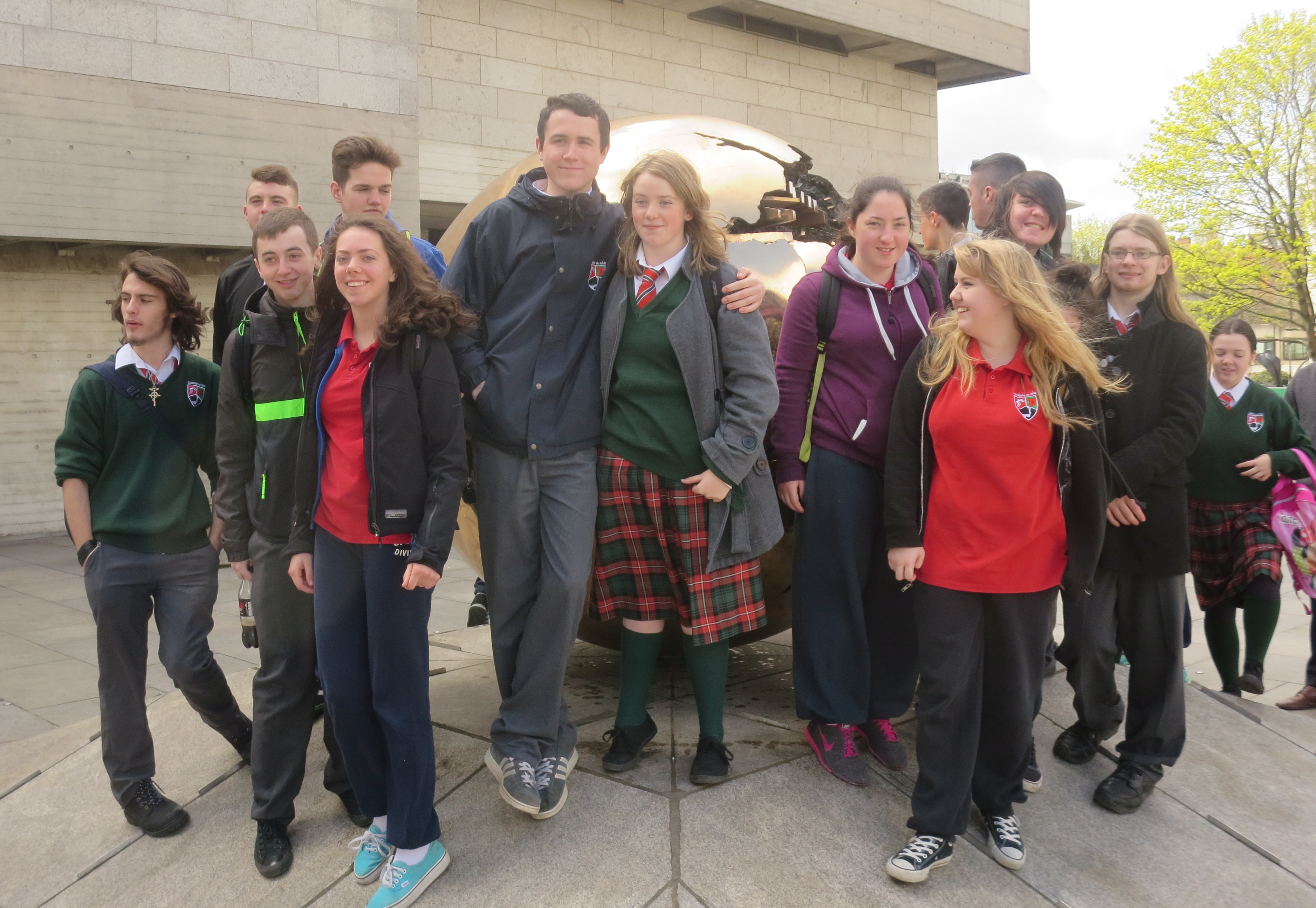 School group on an Irish-medium tour of Trinity's historical campus
Conversation Circle
Every Wednesday during term at 10.30am in the Buttery restaurant, there is an informal gathering of Irish speakers from the College community (students, staff and alumni), as well as Irish speakers from the general public. We sit at the wooden tables to the right as you walk in the main entrance. All welcome!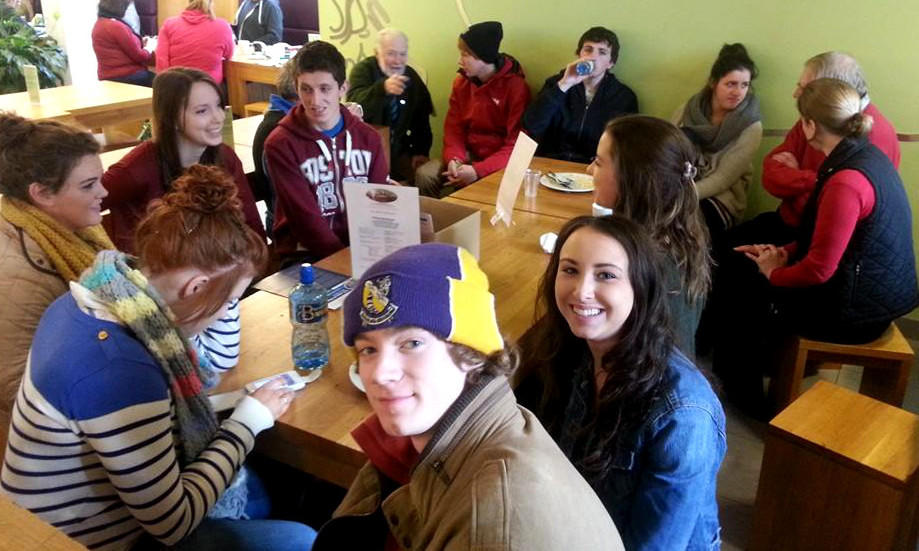 Art Collections
Various Irish-language information about Trinity's art collections can be found at: https://www.tcd.ie/artcollections/index.ga.php.

A interactive smartphone tour of campus art, in Irish, is available from the same site - it's a self-guided tour, so all you need is a smartphone!
The Art Collections, the Irish Language Office and the Irish Language Residency Scheme provide guided tours of campus art twice a year. The general public and alumni are welcome to these events. Details of each tour are provided on social media (see www.facebook.com/GaeloifigTCD).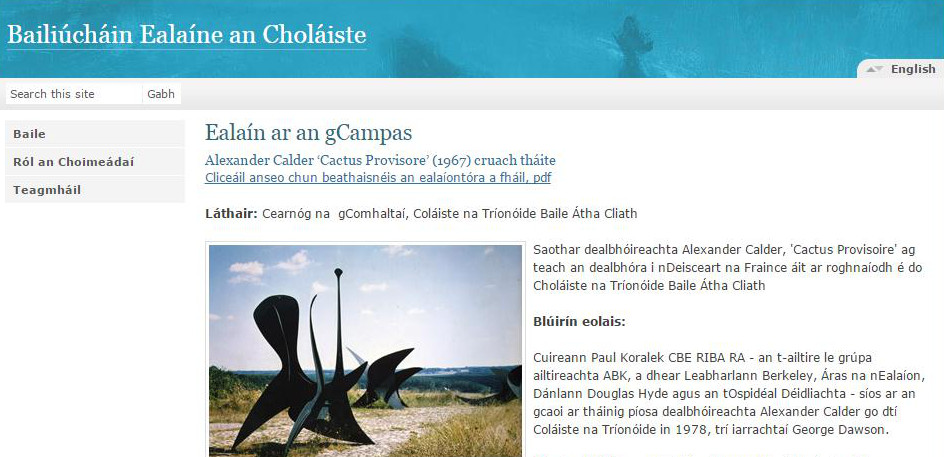 Communications
Spokespersons
Click here for a list of Irish-speaking spokespersons in College. A wide range of expertise is represented in the list, and the College Press Officer is also a fluent Irish speaker (Caoimhe Ní Lochlainn, communications@tcd.ie).
Press Releases
15% of Trinity's press-releases are published simultaneously in Irish and in English. Press releases and Irish-language news items can be found on the college's news hub. Click here to see the Irish Language Press Release Archive.
Social Media
You can get information about Irish in Trinity, and information in Irish about Trinity, from the following accounts:
Facebook
GaeloifigTCD
CumannGaelachTCD
trinitycollegedublin
Twitter
@GaeloifigTCD
@AnCumannGaelach
@tcddublin
...or from the Irish language notices (sample below) that are shown on the college's electronic noticeboards: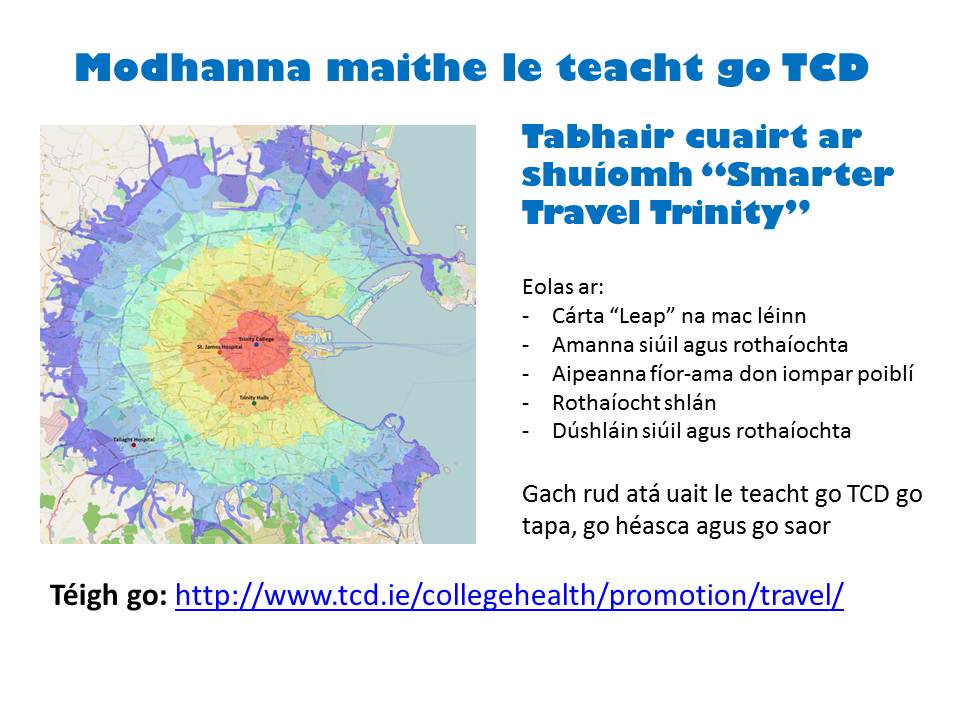 New Staff
There is general information about the role of the Irish language in Trinity, aimed at new staff members, available on the Human Resources website at the following link: https://www.tcd.ie/hr/new/information/#irish
Personal Tutors
The College Tutorial Service can provide Irish-speaking personal tutors for students. A list of College's Irish-speaking personal tutors will be available on the Senior Tutor's website soon. Please follow the instructions for how to change your tutor, please, if you would like an Irish-speaking tutor.
Changing your Registered Name
College databases, e.g. my.tcd.ie and PeopleFinder, can display sínithe fada (fadas). However, no fadas are present on student names when they initially enter College records. The Academic Registry can change your details on college records after you've registered, upon provision of official evidence (e.g. passport) that you normally use that name.
Students are encouraged to make enquiries about this matter long before graduation - the name on your degree certificate will precisely match the name under which you are registered on my.tcd.ie. Please also note that graduates may experience difficulties later if the names on their degree certificate and passport do not match.

Further information: https://www.tcd.ie/academicregistry/service-desk/update-details/
Doing Business through Irish
Click here for a list of staff members who are happy to do business in Irish. Please email gaeloifig@tcd.ie if you would like to be on this list.
If you are a staff member, you can show you are happy to do business in Irish in 3 further ways:
Add a note to your email signature saying "Fáilte romhat do ghnó a dhéanamh trí Ghaeilge liom" (You are welcome to do business in Irish with me)
Get a badge on your People Finder profile - "Tá Gaeilge agam" or "Tá cúpla focal agam"
Request physical signage (examples pictured) from gaeloifig@tcd.ie, to display in your office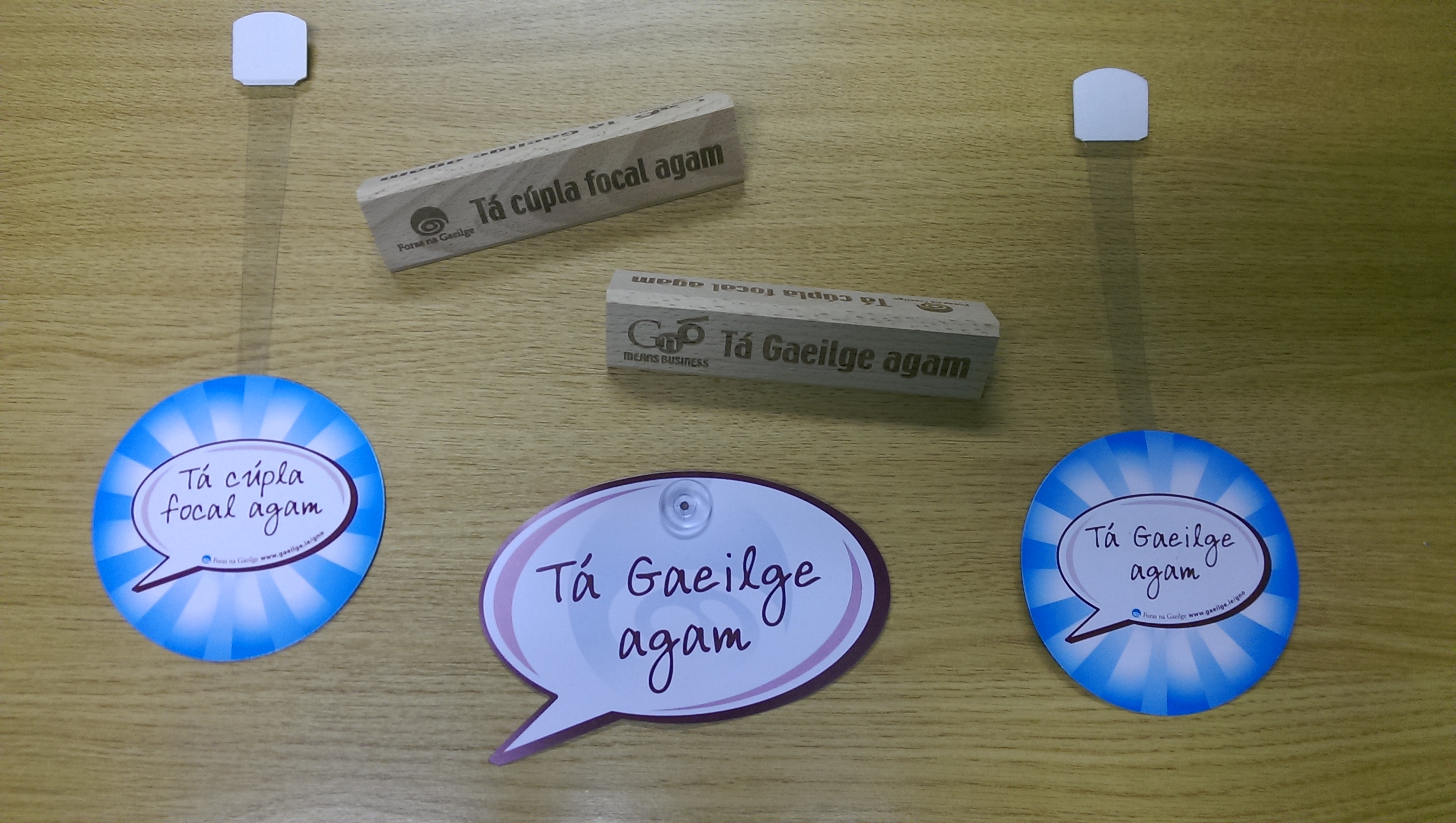 People Finder
Trinity's staff directory, People Finder, can now be used through Irish! Go to peoplefinder.tcd.ie and click the circular symbol at the top right for language options.
If you are a staff member, you can also get a "Tá Gaeilge agam" or a "Tá cúpla focal agam" badge on your profile - just send your username and your choice of badge to gaeloifig@tcd.ie.

Enquiries
As well as the list of individual staff members happy to do business in Irish, you can make enquiries through Irish via the Enquiries Office (Contact: Norah Quinton, 01-896-1724). You can request a room booking with this Irish language form from the same office.
Irish language / Bilingual Publications
Listings
Irish language material appears every week in the College Listings, Trinity's staff newsletter.
Articles in / about Irish in College newspapers and magazines
Graduation
Trinity's graduation (commencements) ceremonies, which are held in Latin, open with a greeting in Irish.
Irish language versions of the Commencements Booklet and of the Registrar's Speech are available on request from staff in the hall at graduation.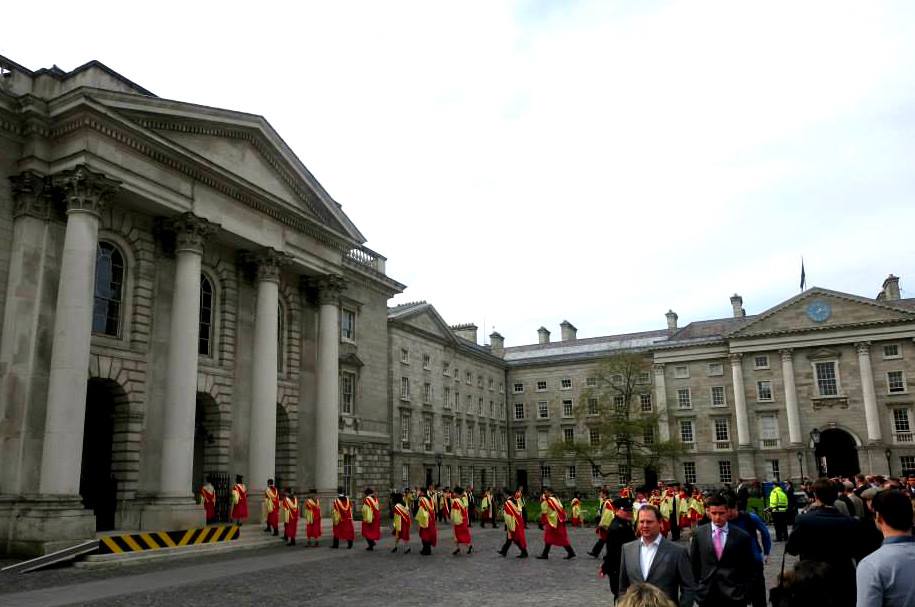 Forms (in Irish)
Postal Service
Trinity's postal service can deliver to Irish language addresses in Trinity - but please note that there can be some delay associated with this service. A database of major College addresses, in Irish, can be found at this link: https://www.tcd.ie/gaeloifig/acmhainni/seoltai.php
Gmail as Gaeilge
Gmail provides an Irish-language version of its "MyZone" student email service. This means that Trinity students and alumni can use their @tcd.ie email addresses for free, thanks to Google. Follow these steps:
Log into your email account
Click the "settings" button (an image, near to the top of the page, on the right-hand side)
Click "settings" in the menu that displays
The first line you see will be "Display Language:..." Choose "Gaeilge" in the menu
Click "Save settings" at the bottom of the page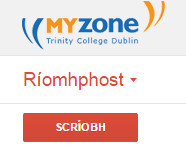 abair.ie
abair.ie (Cabóigín/Cabógaí) is a research project to develop an Irish-language text-to-speech synthesizer. The project is being directed by Professor Ailbhe Ní Chasaide of the Saotharlann Foghraíochta agus Urlabhra which is part of the Centre for Language and Communications Studies, Trinity College Dublin.
Irish language webpages on the College website
Before long, every Faculty, School, Department and Service Area in Trinity will have an Irish-language mini-site. You will see a "Gaeilge" link at the top of each of these areas' homepages. You can click those "Gaeilge" links or click the direct link below to find your required Irish language mini-site.

There are three stars *** beside each Irish-language site below that has additional Irish language pages or is a completely bilingual site.
Services
Alumni agus Cairde
Cláraitheoir na Seomraí (suíomh nua á thógáil faoi láthair)
Cláir Rochtana Choláiste na Tríonóide
An Léachtóir Sinsearach / Léann Fochéime
Oifig an Churaclaim Leathain
Seirbhís Comhairleoireachta na Mac Léinn
Scoil na hEolaíochta Déadaí (suíomh nua á thógáil faoi láthair)
Scoil an Leighis

Roinn na Sláinte Poiblí agus an Gharchúraim

Scoil na Cógaisíochta agus na nEolaíochtaí Cógaisíochta