Central Events
The Central Events Team are responsible for dealing with all enquiries and bookings related to meetings and events organised by academic departments, the Students' Union, the Graduate Students' Union, College societies and clubs and external organisations.
The Central Events Team is located in House 5, via the entrance to Regent House. They can be contacted at the details below:
| | |
| --- | --- |
| Email | Telephone |
| enquiries@tcd.ie | +353 1 896 1724 or +353 1 896 1897 |
Office Opening Hours
Monday to Thursday 9.00am – 5.00pm
Friday 9.00am – 4.45pm
Closed Bank Holidays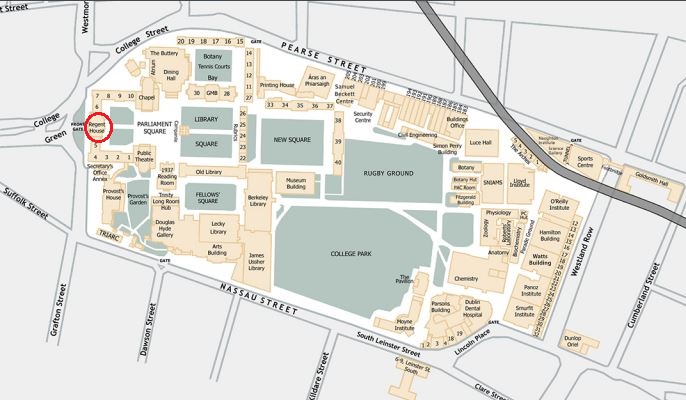 Booking an event
Email us: enquiries@tcd.ie outlining the event details, capacity, date, time and duration.
For more information on external Central Events, visit https://www.tcd.ie/visitors/events
Event Query
If you have a query regarding your event, or a room on Campus, or you would like some more information on how to book an event, please contact us either by email, telephone, or in person in the office. You can also find further information at the following link: Junior Dean's website
Are you interested in bringing an external conference to Trinity?
Trinity offers iconic meeting and event space, stylish dining and over 600 bedrooms on its historical campus and delivers a high quality, customer experience that is complimentary to, and indicative of, a high quality educational experience.
If you are interested in understanding how you can bring a conference to Trinity, the benefits it brings to your departments and research profile and the supports on offer from Central Events and the Dublin Convention Bureau, please contact us on events@tcd.ie
For further information on the spaces on offer, please visit: https://www.tcd.ie/visitors/events