Irish Language Awards
The Trinity College Dublin Irish Language Awards 2019 were presented at a special occasion on Tuesday 9th April 2019. The Minister for State for the Irish Language, the Gaeltacht and the Islands, Seán Kyne TD, attended the celebratory event in Seomra na Gaeilge to present the awards and certificates to the following people.
Awards:
• Individual Student: Cúnla Morris (second year student of Modern Irish & French)
• Graduate: Aonghus Ó Lochlainn (Music & History 2012)
Highly commended certificate:
• Graduate: Ciarán Wadd (Modern Irish & French 2018)
• Student: Malachi Ó Marcaigh (second year student of History & Politics)
• Student: Dillon Cotter (second year student of Theoretical Physics)
Irish Language Awards 2014/15
At the end of the academic year 2014/15, for the first time, Trinity College Dublin presented Irish Language Awards (Gradaim na Gaeilge). The Irish Language Awards programme was founded to recognise the great work that is done for Irish in the University. On this page you will find all the main information about the awards.
Click here to find out about the 2015 awards winners!
Click here to see photos from the awards night!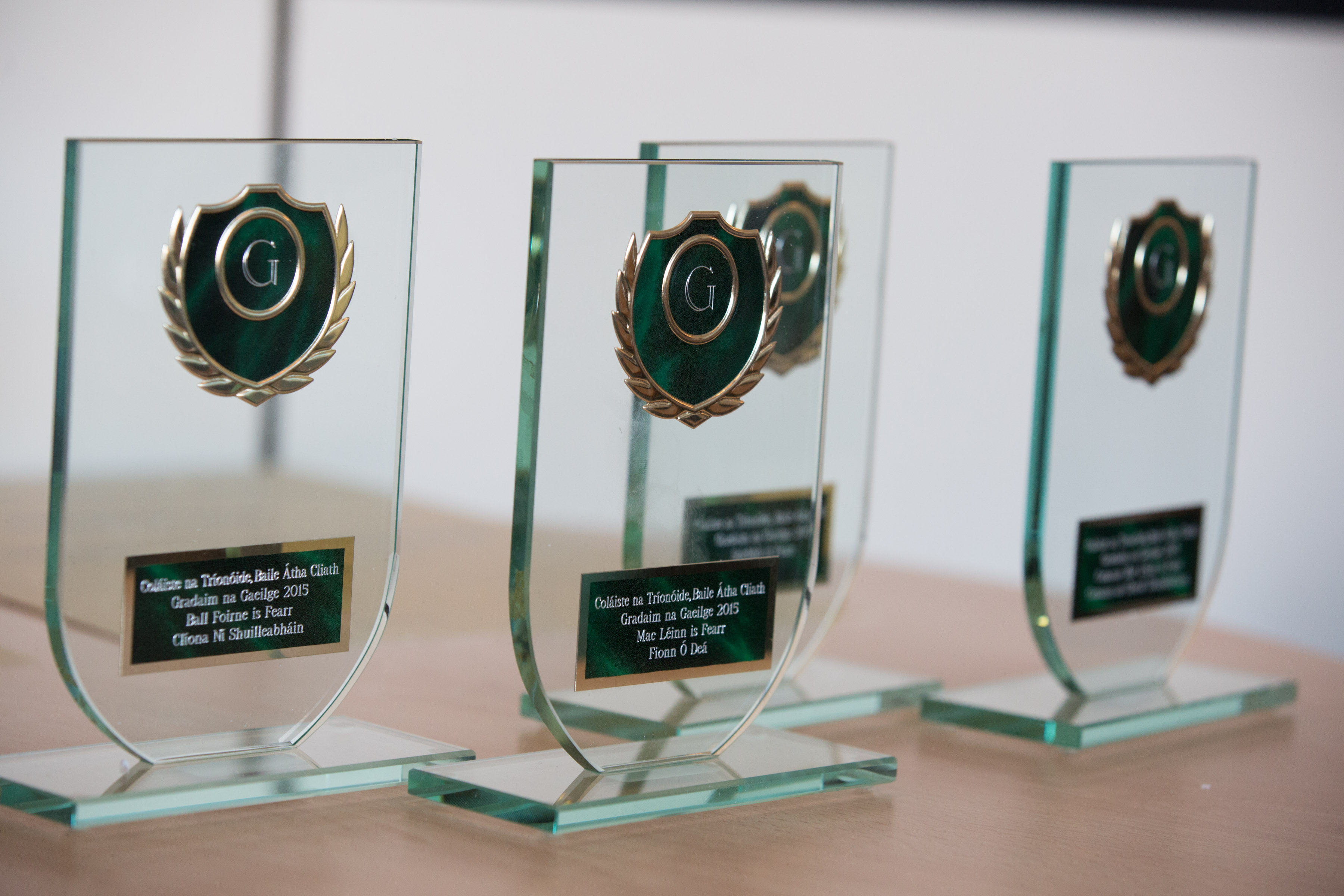 The Awards
Awards may be given in 5 areas, where exceptional achievement has been made by a nominee in that area:
Individual student
Individual staff member (except the Irish Language Officer)
Student society (except An Cumann Gaelach)
Service in the College
Graduate
As well as the honour itself, the award comprises a trophy and the name of the winner being displayed in Seomra na Gaeilge.
The Criteria
A selection committee will assess all nominees according to the criteria in the application form, for example, the nominee's impact on the Irish language community in Trinity, on the College community as a whole and on the general public. There are 5 questions to be answered and each question is worth 20 marks.
Awards can be given for achievement of any kind in the Irish language field. These are just a few examples to get you thinking:
Raising the profile of the language
Widening the language community
Creating links between people / groups
Provision of services at a high standard
Academic activities
Language-learning
Daily commitment to the language
Creative ideas
Selection Committee
The selection committee comprises of the following:
John Coman, Secretary to the College
Dr Melanie Ní Dhuinn, School of Education
Áine Ní Shúilleabháin, Irish Language Officer
Caolán Mac Grianna, Auditor of An Cumann Gaelach
In the case that a member of the selection committee is nominated for an Award, they will not give any marks in the relevant section, and they will not present for the part of the selection meeting.
Members of the selection committee may make a nomination but, once again, they will not give any marks in the relevant section.
Nominations
The nomination process for the 2018/19 Irish Language Awards is now closed.
A few tips...
You are welcome to nominate yourself or your own service / society
You are also welcome to nominate someone else
You can make more than one nomination
The selection committee may contact you to get further information about the nominee
Give specific details and evidence on the form as often as you can
You or your nominee will be welcome to seek feedback, but the decision of the subcommittee cannot be appealed