Irish Language Award Winners 2015
At the end of the academic year 2014/15, for the first time, Trinity College Dublin presented Irish Language Awards (Gradaim na Gaeilge). The Irish Language Awards programme was founded to recognise the great work that is done for Irish in the University. On this page you will find information about this year's winners and why they deserve an Irish Language Award.
Individual Student
Winner - Fionn Ó Deá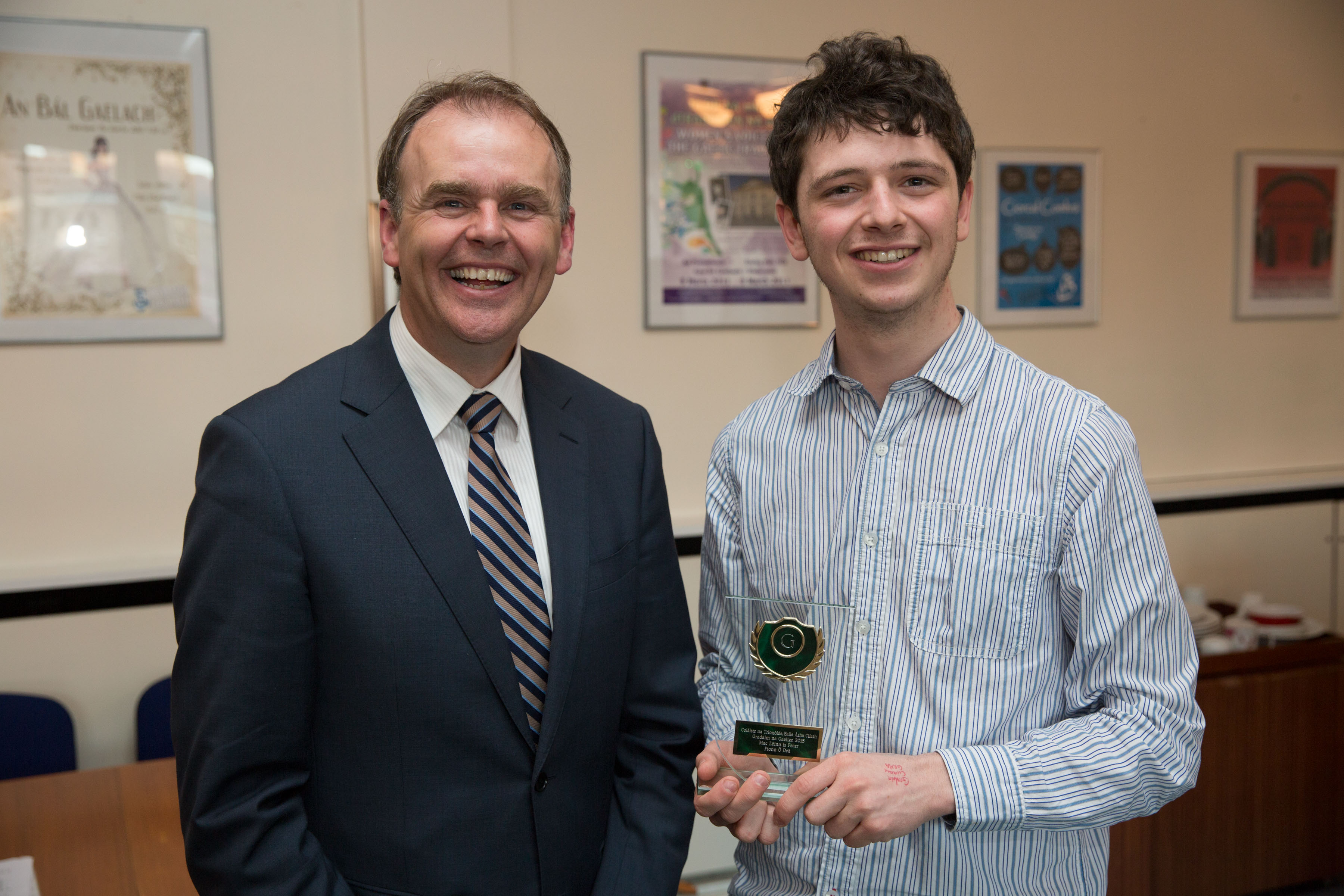 Fionn is a fourth year student, reading Law. He has been an active member of An Cumann Gaelach, Trinity's student society for the Irish language, since he came to Trinity College in 2011, taking a major part in the society's committee ever since. He participated in the campus Irish Language Residency Scheme in 2013/14, and this year he was the Auditor of An Cumann Gaelach. An Cumann Gaelach is one of the largest societies in Trinity College, with over 1,000 members, and the Auditor has big responsiblities regarding organising events, directing long-term projects, and campaigning.
Fionn did a great job in this role in 2014/15. Firstly, he created co-operative relationships between An Cumann Gaelach and other societies in the College whose primary aim is not the promotion of Irish. Because of his efforts, more Trinity students are now aware of the opportunites they have to use their Irish in College, and Irish speakers in College have been shown to be an open and friendly community.
Through this co-operation with other societies - such as a coffee morning with CancerSoc, a "géilí" with QSoc and Irish language sessions with S2S - students with Irish have lent their support causes of importance within the College community as a whole. Fionn was also a co-editor of Trinity's Tongues, a brand new multilingual magazine (supported by the TCD Equality Fund) which promotes diversity in Trinity College.
Fionn was a strong representative for students' language rights in 2014/15. He had a good relationship with the Students' Union and worked on various developments with them. Fionn led the team of translators who translated the Students' Union's weekly email to Irish - a service that was provided for the first time this year - and he organised several Irish language events during Students' Union "weeks", for example a party in Trinity Hall during RAG week. In the autumn, he ran an event called "The Irish Challenge", which greatly raised awareness of Trinity's College's Irish langage services among its students.

Fionn made an impact on a national level as well, and accordingly raised the profile of the College. He attended national Irish language events as a representative of the students of Trinity College, he spoke on Raidió na Life and took part in other organisations' campaigns (e.g. Comhrá '14, Gaeilge 24). He initiated his own national campaign called "#Gaeilge", which had the simple, effective goal of making the hashtag #Gaeilge trending on social media by the end of a particular day. This campaign has been nominated for the "Irish Language Campaign of the Year" award at the national Student Achievement Awards 2015.
It was Fionn's goal as Auditor to broaden the "target audience" of the Irish language, and it's clear that he has achieved that goal. Fionn has made a big difference to Irish in Trinity College, and his influence will be felt for years to come.
Highly Commended - Rebecca Comer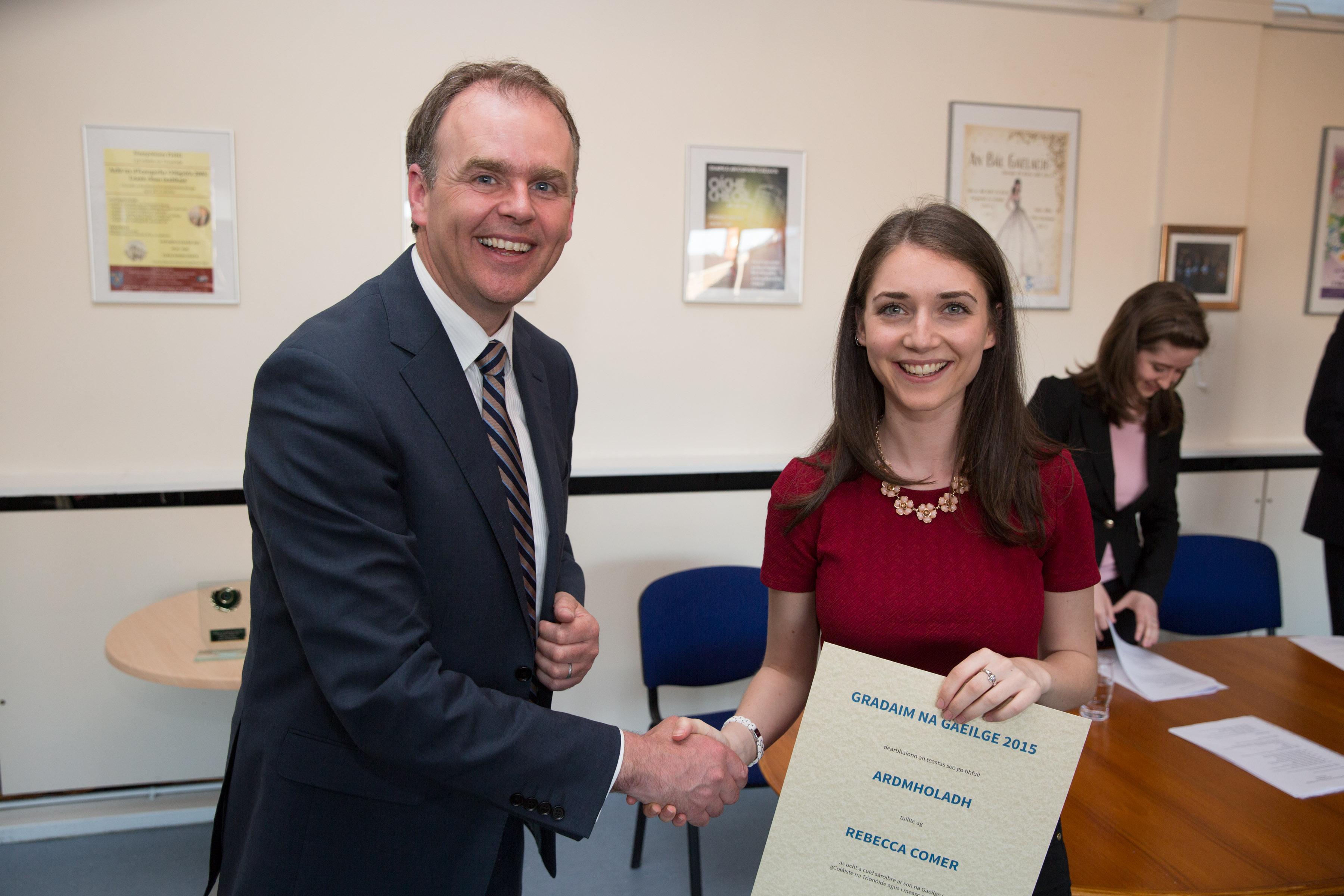 Rebecca is a French and Modern Irish student, entering her final year in 2015/16. She has been a member of the Irish Language Residency Scheme for two years, in Trinity Hall and on campus. As a member of the Residency Scheme she has always been helpful and friendly, and she implemented effective group projects to promote the Irish language. It is also clear from the four nominations that Rebecca received that she constantly promotes Irish informally amongst her friends, and that her passion for the language has a big influence on the people around her.
What most impressed the selection committee, however, was the work that Rebecca does with "Club na Gaeilge" (the Irish Language Club). Club na Gaeilge is a joint project between An Cumann Gaelach and the Voluntary Tuition Programme (VTP). Through VTP, Trinity College students support pupils from disadvantaged primary schools with their Irish homework.
Not only is Rebecca the co-ordinator of Club na Gaeilge, directing 80 volunteer tutors, but she is a tutor in the Club herself, and she also gives grinds to Leaving Certificate students from DEIS schools. She spends long hours each week teaching and preparing lessons. She focusses on spoken Irish in the Club and she encourages a positive attitude to the language amongst the students through fun group activities.
Rebecca is very active in promoting Club na Gaeilge, speaking with various groups inside and outside College, for example with adult learners in St Andrew's Resource Centre during College Awareness Week. The work that she does in the Club contributes significantly to Trinity College's goals regarding civic engagement. And on an international level, Rebecca has taught a "cúpla focal" or couple of words of Irish to school children in India, while working as a teacher there with SUAS.

Rebecca has also impacted life within Trinity College. She has done extensive translation work to help to provide the Students' Union website and weekly email in Irish. She assisted three candidates for Students' Union sabbatical positions in their preparations for the Irish language hustings. And the President of the Trinity Hall JCR 2013/14 says that it's because of Rebecca personally that many people applied for the 2014/15 Residency Scheme!
Rebecca is a fantastic ambassador for Trinity College amongst the general public, and for the Irish language wherever she is.
Student Society
Winner - Traditional Irish Music Society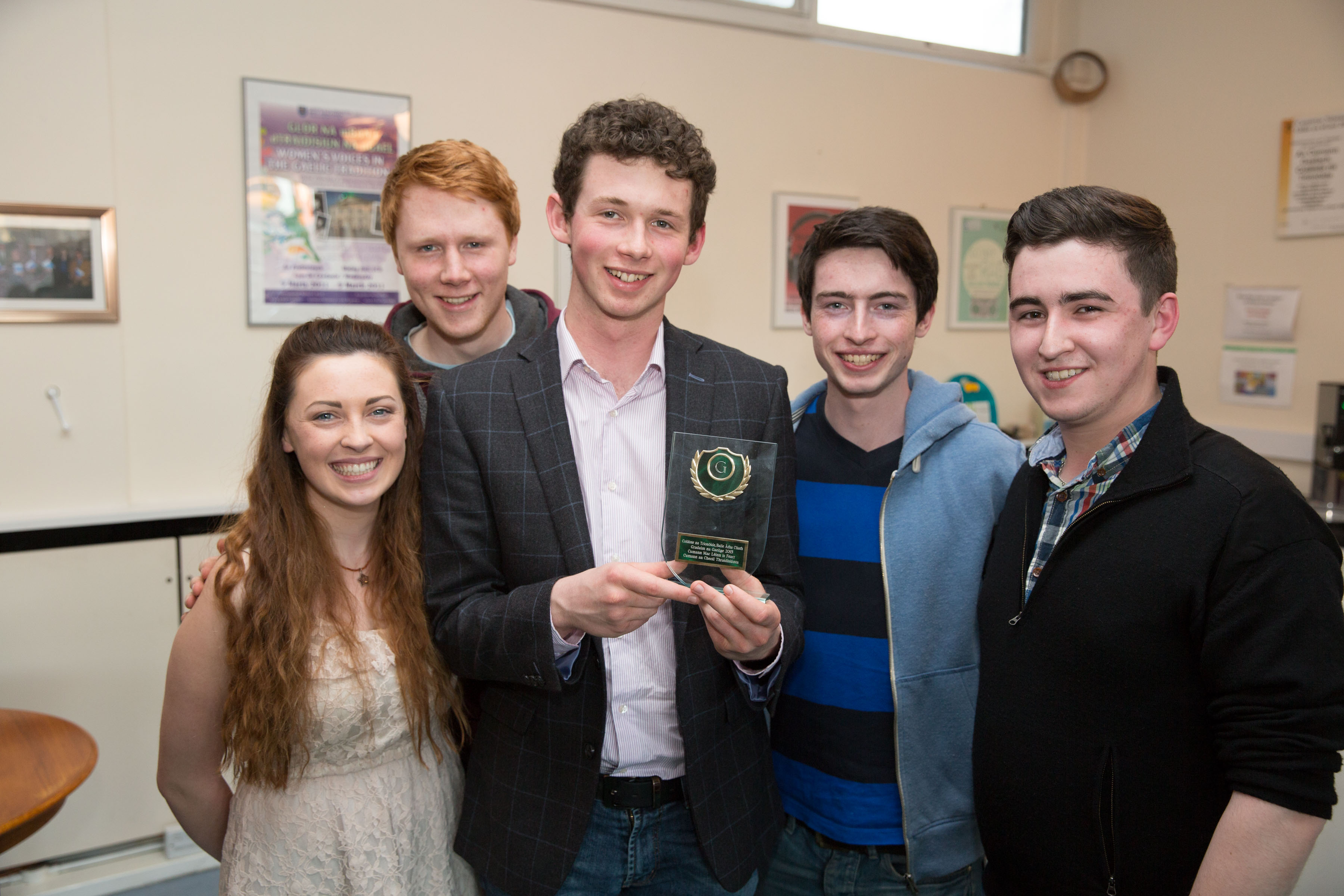 The Traditional Irish Music Society (TradSoc) promotes the traditional music of Ireland amongst Trinity College students. The society has over 200 members in 2014/15 and they have had a very successful year in which they played for RTÉ's Céilí House in the College Chapel, and in which they won the award for Most Improved Society at the Central Societies' Committee awards. They organise fortnightly music sessions, music lessons, concerts, a céilí band, a trip to Glasgow and more.
Through all this work, TradSoc promotes the Irish language as a natural medium of communication. Their membership cards and email signature are bilingual; they use Irish language phrases in their weekly emails; and many of their posters are also bilingual. Their members often speak Irish together, at public events and on social media, and they always communicate with the Irish Language Office and An Cumann Gaelach through Irish.
TradSoc very often supports Irish language events by playing music. They held many joint events with An Cumann Gaelach in 2014/15, including:
Céilí in Front Square during Freshers' Week
Launch of the Year in the Lord Mayor's Residence
Launch of Éigse na Tríonóide (Trinity's annual Irish-language festival)
Géilí (i.e. "a gay céilí", in collaboration with QSoc)
They also supported Irish Language Residency Scheme events, such as a music night in the Trinity Inn and the Christmas party. Members of TradSoc have informal sessions in Club Chonradh na Gaeilge on students' night each Tuesday - students from Trinity College go to this all-Irish club on a regular basis, as well as students from other colleges, and the live traditional music greatly enhances the experience.
Live music by TradSoc adds a great deal to any Irish language event, by creating a lively, fun atmosphere - this in turn attracts more people back to the next Irish language event. The music encourages students to associate the Irish language with craic, with vitality and with a Gaelic culture that has songs as well as grammar.
In all of the ways described above, which are practical, effective, and entirely voluntary, TradSoc greatly promotes the Irish language in Trinity College.
Highly Commended - Voluntary Tuition Programme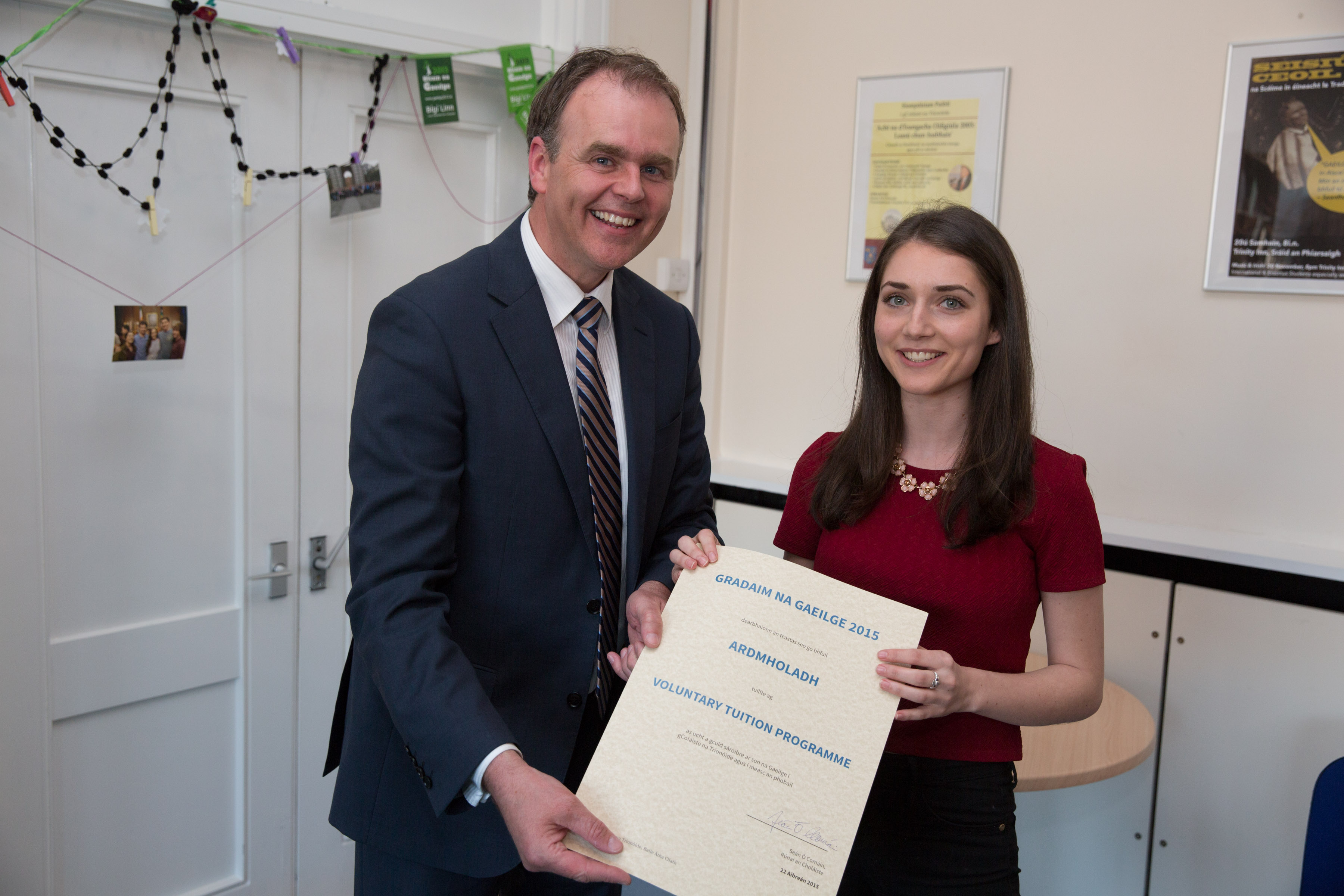 Trinity's Voluntary Tuition Programme (VTP) is a student-run charitable society that provides free tuition to children from the communities around Trinity College. They offer a wide range of subjects, including Irish.
The three Irish language services that the VTP provide are Grinds, Language Oral Preparation Club, and "Club na Gaeilge" (the Irish Language Club). Irish language grinds are given to both primary and secondary school students. In the Language Oral Preparation Club held three nights a week, Junior and Leaving Certificate students practice for their oral exams.
Club na Gaeilge was founded in 2013/14 by An Cumann Gaelach, the St Vincent de Paul Society, and the VTP. Through the programme, Trinity College students support pupils from disadvantaged primary schools with their Irish homework. It is a fun, active club which places emphasis on spoken Irish and on the use of Irish in group activities. Due to the high demand for the club last year, Club na Gaeilge began from the first week of the first term this year, more tutors (80 in total) were obtained, and more pupils took part than ever before.
Club na Gaeilge and the VTP's other services give children from disadvantaged areas the opportunity to get help with their Irish outside school. The club improves these children's competence and confidence, in their Irish language skills and in general. It's said that members of Club na Gaeilge have more interest in Irish as a living language, rather than just a language to be examined in, at the end of the term. There's a good chance that their positive experiences in Club na Gaeilge will influence these pupils' views on the Irish language when they are adult citizens.
As well as all this, Club na Gaeilge motivates Trinity students, who often are not taking Irish as a degree subject, to use their Irish outside College. Representatives of the Club visited adult learners of Irish in St Andrew's Resource Centre as part of College Awareness Week - a new project in 2014/15.
Trinity College's Voluntary Tuition Programme was founded 28 years ago and has been providing Irish tuition since - but it's clear that the VTP are placing a particular emphasis on Irish in recent years, and that they are having great success in promoting Irish in the capital.
Individual Staff Member
Winner - Clíona Ní Shuilleabháin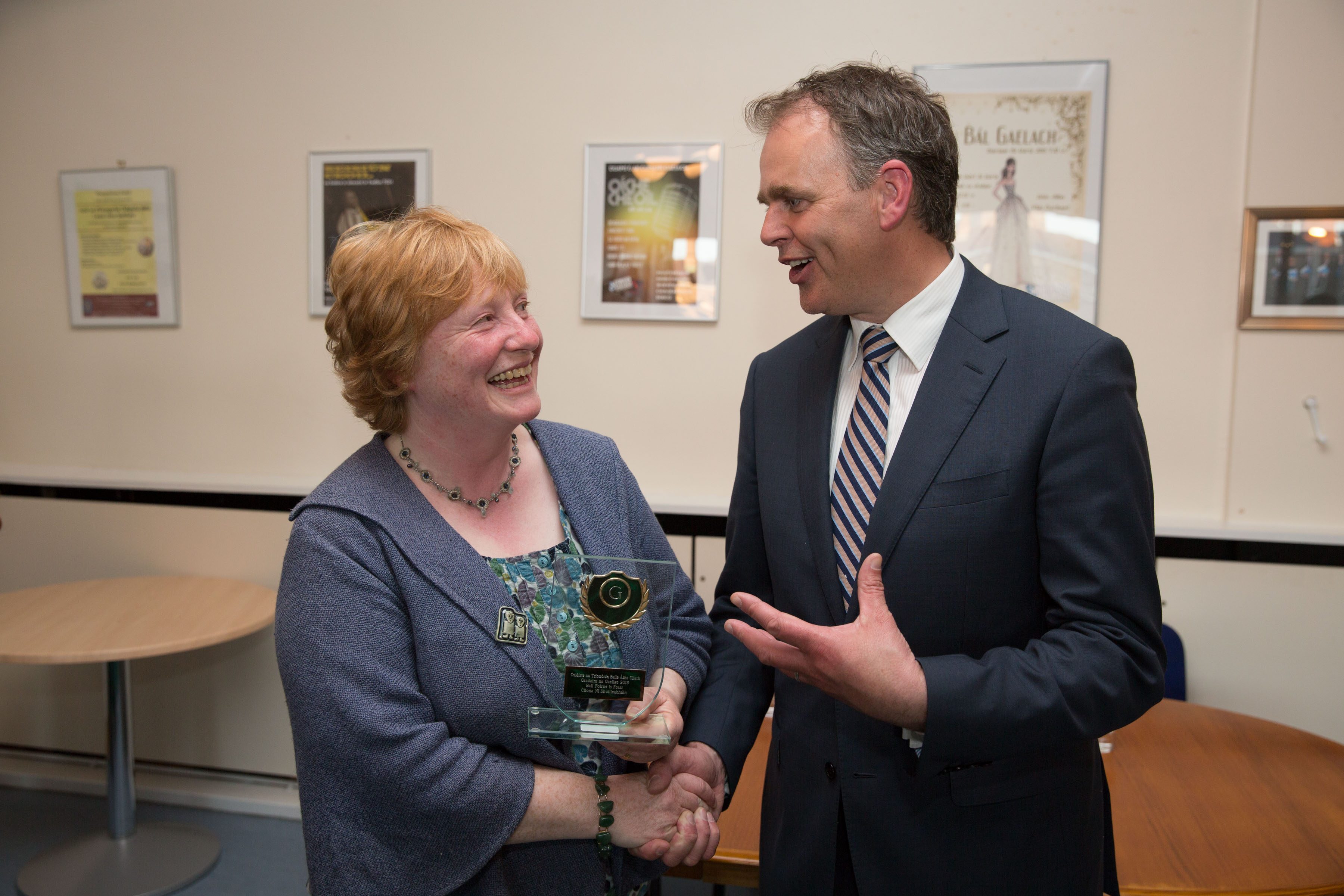 Clíona is an Assistant Librarian who has been working for Trinity College since 1987, and a Trinity graduate with a degree in French and Modern Irish.
The Library of Trinity College Dublin is very strong in its support of the Irish language, by complying with language legislation, doing business in Irish and developing Irish language services. The Library is central to College life, of course, and it also receives around 15,000 external visitors each year. Therefore the status of the Irish language in the Library has a great influence on the status of the Irish language in the College as a whole and amongst the general public.
Clíona's role in the strength of Irish in the Trinity College Library is by no means insignificant. Clíona is the editor of the Library's Irish language webpages, one of the biggest Irish language mini-sites in the College. She gives support to the Irish Language Office in monitoring the implementation of the Official Languages Act 2003 in the Library. Clíona pays close attention to Library signage and publications to ensure that they are always of a high spelling and grammatical standard. And she gathered Library staff members together to appear in a video about Irish language services in the Library (in collaboration with students from the Irish Language Residency Scheme).
Clíona can readily provide customer service and do business in Irish. She organises a conversation circle for Library staff along with her colleagues Colin Brennan and Ella Hassett. This conversation circle gives staff members who provide Irish language services in particular the chance to practice their Irish in a comfortable setting that is easily accessible from their workplace.
On top of that, Clíona herself provides further Irish language services in the Library. She gives guided tours of the Library through Irish each year for Freshers' Week, to show new students the Library's resources and services (Irish language and otherwise). She leads guided Irish language tours of the Book of Kells and the Long Room, a totally unique service. In 2014/15, different groups from Trinity College and from Dublin secondary schools went on these tours. The tour gave the school pupils in particular a whole new insight into Trinity College. These public tours show that Irish is alive and well in Trinity College, and that the general public can take part in the heritage of the College.
Clíona helps hugely with the promotion of Irish at a College level. She is a member of Coiste na Gaeilge (the Irish Language Committee) and of the Seomra na Gaeilge Managment Committee, and she gives extra support through these roles. For example, she sits on the interview panel for the Irish Language Residency Scheme twice a year, spending up to 6 days on this important work that could not be done without the assistance of a volunteer staff member outside the Irish Language Office.
On the whole, Clíona is an excellent agent for language promotion whose dedication has benefited the Trinity College Library, the entire College and the general public.
College Service
Winner - ABAIR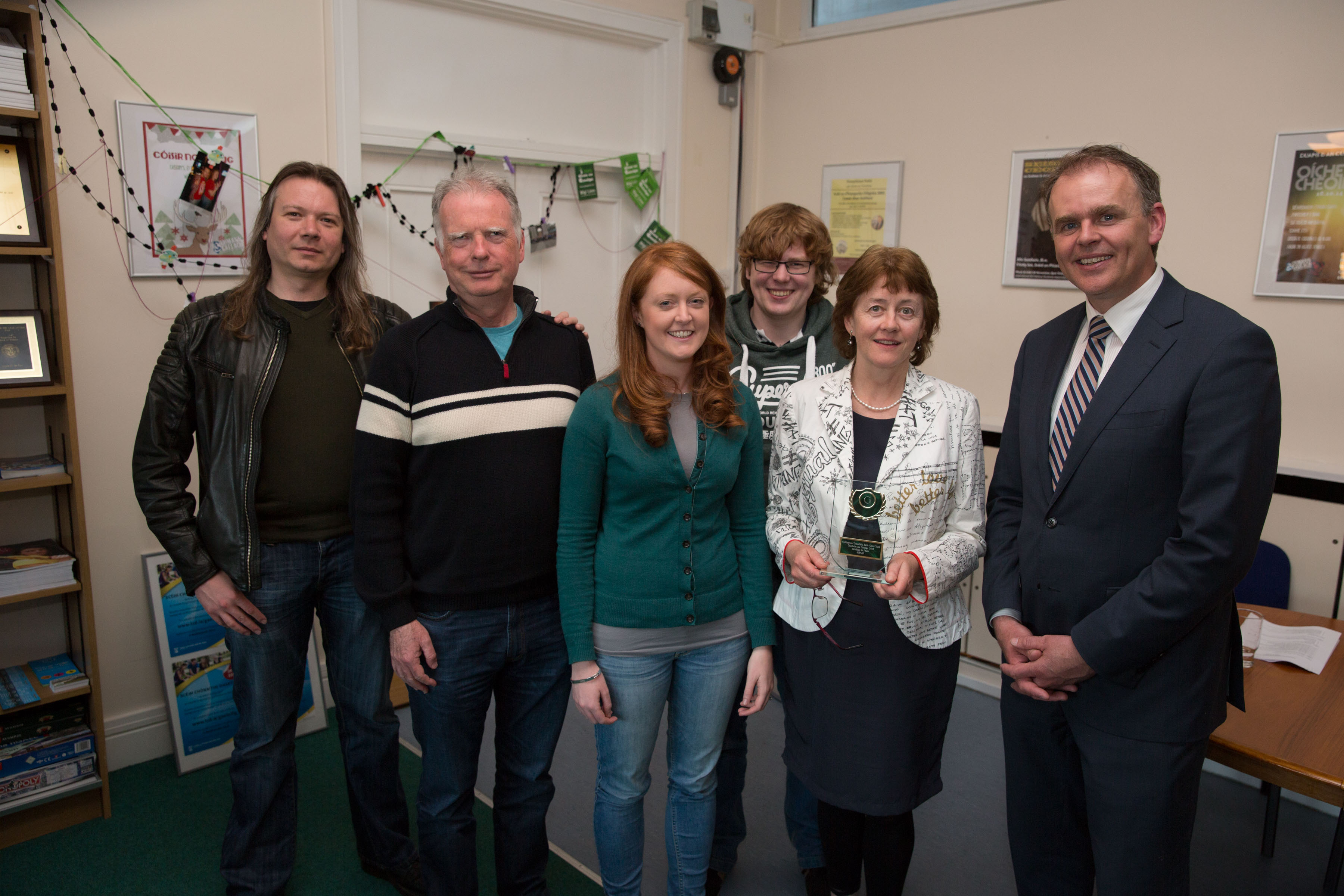 The ABAIR project is based in the Phonetics and Speech Laboratory in the School of Linguistic, Speech and Communication Sciences. It has a small research team made up of staff and students.
The ABAIR team are developing Irish language speech technology and working on important aspects of Irish language linguistics. The primary aim of ABAIR is to provide synthetic voices for the various dialects of Irish. Their text-to-speech programme turns the written word into living speech, and it is based on natural human speech - it weaves sounds together to create new sentences.
ABAIR provides an entirely unique service to the public at www.abair.ie. This service can be accessed free of charge from anywhere in the world, and it is very easy to use. You need only type an Irish word or sentence into this webpage and a sound file is provided for you, in which you will get an accurate pronunciation of the word or sentence from a native speaker. abair.ie is a great tool for learners in Ireland, and for international learners in particular as they may have difficulty accessing Irish language speakers, whether through media outlets or through the education system.
People with visual impairments have a great need for text-to-speech programmes. In 2014/15, the ABAIR team have developed an NVDA (NonVisual Desktop Access) screen reader - software that reads everything on the screen aloud. This is a crucial development for Irish speakers with visual impairments.
The ABAIR team are conducting high-quality academic research into various aspects of the Irish language. This raises the profile of the language, strengthens the Irish language in Trinity College and adds to the visibility of Irish language scholarship in Irish academic life. ABAIR also creates links between researchers and the general public through the NVDA service and the site abair.ie.
ABAIR provides high-quality, practical services based on research, to help Irish language learners and Irish speakers with visual impairments. They have a positive impact in Ireland and internationally, on the profile of the Irish language and the profile of Trinity College. abair.ie and the Irish language screen reader are excellent services which make a huge difference to many people.
No Irish Language Award will be presented in the "graduate" category this year.