Archive
October 2016
Women and Film Series

Colleagues across College organised a series of films which examined the place of women in international film. Each screening was preceded by a short introduction. A new series of films is due to commence in 2017 - please keep an eye on our news page for announcements.
March 2016
"All changed, changed utterly... " - TCGEL Film Screening for International Women's Day
In 2016 over half the students in Trinity are female, but in the 1960s a woman on campus was a rare sight. In this film, commissioned by TCGEL, some of the very first, pioneering women academics in the university speak about their experiences, the culture of the time, what has changed over the years, and what hasn't...
The first screening of this original documentary, was launched by Professor Jane Ohlmeyer, Director of the Long Room Hub, on 8th March 2016, and was followed by discussion and a reception.
To watch the film click here: "All changed, changed utterly... "
December 2015
Trinity Conferred with Landmark Athena Swan Awards
Trinity College Dublin's champions for seeking equality for women in higher education and research in STEMM (science, technology, engineering, mathematics and medicine) disciplines received landmark Athena Swan awards at a special ceremony held at the Royal College of Physicians of Ireland on 10th December. Read more here: Athena SWAN Awards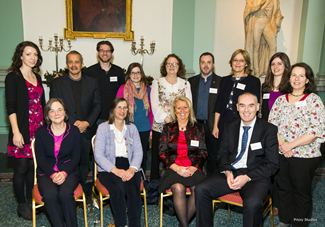 November 2015
FESTA Conference, University of Limerick
On November 10th, Professor Eileen Drew presented the key findings and recommendations of the INTEGER project at the FESTA (Female Empowerment in Science and Technology Academia) Conference at University of Limerick.
August 2015
Athena SWAN reception
On 27 August 2015 the Provost held a reception to mark the efforts of the Athena SWAN application teams and to celebrate Trinity's success. Trinity won an Institutional Bronze award and three Bronze awards went to the Schools of Chemistry, Natural Sciences and Physics.
Read the Provost's address here Provost Athena SWAN Address.
July 2015
Trinity Wins Landmark Athena SWAN Awards
Trinity College Dublin has won a bronze institutional Athena SWAN award for advancing gender equality. Three of its Schools (Physics, Chemistry, Natural Sciences) have also received landmark bronze awards.
The Athena SWAN programme run by the Equality Challenge Unit (ECU) and implemented by Trinity College aims to advance women's careers in science, technology, engineering, mathematics and medicine (STEMM) employment in higher education and research.
Gender Equality Index 2015
On 25 June, a few days after its 5th anniversary, EIGE launched the first update of the Gender Equality Index 2015 in Brussels. The Index provides a score of how well Member States perform together with how successful they are at closing gender gaps.
To read more click here Gender Equality Index 2015.
June 2015
Masterclass with Professor Margaret Murnane, Friday 26th June
Professor Margaret Murnane, of the Department of Physics and Electrical and Computer Engineering at the University of Colorado and Fellow at JILA (http://jilawww.colorado.edu/kmgroup/), was conferred with an honorary degree from Trinity College on Friday 26th June. Professor Murnane received both her B.S and M.S. degrees from University College Cork, Ireland, and her Ph.D. degree in physics from the University of California at Berkeley in 1989. She has been a member of the Faculty in the University of Colorado since 1999. Her primary research interests have been in ultrafast optical and x-ray science. Professor Murnane has received numerous awards and accolades throughout the course of her career. She is a Fellow of the American Physical Society and the Optical Society of America. In 1997 she was awarded the Maria Goeppert-Mayer Award of the American Physical Society, in 2000 she was named a John D. and Catherine T. MacArthur Fellow, in 2004 she was elected to the National Academy of Sciences, and in 2006 she was elected a Fellow of the American Academy of Arts and Sciences.
Gender Equality Symposium 15th June - INTEGER: Lessons Learned from a European Partnership
Our sincere thanks to all who attended our INTEGER Symposium on gender equality and structural change in higher education and research on Monday 15th June. The day was a great success with valuable contributions from all of our speakers. It is exciting to feel such national momentum building towards gender equality in our education system.
The opening address came from Minister Aodhán Ó Riordáin, Minister of State for Equality, New Communities, and Culture and Drug Strategy.
The symposium explored the lessons learned from a European partnership through the FP7 INTEGER Project, and discussed mechanisms for advancing gender equality in research, now and for the future.
February 2015
Trinity Joins Charter in Pledge to Promote Gender Equality
On 5 February 2015, Trinity College Dublin joined six other Irish universities, as well as 14 institutes of technology and the Royal College of Surgeons, in signing up to a charter committing them to advance women's careers in science, technology, engineering, mathematics and medicine (STEMM) employment in academia.
In a major national initiative supported by the Higher Education Authority, the Athena SWAN Charter will be expanded to Ireland from today.
The Athena SWAN Charter, run by UK higher education equality body Equality Challenge Unit (ECU), is a programme that has had a proven impact on gender equality in higher education and research. By introducing the charter to all higher education institutions, HEA seeks to renew and refresh the Irish higher education system's commitment to gender equality.
Launching the charter in Dublin, Minister for Education and Skills, Jan O'Sullivan said: "It is important that our higher level education sector fairly represents the diversity and innovation that are at the heart of Irish society. In the area of STEMM women play a key role in teaching, cutting-edge research and building links with industry and the wider community."
"Actively promoting gender equality is an important goal. Gender equality should be central to how all public organisations operate. The principal of equality demands nothing less."
"Ensuring the fair representation and career progression of female academics is also important in retaining Ireland's international reputation for the quality and impact of our scientific community."
"I congratulate the institutions who have signed up to ECU's Athena SWAN Charter, who will be playing a part of building cultures where all, whatever their gender, can thrive."
January 2015
Hidden Hurdle for Women in Science: Read the article in the Nature about why women shy away from fields in which talent, not hard work, is thought to be key >> http://www.nature.com/news/hidden-hurdle-for-women-in-science-1.16727?WT.ec_id=NEWS-20150120