Hannes OpelzAssistant Professor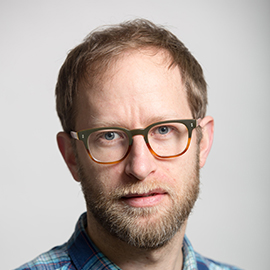 Research
Broadly speaking, my research focuses on theories of representation in Western thought and aesthetics, from Plato to Philippe Lacoue-Labarthe. Methodologically, my work combines mimetic theory, deconstructive analysis, myth studies, and theory of tragedy. This entails deploying a number of concepts and reading strategies developed by, among others, Philippe Lacoue-Labarthe, Martin Heidegger, Károly Kerényi, and Friedrich Hölderlin.
Teaching
My teaching relates essentially to modern French literature and philosophy (from the Enlightenment to the 21st century), particularly Jean-Jacques Rousseau, Stéphane Mallarmé, Antonin Artaud, Georges Bataille, and Maurice Blanchot.
Current projects
Currently, I am working on three separate book projects: two monographs, one on Maurice Blanchot, another on Jean-Jacques Rousseau, and a book-length study of recent science fiction film.
Administrative responsibilities
Foundation Scholarship Coordinator in the French Department
Senior Freshman Year Coordinator in the French Department