New Minor Subject
A New Minor Subject is a new subject that may be taken up by Single Honours Students on any of the below Single Honours programmes, in their 2nd Year. Students may then choose to continue taking that subject in their 3rd and 4th Years and finish with a Major with Minor degree.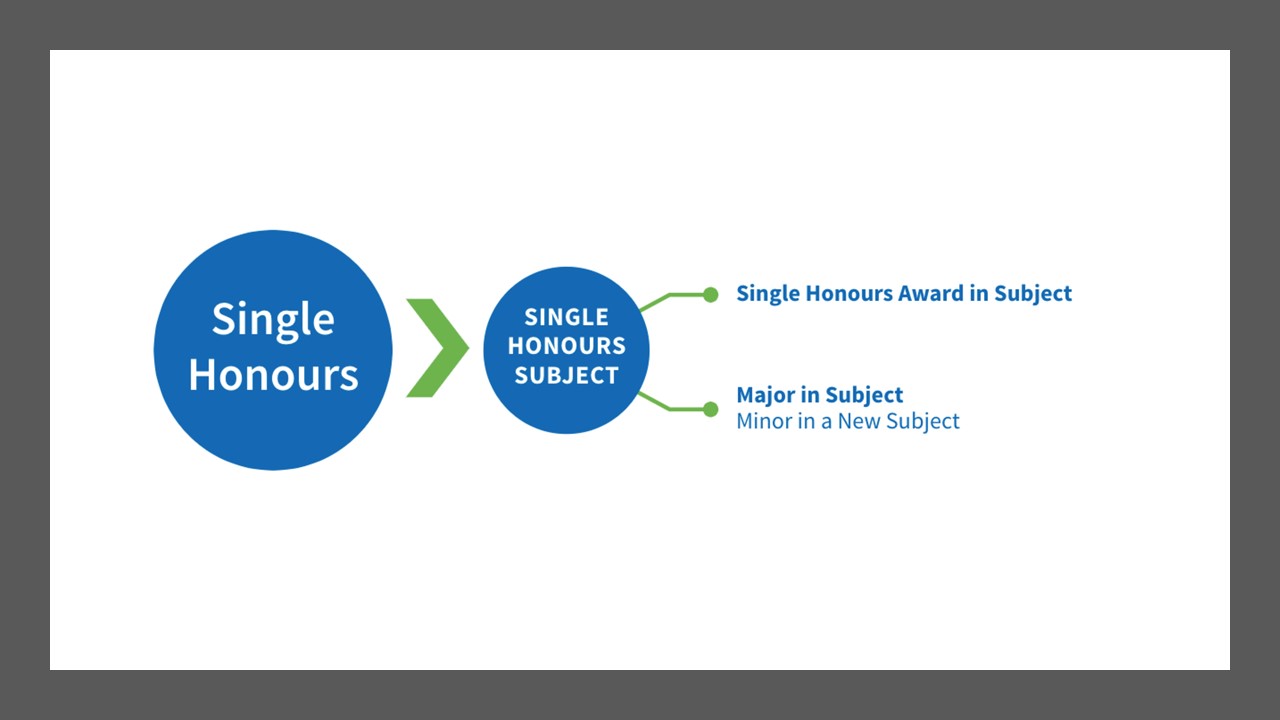 For further general information on New Minor Subject pathway options, use the Single Honours Explore Your Pathways tool and read the New Minor Subject FAQ section on www.tcd.ie/courses/undergraduate/your-trinity-pathways .
For specific queries about each of the New Minor Subjects, see the below Contact List and Pre-requisite Requirements.
Single Honours Programmes that may take up a New Minor Subject in 2021/22
To view the combinations table, please refer to the link above. Alternatively, please click on each of the Single Honours Programmes below to see the set of New Minor Subjects available to students on that programme who will be entering their 2nd year in 2021/22. * Denotes the below pairings that do not exist within Trinity Joint Honours.
Early & Modern Irish
● Ancient History and Archaeology ● Classical Languages* ● English ● Film ● Geography* ● German ● History of Art & Architecture ● Italian ● Linguistics ● Middle Eastern Jewish and Islamic Civilisations ● Music ● Religion* ● Russian ● Social Policy* ● Spanish*
Drama & Theatre Studies
● Ancient History and Archaeology ● Classical Civilisation* ● Classical Languages ● English ● French* ● Geography ● History* ● Irish ● Italian ● Linguistics ● Mathematics* ● Music ● Religion ● Social Policy ● Spanish
English Studies
● Ancient History and Archaeology* ● Classical Civilisation ● Drama Studies ●French ● Film ● German ● History ● History of Art & Architecture ● Italian* ● Linguistics* ● Mathematics ● Middle Eastern Jewish and Islamic Civilisations ● Music* ● Russian
Film
● Classical Civilisation ● Classical Languages ● Drama Studies ● French ● Geography ● German* ● History ● History of Art & Architecture* ● Irish ● Mathematics ● Middle Eastern Jewish and Islamic Civilisations* ● Religion ● Russian* ● Social Policy ● Spanish
History
● Ancient History and Archaeology ● Classical Civilisation* ● Classical Languages ● Drama Studies* ● English ● French* ● Geography ● Irish ● Italian ● Linguistics ● Mathematics* ● Music ● Religion ● Social Policy ● Spanish
History of Art & Architecture
● Classical Civilisation ● Classical Languages ● Drama Studies ● Film* ● French ● Geography ● German* ● History ● Irish ● Mathematics ● Middle Eastern, Jewish and Islamic Civilisations* ● Religion ● Russian* ● Social Policy ● Spanish
Mathematics
● Ancient History and Archaeology ● Classical Civilisation* ● Classical Languages ● Drama Studies* ● English ●French* ● Geography ● History* ● Irish ● Italian ● Linguistics ● Music ● Religion ● Social Policy ● Spanish ● Statistics*
Music
● Ancient History and Archaeology* ● Classical Civilisation ● Drama Studies ● English* ● Film ●French ● German ● History ● History of Art & Architecture ● Italian* ● Linguistics* ● Middle Eastern Jewish and Islamic Civilisations ● Russian*
Religion
● Ancient History and Archaeology ● Classical Languages* ● English ● Film ● Geography* ● German ● History of Art & Architecture ● Irish* ● Italian ● Linguistics ● Middle Eastern Jewish and Islamic Civilisations ● Music ● Russian ● Social Policy* ● Spanish*
Philosophy
● Ancient History and Archaeology ● Classical Languages* ● English ● Film ● Geography* ● German ● History of Art & Architecture ● Irish* ● Italian ● Linguistics ● Middle Eastern Jewish and Islamic Civilisations ● Music ● Religion* ● Russian ● Social Policy* ● Spanish*
Contacts and Pre-Requisite Requirements