Return to Recipes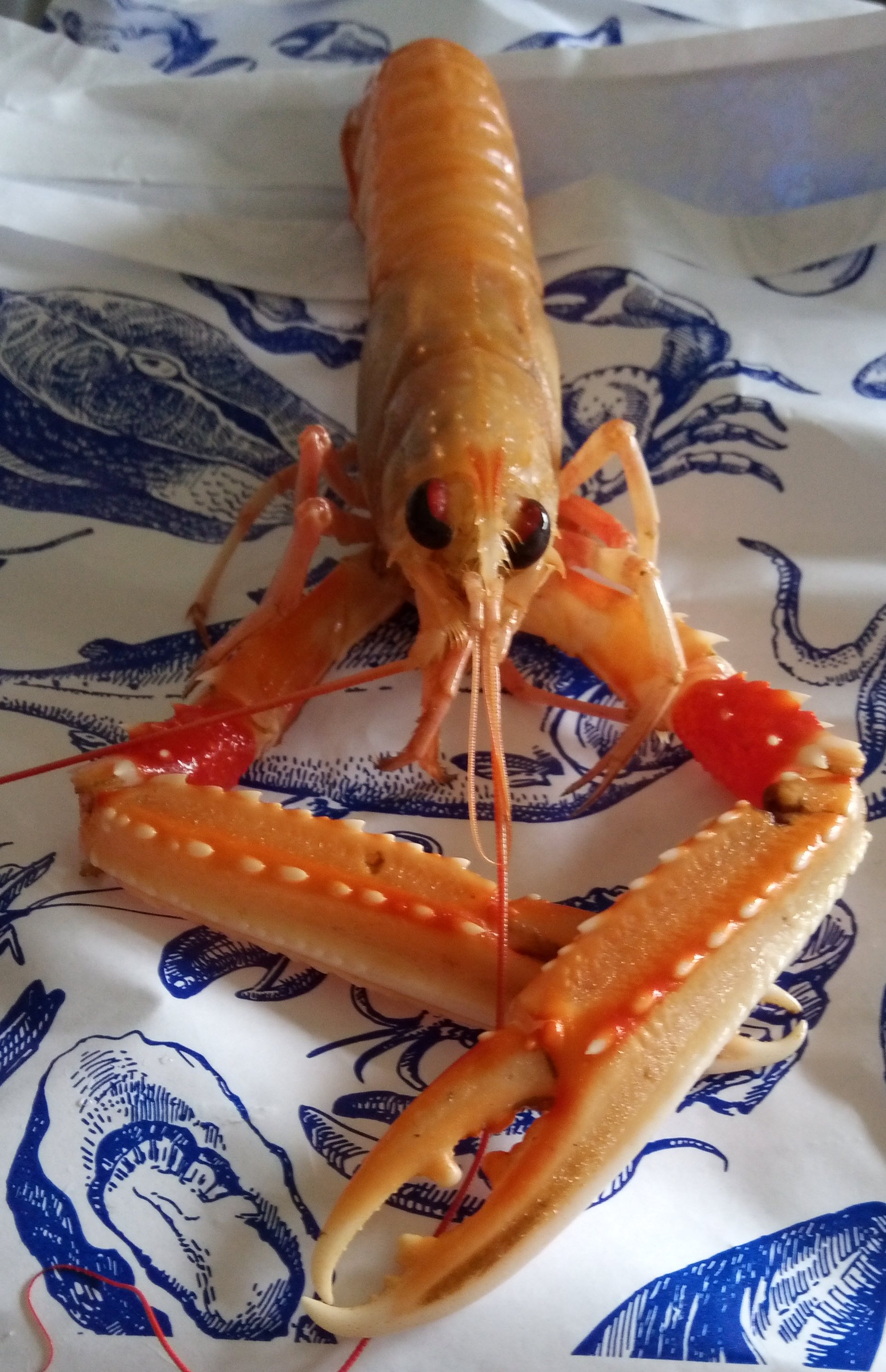 Brian Topping created this finger licking starter of prawn stew reimagining a recipe first published by Hannah Glasse in 1777 "to Stew Prawns, Shrimps, or Crayfish". Brian has given us a stunning performance with all three recipes he has reimanging and cooked for us so far and we're absolutley thrilled and honoured to have this gifted self-taught home cook on board. We really hope you enjoy Brian's entrée for November hoping to bring some colour into this dull and grey winder month.
You find local fishmongers and seafood shops in and around Dublin on our google map of fishmongers here. We update this map whenever we can, but it is by no means exhaustive and if you can't find your local or favourite seafood shop here or you're a fishmonger who would like to be added, please get in touch and we will update our map.
Enjoy your seafood experience!
Dublin Bay Prawns & sourdough toast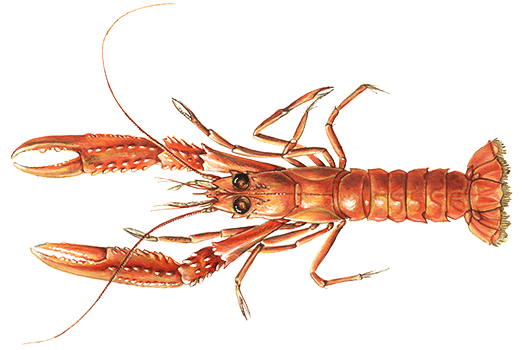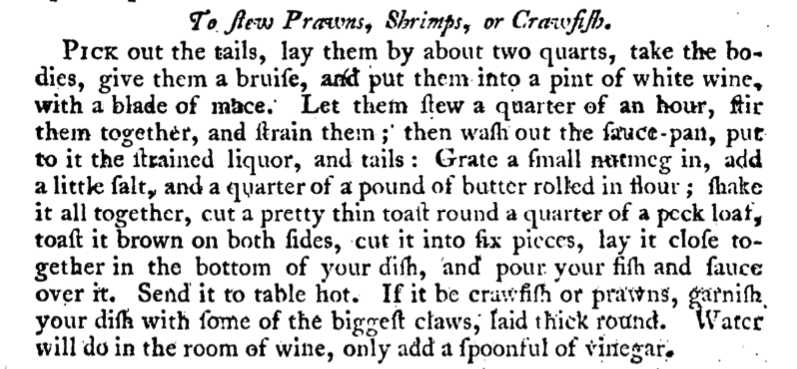 This Dublin prawn stew starter is based on a historical recipe by Hannah Glasse from 1777 out of her cookbook "The Art of Cookery Made Plain and Easy".
Brian followed the recipe "To Stew Pranws, Shrimps, or Crayfish" very closely and demonstrates with this dish, that 250 year old recipes can still appeal to the modern taste with minimal adjustments. We love this dish and hope you will give it a go during the cold winter months!
If you can, try to get MSC certified prawns for sustainability concerns. Some prawns are caught by pot or creel fishing, a method applied in Ireland for centuries, these are the best ones when it comes to environmental sustainability. However, not everyone can affort those as they are quite pricey.

Dublin Bay Prawns with white wine, garlic and buyer sauce, grilled sourdough toast
by Brian Topping
prep: 20mins; cook: 100mins; difficulty level: easy; serves 1-2
Ingredients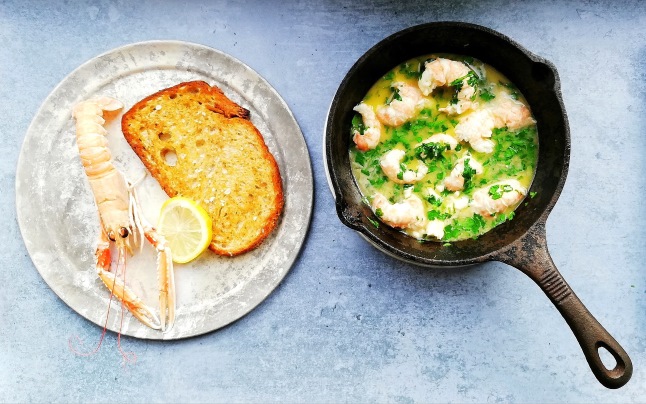 6-8 whole Dublin Bay prawns
150ml dry white wine
1 blade of mace (nutmeg can be used alternatively)
1 pinch of nutmeg (use 2 pinches if you haven't got mace)
25g unsalted butter + extra for spreading on bread
3 garlic cloves
1 tsp of plain flour
3 tbsp of chopped flat leaf parsley
seas salt & pepper to taste
1 bowl of cold water with a few ice cubes
1 slice of sourdough bread
Method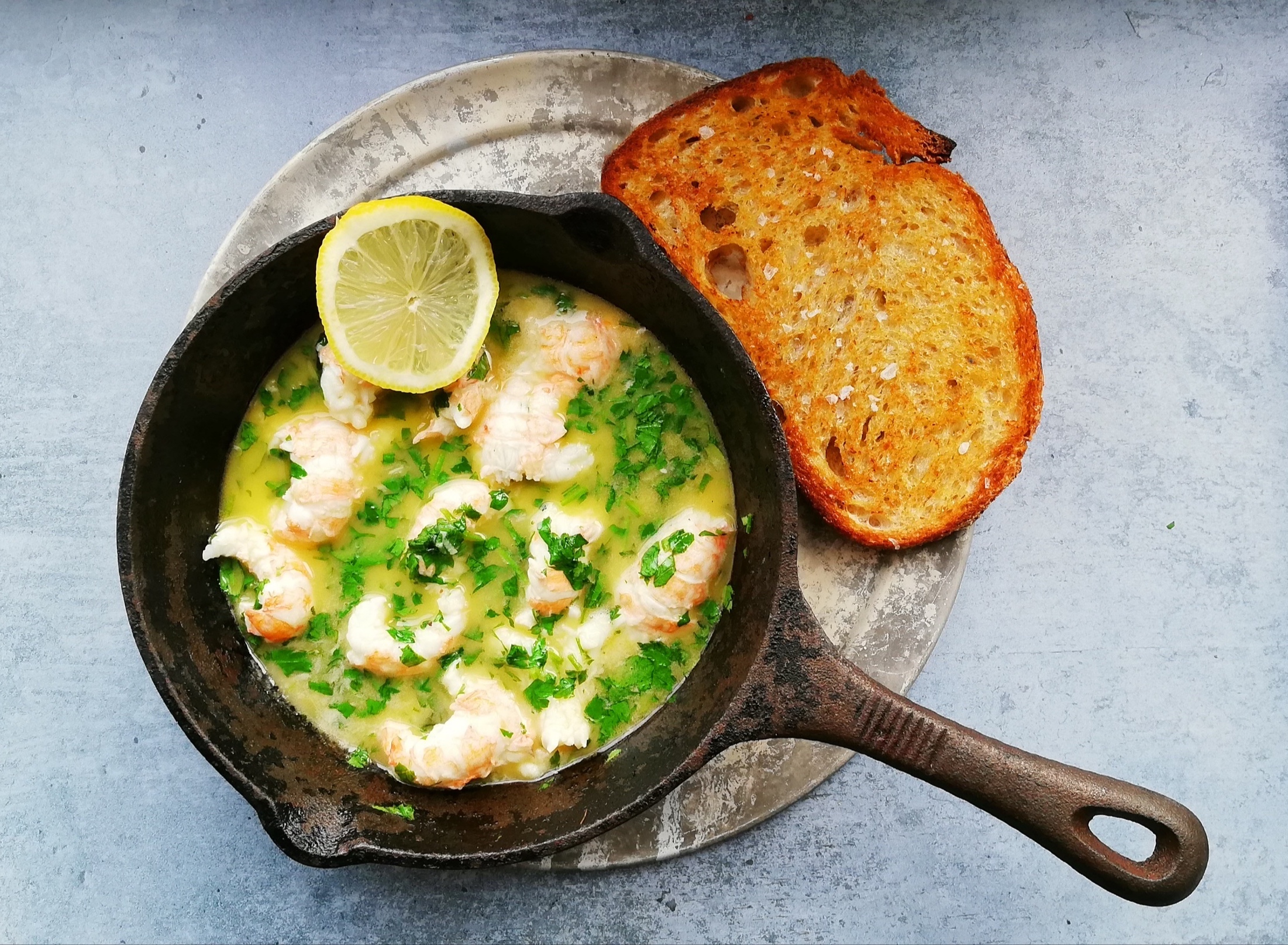 Bring a large saucepan of heavily salted water to a rolling boil.
Drop in the Dublin Bay prawns and cook for 3-4 mins then remove and place in bowl of iced water to stop the cooking process.
When cool enough to handle pat dry and remove tail meat by splitting shells being careful to keep meat intact. Remove the black digestive tract running down the back of the prawn meat and set aside.
In a pan heat the dry white wine with a pinch of nutmeg and a blade of mace, 2 cloves of finely chopped or grated garlic and reduce the liquid by half.
Add the butter until incorporated into the sauce.
Sift 1 teaspoon of plain flour into the liquid and cook for 2-3 mins on low simmer until sauce thickens.
Then add the prawn tail meat and heat through on low heat for a few mins to warm through.
In the meantime, rub the bread with a clove of garlic and butter on both sides. Place the bread in a griddle pan and heat on medium to high heat until it is crips and golden on both sides.
When the prawn tail meat is warmed through, adding the chopped parsley, a squeeze of lemon juice and season with salt and pepper to taste.
Serve immediately.
To Serve
Garnish with a slice of lemon. Enjoy!

Recent Recipes
Below you will find all the recipes we cooked. You can cook them anytime until they are out of season. Information on the seasons can be found in the sustainability section of each recipe or in our seasonality summary chart. Enjoy your sustainable seafood!