Return to Recipes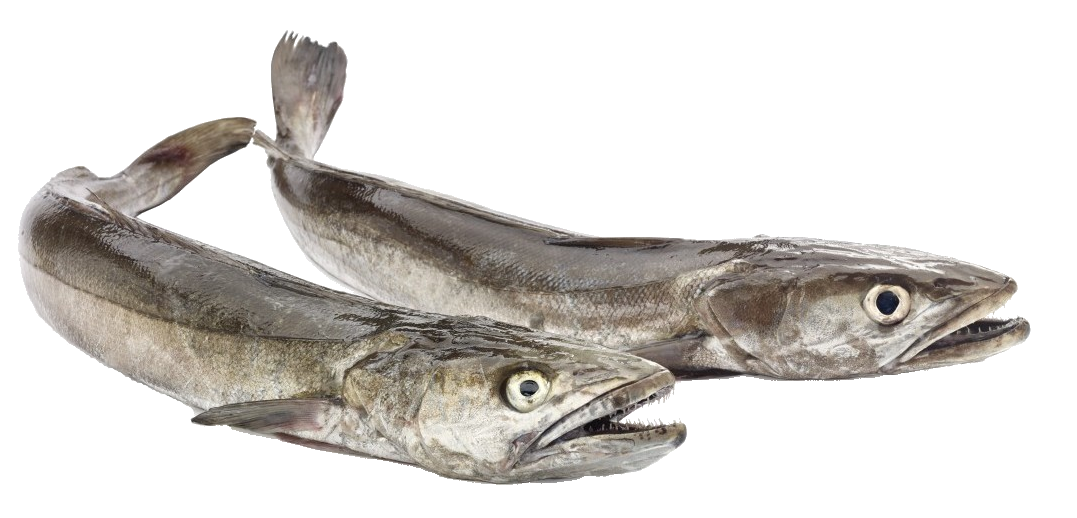 This delicious hake dish featuring as our main was reimagined by the wonderful and talented Ciara Ní Cheallacháin who ensures a lovely wintery taste with her gorgeous celeriac and potato mash. Ciara worked for many years with Caitlin Ruth of 'Deasy's Seafood Bar and Restaurant', where she learned her fish skills. Her ideology on food and respect for local and seasonal produce was also shaped by Denis Cotter from 'Paradiso' making her the skilled chef she is. We're delighted to have her pan-fried hake for January to lift us out of the post-Christmas low with its tummy hugging comforting tastes. It's also really easy on the wallet. We hope you enjoy it as much as we do.
You find local fishmongers and seafood shops in and around Dublin on our google map of fishmongers here. We update this map whenever we can, but it is by no means exhaustive and if you can't find your local or favourite seafood shop here or you're a fishmonger who would like to be added, please get in touch and we will update our map.
Enjoy your seafood experience!
Pan-fired Hake & celeriac mash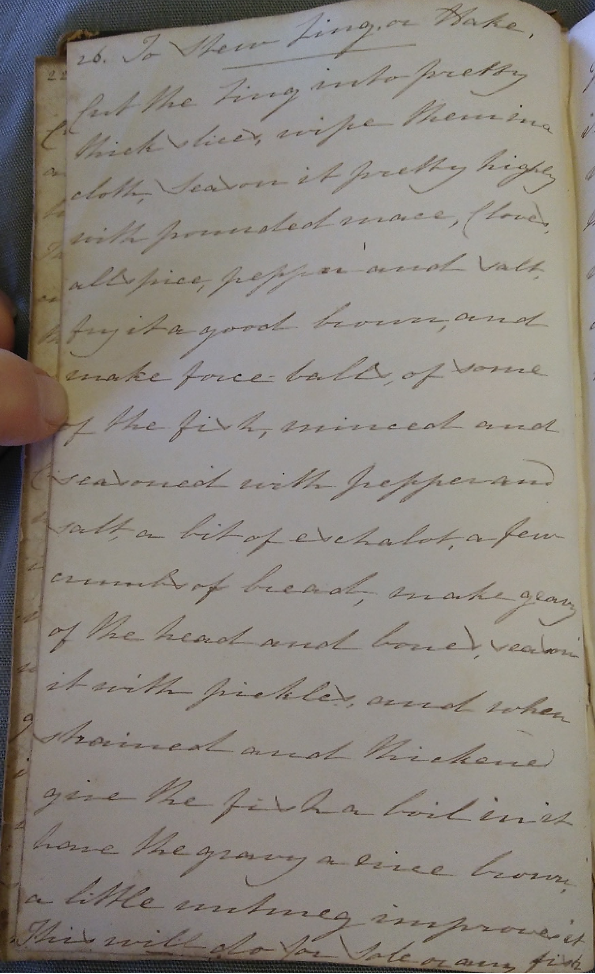 Our pan-fried hake reframes a recipe "To Stew Ling or Hake" found in letters from the Symthe family from the 1830s by an unknown author.
Ciara tells us that it is quite rare in Irish cooking to see spices being used with fish nowadays, unless you want to add a middle eastern or indian twist to it. How she approached the recipe was to first look at seasonality also for the vegetable to go with the fish. Ciara thinks that celeriac work very well with hake and since they are so plentiful in the winter months it makes sense to use them. She's also of the opinion that: "Beurre noisette or brown butter is probably one of the most understated and delicious accompaniments you can add to fish, not great for the waistline but good for the soul! It's so quick to make, no messing around with stocks and bones and pots." We couldn't agree more.
We hope you enjoy Ciara's simple and very delicious dish. It possibly works with haddock and pollack as well, but European hake can easily be found from sustainable sources and it is deeply rooted in Irish history.

Pan-fried Hake, celeriac mash, sautéed greens and beurre noisette
by Ciara Ní Cheallacháin
prep: 15-20mins; cook: 20mins; difficulty level: easy; serves 4
Ingredients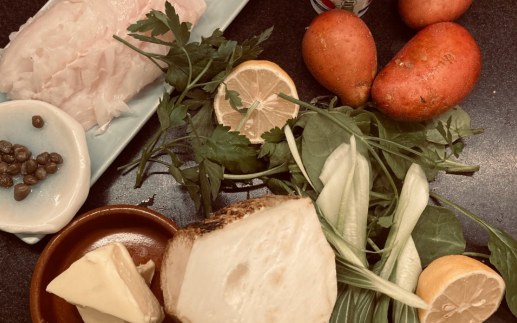 4 hake fillets from a reputable fishmonger. Ask your fishmonger to trim and leave skin on. Don't be afraid to ask where the hake is from and when it was caught.
250g rooster potatoes
250g celeriac
110g butter
2 garlic cloves
1/2 lemon
200g of spinach leaves, kale, mizuna, pakchoi or a mix of all the above
60ml cream
60ml milk
1 tbsp capers
2 tbsp rapeseed oil
25g chopped parsley or a few sprigs of thyme leaves, picked and finely chopped
sea salt and black pepper for seasoning
Method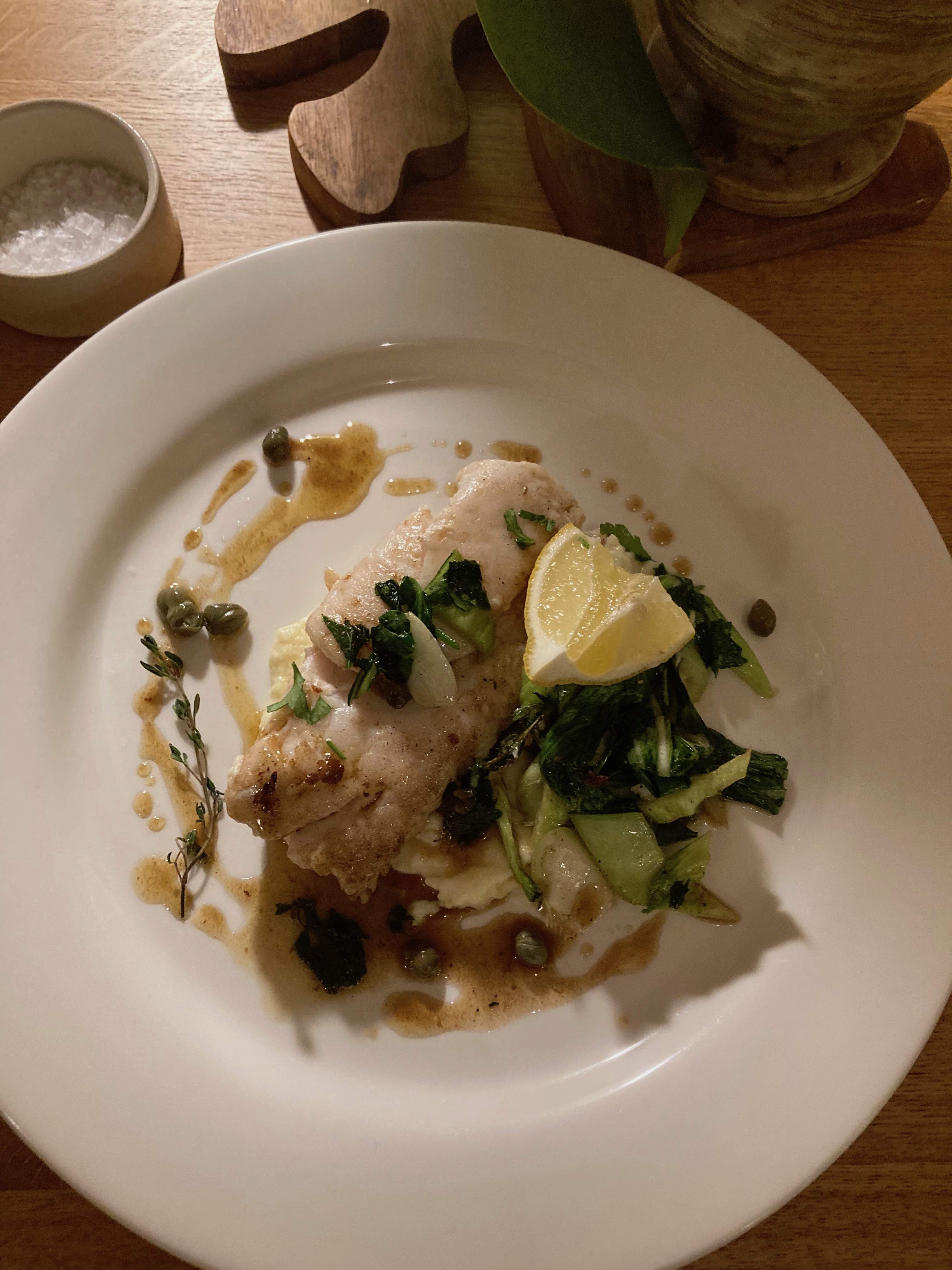 Have a bowl of cold water ready to put the celeriac in to prevent them from browning once chopped.
Peel and chop the celeriac into 1cm cubes, put in the water while preparing the potatoes the same way.
Put the celeriac and potatoes into two separate pots and put one garlic clove in each pot.
Pour enough cold water over both of them, cover and bring gently to the boil, simmer for 10-12 mins, until tender.
Remove you fish from the fridge, put it out on a clean worktop, pat it dry with a clean tea towel or kitchen paper.
In a pot gently warm your milk and cream adding 50g of chopped butter (make sure the pot is big enough so you can add the cooked spuds and celeriac).
Drain each vegetable in a colander then add to the heated milk/cream mix, add some salt and use either a potato masher or electric hand blender and blend to smooth consistency, (if using a masher make sure your celeriac is cooked properly) be careful not to burn yourself as the pot is hot. Adjust seasoning if need be, cover and put into hot oven 190°C till ready to use.
Time to fry the fish, you need a large frying pan. Add the heat under the pan, make sure your pan is nice and hot, add 1 tablespoon rapeseed oil.
Put your hake skin side down, cook till the skin is turning a golden brown colour, roughly two minutes. Gently turn your fish over, add little knobs of butter around the hake, and season with sea salt.
Using a fish slice, gently remove fish from the pan and put it on a tray and finish it in the oven.
Working quickly add the remaining butter to the fish pan and gently heat till it begins to turn brown and bubble, add the capers and a squeeze of lemon juice, add chopped herbs
Put into a small cup or bowl till ready to use.
Wipe your pan clean, add a tablespoon of rapeseed oil to you hot pan, add your chopped green and sauté for 1 – 2 mins, season.
To Serve
Arrange a scoop of celeriac mash in the center of the plate, add a scoop of sautéed greens, gently place your hake fillet on top. Using a tablespoon, spoon over your beurre noisette, add a wedge of lemon.
Enjoy!

Recent Recipes
Below you will find all the recipes we cooked. You can cook them anytime until they are out of season. Information on the seasons can be found in the sustainability section of each recipe or in our seasonality summary chart. Enjoy your sustainable seafood!