Archive of Recent Events
(for reports and photos of individual events, please read our annual Newsletters)
26 June 2019

Nigerian Royal Visit

The monarch of the Yoruba kingdom, His Imperial Majesty The Ooni of Ife, Oba Adeyeye Enitan Ogunwusi, Ojaja II, and his royal entourage paid a courtesy call to the Centre, during a recent visit to Ireland.
Accompanied by the Ambassador of Nigeria to Ireland, H.E. Dr. Uzoma Emenike, discussions explored how the Centre might develop educational and cultural collaborations with universities and cultural organisations in Nigeria. His Imperial Majesty spoke of his great interest in language and culture and expressed his wish that the relationship between Trinity and Nigerian universities might be further developed.

18 June 2019

On Translating Dante

A roundtable with Prof. Robin Kirkpatrick (University of Cambridge) Prof. Cormac Ó Cuilleanáin and Prof. Eiléan Ní Chuilleanáin (both of Trinity College Dublin). Robin Kirkpatrick is Professor of Italian and English Literature at the University of Cambridge and he has written a number of books on Dante and on the Renaissance. His verse translation of the Commedia with notes and commentary was published by Penguin Classics in 2006-7. We were delighted to host this event which was part of the first of three Dante Summer Schools which will run in June 2019, June 2020 and June 2021, organised by Trinity's Department of Italian, UCD and the Istituto Italiano di Culturo. This year's theme was Dante's Inferno: The Medieval Text and its Afterlife.

18 June 2019, Book Club

My Cat Yugoslavia, by Pajtim Statovci
Translated from the Finnish by David Hackston

On 23 and 24 May 2019 we hosted the following events organised by Literature Ireland, as part of the International Dublin Literature Festival

Friday 24 May, 1:30pm at the Centre

Europe Meets South America: Juan Gabriel Vásquez & Samanta Schweblin

Some political realities seem harder than others to communicate to those who have no direct experience of them. Juan Gabriel Vásquez and Samanta Schweblin explored with Daniel Hahn the role of translation in communicating such different realities to the reader.

Friday, 24 May, 4pm at the Centre

Sea Chests from across the World, or a Globalised Literary Landscape?

Literature in translation introduces a wide variety of new writers into different cultures. At a time when many fear the negative effects of globalisation, can literature from other corners of the world bring fresh perspectives? Writers Alejandro Zambra and Ariana Harwicz, publisher Sam McDowell (Charco Press) and Carolina Orloff, with Jean-Philippe Imbert.

Friday, 24 May, 5:30pm at the Centre

East–West Cultural Exchange: Joy or Scourge?

Japanese writing is gaining in international profile, and many European authors are gaining a following in Japan. Translator Polly Barton, translator-in-residence Hiroko Mikami and writer Tomoka Shibasaki discussed the barriers and opportunities for cultural exchange with James Hadley.

Thursday 23 May, 2pm at Trinity Long Room Hub

Ann Goldstein in Conversation with Sinéad Mac Aodha

Ann Goldstein is one of the most celebrated literary translators of our time, with translations ranging from the work of Primo Levi to Elena Ferrante's Neapolitan novels. She discussed her role as a translator of Italian language and culture, in conversation with Sinéad Mac Aodha of Literature Ireland. International Dublin Literature Festival

Thursday 23 May, 4pm at Trinity Long Room Hub

Eiléan Ní Chuilleanáin: Poetry and Translation

Professor Emeritus of Trinity College Dublin and Ireland Chair of Poetry, Eiléan Ní Chuilleanáin, in conversation with Peter Sirr, explored the importance of poetry in translation today. Why do poets choose to translate each other? Is their creative work then influenced by the act of translation?

Thursday 23 May, 5:30pm at the Centre

Daniel Hahn on translating Julián Fuks

Where facts and fiction collide, how does a translator respect both the author and the reader? Can the translator bridge the cultural divide between author and reader? Writer, editor and translator Daniel Hahn considered these and other questions.

Tuesday 21 May, 2019

Book Club: The Last Children of Tokyo, by Yoko Tawada.
Translated from Japanese by Margaret Mitsutani.

Our book club this month was hosted by our translator-in-residence, Prof Hiroko Mikami.

Monday 20 May 2019

The Reception of Bernard Shaw's Plays in Brazil

Dr Rosalie Rahal Haddad is an associate researcher for the William Butler Yeats Chair of Irish Studies at the University of São Paulo, Brazil. She is an honorary adviser and former vice-president of the Associação Brasileira de Estudos Irlandeses. Dr Haddad has written extensively on the plays of George Bernard Shaw and other Irish playwrights. This evening, she talked about the reception of Shaw's plays in Brazil and referenced her own production of Mrs Warren's Profession, performed in São Paulo in 2018.

Click here to watch an introduction by Prof. Michael Cronin to this event, and click here to watch the full recording.

Wednesday 15 May 2019

Poetry Spring Festival of Lithuania: an evening of contemporary Lithuanian and Irish poetry

The Lithuanian community in Ireland and the Lithuanian Writer's Union is held an Irish-Lithuanian poetry reading to mark the Poetry Spring Festival of Lithuania.

Award winning Irish poet, novelist and translator, Peter Sirr, Lithuanian poet and translator, Marius Burokas (Burokas has translated Peter Sirr's poetry into Lithuanian), and Lithuanian poet, Giedrė Kazlauskaitė, who is one of the leading female voices in contemporary Lithuanian poetry, read from and discussed their work at the Centre.

This event celebrated the work of two important literary translators in contemporary Europe and gave the Irish audience a rare opportunity to hear some of the best contemporary Lithuanian poetry in English translation.

This event was kindly sponsored by the Embassy of Lithuania in Dublin and the Ministry of Foreign Affairs of the Republic of Lithuania, Global Lithuania Programme.
9 May 2019

Words on the Street: a European literature trail, May 2019

Over 130 people visited the Centre to hear readings from Italy and Spain, as part of an evening of readings held at landmark cultural institutions around Merrion Square. Literature Ireland, in association with the Instituto Cervantes and the Istituto Italiano di Cultura, organised readings from Italian and Spanish. The VIP reader for the night was stage and film actor Owen Roe. Roe read extracts from Lorenzo Marone's The Temptation to be Happy, translated from Italian by Shaun Whiteside, and from Like a Fading Shadow by Antonio Muñoz, translated from Spanish by Camilo A. Ramirez.

Tuesday 7 May 2019

A Celebration of Czech literature before and after 1989

Seminar-workshop to consider the significance of literary translation in Czechoslovakia before and after the fall of the communist regime in 1989. Our two guest speakers – accomplished Czech translators Tomáš Vrba and Alice Hyrmanová McElveen – discussed the role translators played in preserving cultural treasures and maintaining the continuity of national literatures.

In the 1980s, Tomáš was active in samizdat where, for a time, he co-operated with Václav Havel and his team. Alice lived in exile in England and, among other things, translated prohibited Czech authors whose texts had been smuggled abroad. Their most recent translations include, respectively: Madeleine Albright's memoir Prague Winter (as Pražská zima, 2018), and Sara Baume's novel Spill Simmer Falter Wither (as Jasno lepo podstín zhyna, 2016).

The second part of our evening comprised a hands-on examination of some specific texts. Our guest speakers will demonstrate what impact the change from communist regime to democracy, which took place almost exactly thirty years ago, has had on their work.

This event was kindly supported by the Embassy of the Czech Republic in Dublin.

Tuesday, 16 April 2019

Book Club, 6:30 pm. Small Country by Gaël Faye, translated from French by Sarah Ardizzone.

Friday, 12 April 2019

Evening to celebrate the English translation of Sky Navigation Homeward by Japanese poet, Mikiro Sasaki, published by Daedalus Press. The author, one of his translators, Dr Mitsuko Ohno, and professor of Irish literature and translation, Nobuaki Tochigi, presented a selection of poems in Japanese and in English, and discussed the particular issues relating to translating Japanese poetry into English.

Thursday, 11 April 2019

Finnegans Wake at 80, Translation Roundtable, 6-8pm at Trinity Long Room Hub

Finnegans Wake stands at the limit of translation: written in a Babelian mishmash of eighty languages, it poses practical and theoretical problems for any translator. Indeed, it may even be seen to be about translation. Michael Cronin hosted r a roundtable to discuss these issues with translators Congrong Dai (Chinese), Erik Bindervoet (Dutch), and Enrico Terrinoni (Italian). This event was part of the Finnegans Wake 80 conference at Trinity Long Room Hub from 11–13 April, organised by our colleagues in the School of English.

Monday, 8 April 2019

Narratives of the Spanish Civil War and the Dictatorship, 6pm

Languages play a crucial role in war, conflict and peacemaking. Editors Lucía Pintado Gutiérrez and Alicia Castillo Villanueva launched their book which seeks to establish a new dialogue between translation, conflict and memory studies, focusing on fictional texts, reports from war zones and audiovisual representations of the Spanish civil war and the Franco dictatorship.

Thursday, 4 April 2019

Irish and Catalan poetry reading and book launch, 6pm

Irish poet Maurice Scully and Catalan poet Jordi Valls Pozo (translated by Raoul Izzard) were at the Centre to discuss their collection of poems, published by HardPressed Poetry. Scully and Valls Pozo read from their work, followed by conversation with them and their editor, poet Catherine Walsh.

Priscila Ribeiro, a recent graduate of our MPhil in Literary Translation, gave a talk about her journey from student life to her current work in computer game translation at Playrix, one of the leading mobile game developers in the world. She discussed what Playrix does and what her role is in the company, together with how her perspective on translation has developed and deepened thanks to her professional experience. This talk was aimed at current students of translation studies and those who are hoping to work in the translation industry.

Tuesday, 19 March 2019 Book Club

War and Turpentine by Stefan Hertmans, translated from Dutch by David McKay.

Longlisted for the International Man Booker Prize, Stefan Hertmans is an internationally acclaimed Flemish writer. David McKay was awarded the Vondel Translation Prize for this translation.

Tuesday, 5 March 2019, Graduate Memorial Building

The Poetry of Alexander Pushkin

To mark the 220th anniversary of the birth of Alexander Pushkin, a poetry evening was held with translator and poet, Julian Henry Lowenfeld. Lowenfeld read Pushkin's poems in English and Russian and was joined by harpist Arawelle. This event took place at the Graduates' Memorial Building (GMB)  at Trinity College and was organised by the Russian Society and Russian Bridge for the annual Festival of Russian Culture in Dublin.

Thursday, 21 February 2019

Literature Ireland welcomed Little Island Books to the Centre for the launch of All Better! - an illustrated collection of rhymes about being under the weather and on the mend for age 4+. Originally written by Latvian poet Inese Zandere, it has been translated and reimagined for the Irish reader by poet Catherine Ann Cullen. For more information about this event, contact info@literatureireland.com

Tuesday, 19 February 2019: Book Club

Among the Lost by Emiliano Monge, translated from the Spanish by Frank Wynne

Monday, 18 February 2019

The Trinity Translation PhD: Guide to Getting Started

Trinity College Dublin has outstanding resources for PhD candidates in Translation Studies, including expertise in a wide range of languages and cultural contexts, a world-class library, and the Trinity Centre for Literary and Cultural Translation with its associated connections and opportunities. Moreover, Trinity is the only university in Ireland that offers practice-based translation PhDs.

However, a PhD is unlike any other degree, and applying for one is a more involved process than applying for other category of degree. Many candidates are unsure where to start, and what to expect, both before and during the degree. This session presented the process of applying for a PhD in Translation Studies at Trinity from start to finish, be followed by a Q&A session.

Tuesday, 12 February 2019

On Georgian Fiction: An Interview with Zurab Karumidze

An evening with renowned Georgian novelist and cultural critic Zurab Karumidze, in conversation with founder and director of Dalkey Archive Press, John O'Brien, and co-hosted by the Embassy of Georgia.

Karumidze's novel Dagny, or A Love Feast was written in English with the objective of bringing Georgia and the rest of the world closer. Following the real-life Norwegian poet and dramatist Dagny Juel and her trials as the obsessional subject of historical characters such as Edvard Munch and August Strindberg, the novel tackles subjects as diverse as Shamanic art, Gnosticism, the Bach fugue and modernist aesthetics, muddling historical fact with subversive fiction along the way.

Thursday, 7 February 2019

Launch of the Irish translation of Things Fall Apart by Chinua Achebe

We welcomed translator Irene Duffy Lynch to the Centre to discuss her translation of Things Fall Apart into Irish. Irene was joined by Alan Titley, Emeritus Professor of Modern Irish at University College Cork, and H.E. Dr Uzoma E. Emenike, Ambassador of the Federal Republic of Nigeria to Ireland.

Since its publication in 1958, Things Fall Apart has sold more than 10 million copies and has been translated into over 50 languages. The Irish translation, Titeann Rudaí as a Chéile has just been published by Coiscéim.

This event was kindly sponsored by the Embassy of Nigeria.

Tuesday, 5 February

Translation Student to Translation Professional

Isabel Puente Lozano, a recent graduate of our MPhil in Literary Translation, talked about her journey from student life to her current post as vendor manager at STAR Translation Services. This talk was aimed at current students of translation studies who are hoping to work in the translation industry.

Monday, 28 January 2019

Trinity Translation Studies Network: reading group

Colleagues in College who have an academic interest in the study of translation were invited to join a new reading group, moderated by our Director, Prof Michael Cronin. The group met fortnightly on Mondays from 17:00-18:30 (during term) to discuss aspects of translation theory. The aim of the network is to provide a supportive environment for colleagues interested in pursuing research topics in translation studies. For more information, please email littrans@tcd.ie

Tuesday, 15 January 2019

Our first book of the year was Drive Your Plow Over the Bones of the Dead, by Olga Tokarczuk (Man Booker International Prizewinner). Translated from Polish by Antonia Lloyd-Jones.

Tuesday, 18 December 2018

Book Club: The Chilli Bean Paste Clan by Yan Ge, translated from Chinese by Nicky Harman.

Friday, 23 November 2018

Mario Praz's Legacy: On Comparative Literature Today
Trinity Long Room Hub, 9:30-5:30pm

A day long conference to commemorate the cultural legacy of Mario Praz's work in contemporary comparative studies. We were delighted to support this event organised by our colleagues from the Department of Italian.

Tuesday, 20 November 2018

Book Club: Petite Fleur by Iosi Havilio, translated from Spanish by Lorna Scott Fox

Wednesday, 14 November 2018

Taiwan in Poetry, Poetry in Taiwan

The winners of the prestigious 2018 John Dryden Translation Competition, translators Colin Bramwell and Wen-Chi Li gave a talk at the Centre. Li and Bramwell were awarded first prize for their translation of Selections from the Poetry of Yang Mu from Chinese. Their talk, a combination of literary history and poetry reading, aims to introduce Western readers to four Taiwanese poets: Yang Mu, Chen Li, Hsia Yu and Ching Hsiang Hai.

Monday, 12 November 2018

Award winning Norwegian writer Edy Poppy was at the Centre to discuss her novel, Anatomy. Monotony. This semi-autobiographical novel is about a young woman from a small Norwegian town, her French husband and their experiment with an open marriage. The book was first published in 2005, and its translation into English by May-Brit Akerholt has just been published by Dalkey Archive Press. Join the discussion about this controversial novel and the translations of its covers and titles into other languages.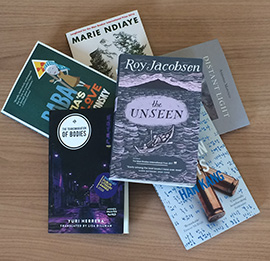 TCLCT mock jury decides which translation they would nominate for the International Dublin Literary Award
TCLCT Mock Jury
If you would like to be added to our circulation list, please contact littrans@tcd.ie