Dental Hygiene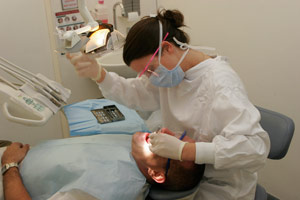 On successful completion of this two year programme the dental hygiene graduates are able to provide preventative oral care to both children and adults including those with special needs. This includes treatments to prevent or control periodontal (gum) disease and dental decay, advice and counselling in relation to diet and lifestyle habits such as smoking, oral health promotion and oral health education to both individuals and groups of people.
The dental hygienist works closely with other dental team members and healthcare professionals. The dental hygienist works under the supervision of a dentist, this means that the patient must first be examined by a dentist who will then indicate the treatment to be carried out by the dental hygienist.
Trinity College Dublin confers the diploma in Dental Hygiene that entitles the graduate to register as a dental hygienist on the Register of the Dental Council of Ireland (www.dentalcouncil.ie). Dental Hygiene graduates who are EU citizens are entitled to register with the regulatory bodies of other countries in the European Union which fulfill the Sectoral Directives as they relate to the education and training of dental hygienists.
The curriculum is taught using multiple methods of learning including lectures, seminars, practical, clinical exercises and project work. The students start in 1st year with basic preventive and therapeutic oral care, firstly in a laboratory setting working on models and then quickly progress to working in the clinics with patients (under supervision) by the middle of the 2nd term. In 1st year the student also learn how to take dental radiographs and cover topics such as microbiology, infection control, oral pathology and surgery, physiology and medical emergencies, psychology and social concepts, head and neck anatomy, and pharmacology.
In 2nd year the students continue to add to their theory and clinical skills with modules building on and relating to each other throughout the programme. Topics covered in 2nd year include administration of local anaesthesia, human diseases and general pathology, periodontology, implantology, cariology, paediatric dentistry and research methods.
The students treat patients in different departments within the hospital and also treat patients in external placements in HSE dental clinics, St. James's Hospital, Dublin and Our Lady's Hospital, Crumlin. As well as developing their clinical skills, the students also learn how to give oral health presentations and have several opportunities to present to different groups with specific oral health care needs in the community. The students write a project on one of these groups as part of their final examination.
A day in the life of a Dental Hygiene student
The first year students have a fairly full day attending many lectures, seminars and clinical skills training. Most of these are in the Dublin Dental University Hospital, but some are in Trinity College. Some lectures are integrated with the Dental Nursing students. Lectures are scheduled throughout the day including some evening lectures. Once the students start treating patients the day gets a little longer as clinics start at eight thirty in the morning and finish at five at the earliest. Some time is spent booking patient appointments and liaising with other dental team members and then the study starts! The first year students have three clinics a week.
The second year students are even busier, as they have six clinics a week and need to make their way to the external placement clinics ready to start at nine in the morning or be on clinics within the hospital for eight thirty. Much time is spent visiting the settings and preparing for the oral health presentations in the community. Along with all this the lectures, seminars and study continue.
This is a very intensive full-time programme but it is very rewarding when you see your patients responding to your treatment and advice.
Frequently asked questions
What does a dental hygienist do?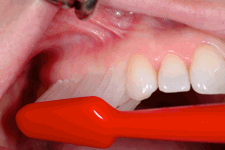 A dental hygienist focuses on preventive oral care treating patients in the clinical setting but also engaging in oral health promotional activities with individuals, targeted groups and other healthcare teams.
What are the career prospects?
Most dental hygienists will work in general dental practices or within the public health service. The opportunity to teach or become involved in research exists with some further education. The opportunity to work abroad exists but may require you to sit some local examinations in the country of choice. Citizens of the EU who graduate from an EU dental school may practice anywhere in the EU (occasionally there is some paper work to be completed). Discussions are currently at an advanced stage in relation to dental hygienists practicing independently. This would widen the opportunity for the dental hygienist to work in the community especially in areas currently somewhat neglected such as hospital, hospice and institutional settings.
How to apply:
Check out the College Prospectus for entry requirements
School leavers should apply through the C.A.O.
Mature students (over 23 years) must apply through the C.A.O. directly .
Intake: 8 (4 CAO Applicants, 4 Mature Students)
Diploma level: 7
IMPORTANT NOTE: All registered Dental Hygiene students are required to pay 110euro for x3 HepB vaccinations in year 1.