Dental Technology (B.Dent.Tech)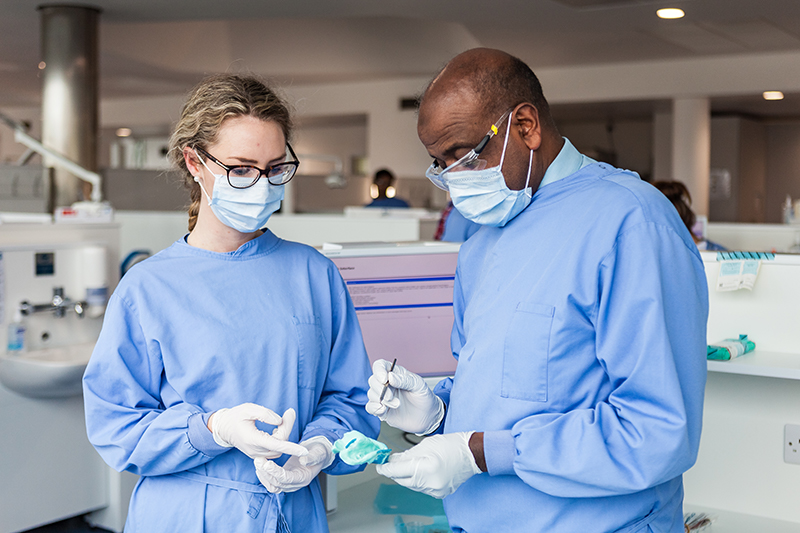 The Bachelor in Dental Technology is a 3 year course which is taught mainly in the Dublin Dental School and Hospital. The main aim of this course is to educate and train students to become part of the dental team for the planning, designing and fabrication of intra-oral appliances.
Laboratory training in dental technology requires the application of a wide range of knowledge and experience in an integrated manner for the provision of appliances for patients.  Modules describe fairly specific areas of learning and development of laboratory skills. The curriculum design uses both vertical and horizontal integration so that learning from one module may be prerequisite to a subsequent module in the same or a later year or be complemented by another in the same year, as well as being applicable across all areas of laboratory practice. On successful completion of the three-year Dental Technology undergraduate programme, graduates must be capable of independently providing a wide range of restorations, prostheses and appliances.
Dental technology is divided into four main areas, fixed prosthodontics, complete denture technology, removable denture technology and orthodontic technology. The aims of the first year are that students will develop basic techniques in each of these broad areas under close supervision. The students will develop skills in relation to handling and using materials to perform simple laboratory tasks and to fabricate prostheses and appliances. Students will be taught chemistry and physics through lectures and practical experiments. This will provide a basis on which the aspects of material science relative to dentistry can be developed in second year.
During the second year, students will build on the knowledge and skills acquired in first year. Students will work on more complex prostheses designs and appliances. Students are expected to master basic laboratory skills whilst working more independently from the supervisor. Material science is an integral part of second year, whilst this builds on physics and chemistry modules in first year it is more focused on aspects which are directly related to dental technology. A business studies module is included in the second year; this is intended to provide students with the skills and knowledge to set up, perform and understand aspects of business and self employment.
The aim of the third year is to provide the student with opportunities to undertake laboratory work intended for delivery to patients in each of the four main areas, fixed prosthodontics, complete and removable partial denture technology and orthodontic technology. Students will be expected to complete this work in a timely fashion, to a clinical standard and requiring minimal input from their supervisor. They are required to maintain a log diary of all their laboratory work, this will form part of their assessment. Students are expected to liaise closely with members of the dental team, observe the safety rules in the laboratory. This experience is provided by means of a combination of our in-house production facilities and where possible placement in an outside commercial laboratory. Students will undertake a dissertation which aims to provide them with research and presentation skills. As part of their assessment students are required to present their dissertation via written and oral medium.
NOTE: All registered Dental Technology students are required to pay 110euro for x3 HepB vaccinations in year 1.
Frequently asked questions
What does a dental technician do?
Dental technicians work in a laboratory usually remote from the clinic. Dental technicians work to the prescription of a dentist, they perform the laboratory aspects of dentistry fabricating crowns and bridges, dentures, maxillofacial and orthodontic appliances, (retainers, space maintainers, implants etc.) which are intended for delivery to the patient.  Dental technicians have good manual dexterity skills and are required to work with various different materials in the fabrication process; these consist of plaster, stone, wax, metals, acrylics and ceramics. A sound understanding of scientific principles is necessary to underpin a thorough knowledge of material science.
Dental technology has changed a lot in recent years with emphasis on CAD/CAM restorations becoming increasingly popular. Dental implants have also become more commonplace in the daily routine of a dental technician.
What are the career prospects?
Dental technicians may work in a laboratory or be self employed. Dental technology does give scope to work and travel abroad.
The Dublin Dental Hospital has recently introduced a Postgraduate Diploma in Clinical Dental Technology; one of the prerequisites to securing a place on this course is a qualification in dental technology.
How to apply:
Check out the College Prospectus for entry requirements
School leavers should apply through the C.A.O.
Mature students (over 23 years) must apply through the CAO and directly to the Admissions Office in Trinity College
NOTE: All incoming Dental Technology students are required to purchase instruments for use during the programme. The approximate cost of this instrumentation is €700. The instruments are used for the duration of the three-year programme and students keep them when they leave.
Mature students
Each year, several students apply for mature entry to the Dental Technology course. Approximately 1-2 students are accepted through the mature student pathway. This page will provide you with the information you need to prepare for a mature student application to the Dental Technology course at Trinity College.
Step One: Making an application
You must consult the Trinity College mature students page for information on how to apply and for information specific to being a mature student here in Trinity: www.tcd.ie/maturestudents/
This webpage is maintained at School level and so contains information regarding our shortlisting procedure and information about the course itself. All dates and deadlines are set by the CAO and by the Admissions Office in Trinity College, should there be any conflicting information, please adhere to the CAO / TCD Admissions Office information.
Step Two: Shortlisting
You must consult the Trinity College mature students page for information on how to apply and for information specific to being a mature student here in Trinity: www.tcd.ie/maturestudents/
This webpage is maintained at School level and so contains information regarding our shortlisting procedure and information about the course itself. All dates and deadlines are set by the CAO and by the Admissions Office in Trinity College, should there be any conflicting information, please adhere to the CAO / TCD Admissions Office information:
Incomplete applications are not considered
If you are a non-native-English speaker, you must provide details (including results) of your English language scores; If you omit this, your application will not be considered
If you list examinations of any kind (Leaving Certificate, A-Levels, University exams, etc) you must include the results of these exams (eg A1, II Hons, 65%, etc)
Some elements of the Trinity College application form are considered to be 'optional'; The School advises that you complete all sections of the form, please do not consider any section to be optional
Don't sell yourself short!
Whether or not you are short listed for further consideration is based solely on your application form. As such, it is crucial that you sell yourself well. Here are some tips to help you with your application:
List all of your experiences – work related, volunteering, extra-curricular activities, academic achievements, creative outlets, everything! The more you include, the better your chances of standing out and of being short listed
Try to highlight the key points in your application in order to catch the eye of the assessors
Provide enough detail – you need to find the balance between catching the attention of the assessor (make your points jump off the page) and expanding on your points to ensure you sell yourself well
Example 1: Hobbies Many applicants list their hobbies using one word or one line. This gives us no indication of the amount you are doing, how long you have done it, or the standard you have achieved. This provides no guidance for us regarding how your hobby may illustrate your manual dexterity, etc. If you were to write that you have been practising fine art painting for X years, that you have knitted intricate patterns, that you have played piano to grade X, etc it gives us much more information to work with and it would help you to stand out from applicants who just write 'play piano', 'art', 'knitting'.
Example 2: Practical Experience Many applicants have spent time in dental or other labs and they list this as a one-line entry under work experience. In order to stand out, you should list some of the specifics you have been exposed to. Applicants who have genuinely gained a lot of lab experience over a long period of time should stand out above those who have done just one session the week before they made their application.
Gain valuable experience:
If you are just starting to consider a career-change to dental technology, you might find it useful to do some or all of the following:
Observations / work experience in dental labs
Hobbies / crafts that improve and demonstrate your manual dexterity
Illustrate your long-standing interest in the field of dental technology by keeping dates and details
Step Three: Interview and Dexterity Test
There is a standard interview for mature applicants to Dental Technology in Trinity College. Shortlisted candidates are invited to attend for interview in the Dublin Dental University Hospital.
In addition to the standard interview, there will be a manual dexterity assessment. This takes place on the same day as the standard interview and all candidates must attend. The dexterity test is conducted for all applicants simultaneously – this means that all shortlisted candidates should set aside the whole morning / afternoon in order to be interviewed and do the dexterity test when all interviews are concluded.
Candidates are scored on both their interview and dexterity test.
Step Four: The Outcome
The School endeavours to provide the outcome of the interview and dexterity test as quickly as possible. We will send an email to each shortlisted candidate, which will provide an outcome as well as some feedback on their performance. If you are successful, you will be offered a place as a mature entrant to the Dental Technology course. If you are not successful, you may still be offered a place through your CAO application, depending on the points.
We hope you have found this information beneficial and comprehensive. Please ensure that you monitor the CAO and TCD websites for information regarding application procedures and closing dates. Best of luck with your application!
General information for mature students: