Healthy Trinity
Healthy Trinity is a cross-College partnership of people who want to make it easy to be healthy in Trinity. The wheel below represents each of the Healthy Trinity working groups. Any student or staff member who wants to contribute is welcome to join the groups below.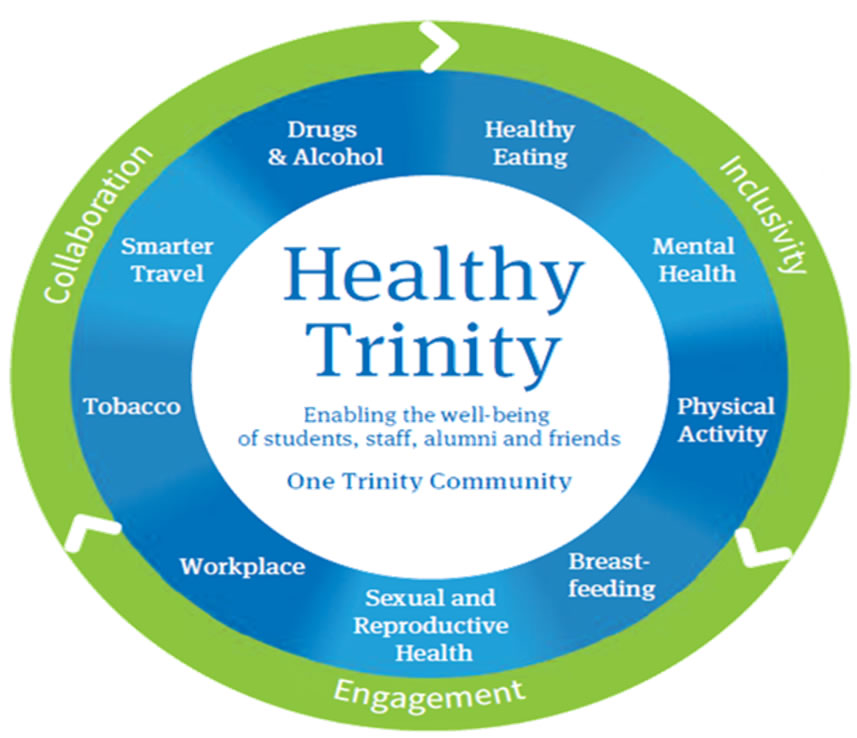 The Healthy Trinity Terms of Reference are available here.
The Healthy Implementation Framework 2020-2025 is a living document. The current Summary is available here or you can read the current version of the full Implementation Framework here.
Vision
"Trinity College Dublin is recognised as a 'health enhancing' university where everyone can enjoy physical, mental, and social health and wellbeing to their full potential, where health and wellbeing is valued and supported at every level of Trinity and is everyone's responsibility".
Integral to fulfilment of this Vision is a partnership approach between staff, students and the institution with shared responsibilities at the individual and the institutional level.
Terms of Reference
Embed health into all aspects of campus culture, across the administration, operations, student, services and academic mandates.
Promote, support and implement physical, social and mental health and wellbeing as key elements of the staff and student experience.
Advocate for policies which facilitate and support a healthy environment for staff and students through the physical infrastructure, facilities and services to support 'making the healthier choice the easier choice'.
Unify the Trinity community by facilitating and nurturing contributions to and participation in the Healthy Trinity initiative from the entire Trinity community i.e. students (both undergraduate and postgraduate), staff (all grades), alumni, retired staff.
Build health and wellbeing knowledge and capacity among staff and students through innovative learning opportunities.
Encourage research and innovation oriented to achieving goals of a health enhancing university.
Healthy Trinity Leads
Who co-ordinates the Healthy Trinity groups?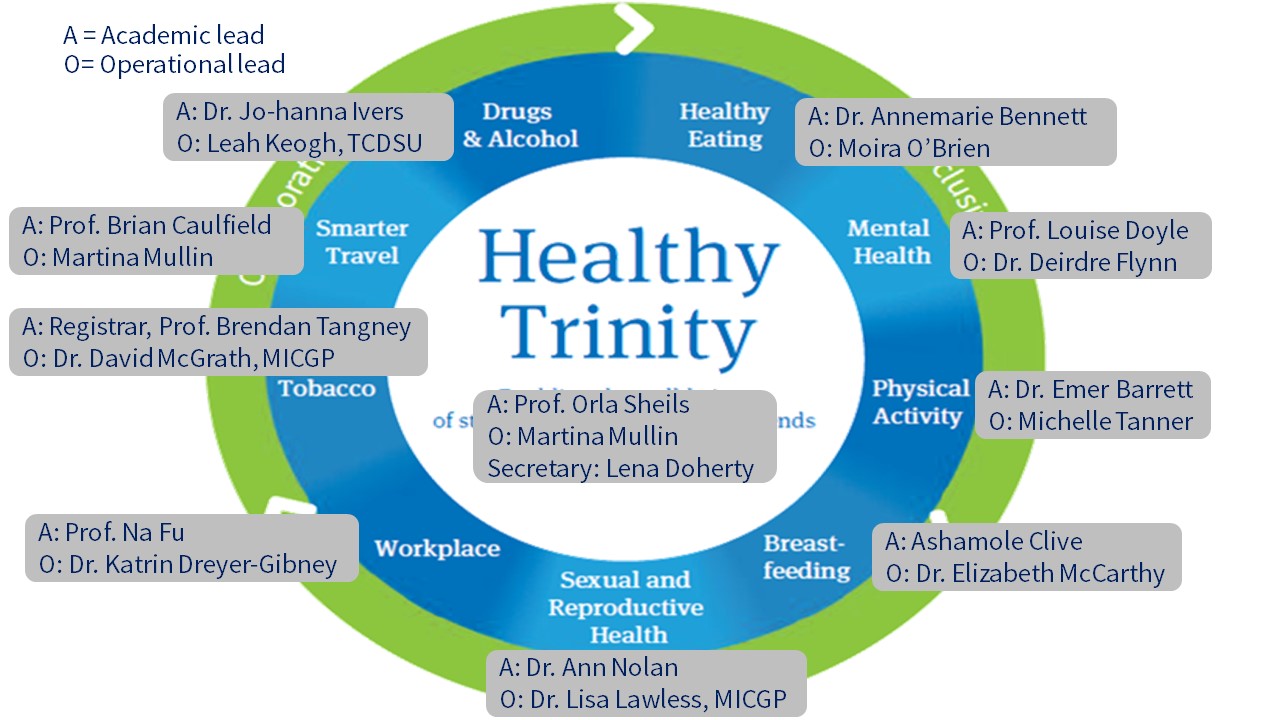 Leads for each working group sit on our central Committee as well as strategic partners: Dr. Eilish Burke, Prof. Catherine Darker, Prof. David Hevey, Michele Ryan, Gisele Scanlon – GSU. We are grateful to staff and student contributors to the working groups as well as >100 partners across Trinity and at a national and international level .
We need you
If you have ideas for making Trinity healthier and have the energy to help make your idea happen or if you're just interested in health promotion and would like to meet others interested, email us on health.promotion@tcd.ie. You can also follow us on instagram or Twitter.
Healthy Trinity invites every member of the Trinity community – staff, students, alumni and friends - to:
Take part in our events and intervention or suggest and run events in collaboration with us
Work with us to change our campus to make it easier to be healthy
Use Healthy Trinity as a subject of your assignements or projects
Use Trinity as a living lab for your research
Work with us to apply for funding for research or practice that promotes health