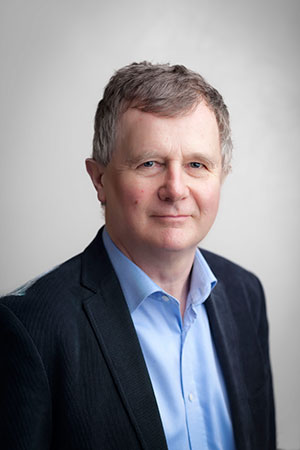 Professor Eunan O'Halpin
Emeritus
Professor of Contemporary Irish History
Research Interests
Twentieth century Irish and British political, administrative and military history; intelligence and security studies; Afghanistan and the Second World War
Select Publications
Books
Spying on Ireland: British intelligence and Irish neutrality during the second world war (Oxford, 2008)
(with Michael Kennedy), Ireland and the Council of Europe: from isolation towards integration (Strasbourg, 2000)
Defending Ireland: the Irish state and its enemies since 1922 (Oxford, 1999)
Head of the Civil Service: a study of Sir Warren Fisher (London, 1989)
The Decline of the Union: British government in Ireland, 1892-1920 (Dublin, 1987)
Books edited
(with Robert Armstrong and Jane Ohlmeyer (eds.)) Intelligence, Statecraft and International Power (Dublin, 2006)
MI5 and Ireland, 1939-1945: the official history (Dublin, 2002)
Editorial Collections
(with C. Crowe, R. Fanning, M. Kennedy, D. Keogh, and K. O'Malley, eds.), Documents on Irish Foreign Policy volumes I-X (1998 to 2016)
Articles and chapters (2012-2017)
(for a full listing from 1981 to 2017 see http://people.tcd.ie/Profile?Username=ohalpine#UserPublications)
(with Guy Beiner), 'Epilogue', in Eugenio F. Biagini and Mary E. Daly (eds.), The Cambridge Social History of Modern Ireland [in press, due 30 June 2017]
'British Cryptanalysis and China, 1937-1945: An Underused Source for Recent Chinese History?', Twentieth Century China, 42, (2), 2017 [in press, due May 2017]
'Rethinking Irish civil military relations in the 21st century', Defence Forces Review (2016), pp 217-224
'Ireland: Plus Ca Change, 1945-2015' in Bob de Graaff & James Nyce (eds.), Handbook of European Intelligence Cultures, Lanham, Maryland, Rowman & Littlefield, 2016), pp 183-195
'The Fate of Indigenous and Soviet Central Asian Jews in Afghanistan, 1933-1951', Holocaust and Genocide Studies, 30, (2) (2016), pp 298-327
'Augustine Birrell 1850-1933' in Lawrence White and James Quinn (eds.), 1916 Portraits and Lives (Dublin, 2015), pp 48-53
'British intelligence, PIRA, and the early years of the Northern Ireland crisis: remembering, forgetting and mythologizing' in Paul Maddrell (ed.), The Image of the Enemy: intelligence analysis of adversaries since 1945 (Washington DC, 2015), pp 162 -191
'"I am sure there was confidence in Nero"' in Kevin Rafter and Mark O'Brien (eds.), The State in Transition: Essays in honour of John Horgan (Dublin, 2015), pp 318-325
'Ireland and World War II' in Alvin Jackson (ed.), Oxford Handbook of Modern Irish History (Oxford, 2014), pp 719-735
(with Ciara Breathnach), 'Scripting blame: Irish coroners' courts and unnamed infant dead, 1916-32', Social History, 39, (2), 2014, pp 210-228
'Problematic Killing in the Irish War of Independence: the killing of spies and informers', in James Kelly and Marian Lyons (eds.), Death and Dying in Ireland, Britain and Europe: Historical Perspectives (Dublin, 2013), pp 173-198
(with Ciara Breathnach), 'Registered 'unknown' infant fatalities in Ireland, 1916-32: gender and power' Irish Historical Studies, XXXVIII, (No. 149), 2012, pp 70-88
'The Military Service Pensions Project and Irish History: a personal perspective' in Patrick Brennan and Catriona Crowe (eds.), Guide to the Military Service (1916-1923) Pensions Collection (Dublin, 2012), pp 144-165
'Counting Terror: Bloody Sunday and "The Dead of the Irish Revolution"' in David Fitzpatrick (ed.), Terror in Ireland 1916-1923 (Dublin, 2012), pp 141-157
Teaching and Supervision
Teaching 2016-17
In Michaelmas Term 2016/17, MPhil module HI7123 (Exploring the Irish Civil War). On research leave in Hilary Term 2017.
Research Supervision
Since coming to Trinity in 2000 I have supervised twenty two PhDs (including three co-supervised), to completion. I currently supervise seven PhD candidates (including three co-supervised with colleagues).
Post-doctoral Fellows
I have supervised or mentored twelve post-doctoral fellows (eight funded by the IRCHSS, four by other sponsors). My current IRC post-doctoral fellow (2016-17) is Dr Sean Gannon.
Contact Details
Room
Department of History
Trinity College
Dublin 2.
Telephone: +353 1 896 3473
Fax: +353 1 896 3995
Email: ohalpine@tcd.ie