Incoming Study Abroad/Visiting Students
---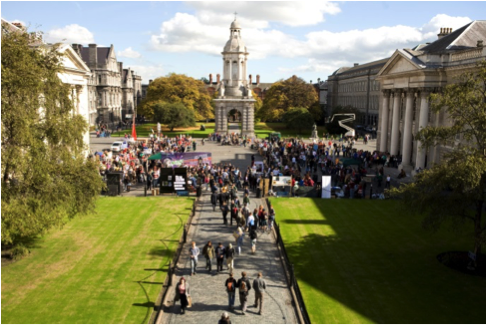 The Department of History warmly welcomes visiting students who may be attending Trinity College for just one semester or a full academic year. Such students may take modules on offer in the second, third and fourth years.
As the Department's Co-ordinator of incoming Visiting Students, it is my job to help make sure that you gain the most from your time studying History at TCD, first of all by helping students to register for their chosen courses at the beginning of each term, and secondly, by serving as a point of first contact for all Visiting Students in the Department.
I look forward to welcoming you to the Department of History, Trinity College Dublin.
- Professor Patrick Geoghegan
Non-EU Visiting Student Coordinator
---
How to Apply
Typically, students must be currently registered at a university and have completed a minimum of two years study. For US students, a minimum cumulative GPA of 3.3 is required.
In order to apply, students must complete an online application at https://www.tcd.ie/study/study-abroad/ selecting the appropriate time they want to study at Trinity. Please email visitingnoneu@tcd.ie with any questions on the application process or your application.
Module Registration
On arrival, I shall discuss module options with you and advise you at what level you can enroll in our modules at History Department Module Registration Session.
To view the modules available to Visiting Students, either visit the undergraduate modules pages or download the Handbook for Visiting Students, which contains general information on the department, course registration, credits, examination, etc. Please note that acceptance of your application does not guarantee acceptance into particular modules listed on your application.
Assessment
You are expected to fulfill the same module requirements as Trinity students. Our policy is that you need to take part in annual examinations of all modules you are registered for. The annual examination period (four weeks) is between late April and late May. This means that you will need to be in residence until at least late May. One semester students only must remain in residence until the last day of teaching.
Semester Start-Up Programme
The School of Histories and Humanities offers the innovative Understanding Ireland: the Trinity Semester Start-Up Programme to visiting students, which runs for three weeks before the start of term. This programme provides international students with a unique opportunity to settle in to life in Dublin and Trinity College, whilst undertaking an interdisciplinary module worth 5 ECTS. The module Understanding Ireland gives students an insight into the history, archaeology, art, architecture and literature of Ireland. The programme includes lectures, tutorials and field trips around Dublin and to other parts of Ireland such as the Boyne Valley and Kilkenny, as well as a range of social evenings to cultural venues such as theatres and typical Dublin pubs.
Contact Us
For further information visit the TCD Study Abroad page.
Please email visitingnoneu@tcd.ie with any questions on the application process or your application.
If you have any questions about studying with us, please do not hesitate to contact me on GEOGHANP@tcd.ie but make sure you have studied this website and all the links carefully first. I will be pleased to answer your queries about module choices and contents and sign your module registration forms during my office hours.
- Professor Patrick Geoghegan
Non-EU Visiting Student Coordinator