Incoming Erasmus Students
---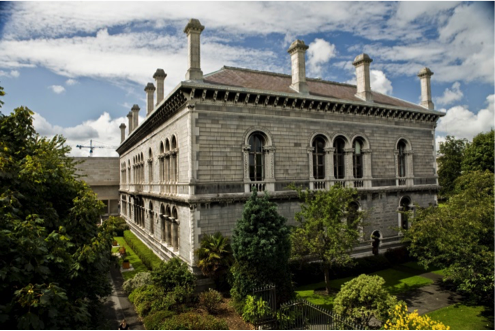 The Department warmly welcomes exchange students who may be attending Trinity College for just one semester or a full academic year. Such students may take modules on offer in the second, third and - upon consultation with the Erasmus Coordinator - fourth years. As the Department's Co-ordinator of incoming Erasmus Students, it is my job to help make sure that you gain the most from your time studying History at TCD, first of all by helping students to register for their chosen courses at the beginning of each term, and secondly, by serving as a point of first contact for all Erasmus Students in the Department.
I look forward to welcoming you to the Department of History, Trinity College Dublin.
- Professor Patrick Geoghegan
Erasmus Exchange Coordinator
How to Apply
Before applying for admission as an Erasmus student:
Please ensure that your university has a Erasmus Exchange agreement with Trinity College
Please ensure that you have been nominated by your university to participate in the exchange.
Have an excellent command of the English language, both written and verbal.
Further information on the application process is available here. Please complete the application form for Admission as an EU Exchange Student. Please read the instructions on the last page of the application form carefully before completing it. If you would like us to acknowledge your application form, complete the self-addressed letter at the end of the application form.
Module Registration
On arrival, I shall discuss module options with you and advise you at what level you can enroll in our modules at History Department Module Registration Session. Please note that fourth-year modules are only available to Erasmus students upon prior consultation. We expect one-year Erasmus students to follow both halves of any (second- and third-) year module.
You are expected to fulfil the same module requirements as Trinity students. Our policy is that you need to take part in annual examinations of all modules you are registered for. The annual examination period (four weeks) is between late April and late May. This means that you will need to be in residence until at least late May. Michaelmas Term (one-semester) only students must remain in residence until the last day of teaching.
To view the modules available to Erasmus Students, either visit the undergraduate modules pages or download the Handbook for Visiting Students, which contains general information on the department, course registration, credits, examination, etc. Please note that acceptance of your application does not guarantee acceptance into particular modules listed on your application.
All Incoming Erasmus students need to fill in an application form following nomination through their home university first.
All students should note that while enhancing linguistic skills is part of the experience of studying abroad, we expect students to be fully proficient in English. Prospective Erasmus students are especially reminded that sitting a series of examinations without adequate linguistic competences is virtually impossible and might result in fail grades.
Contact Us
Please email erasmus@tcd.ie if you have any questions on the application process or your application.
If you have any questions about our Erasmus programme please do not hesitate to contact me at geoghanp@tcd.ie but make sure you have studied this website and all the links carefully first. I will be pleased to answer your queries about module choices and contents and sign your module registration forms and learning agreements during my office hours.
- Professor Patrick Geoghegan
Erasmus Exchange Coordinator