Trinity Joint Honours - Irish (TJH)
(Modern) Irish as part of a Joint Honours degree
Trinity College introduced a new degree structure in 2018 - the Trinity Joint Honours degree. This builds greater flexibility into the course pathway for the student compared to what was the Two-Subject Moderatorship degree. TJH Irish provides students with a training in the critical study of the language, literature and culture of Ireland and Gaelic Scotland from the medieval period to modern times. A wide range of texts and authors is studied. Students are introduced to the basic skills of linguistic and literary analysis as well as to elements of social history, palaeography and folklore. Scottish Gaelic language is an integral part of the course.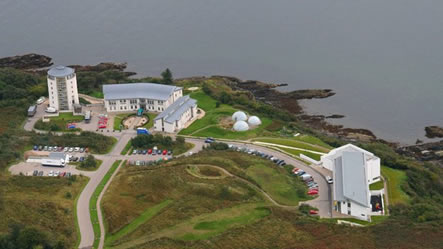 Sabhal Mòr Ostaig's campus viewed from the air
Students have many opportunities to choose their own areas of study within the Irish course. With the TJH degree, Senior Fresh students may branch away from their original subject choices, studying Electives, Open Modules, or in some cases taking up a new Minor Subject. In the Junior and Senior Sophister years, students can major or minor in a subject, or keep their studies in each subject balanced. They can spend time away overseas on Erasmus. During their time at Trinity College, they can study a range of optional modules as well as their core language modules. These options change from year to year and a wide variety of topics is on offer.
In their Senior Sophister year students develop their own abilities and interests with the opportunity to focus on a capstone project or dissertation (c. 10,000 words), written under the supervision of a member of the departmental staff. This provides an opportunity for the student to investigate any aspect of the subject that they choose, to bring in their knowledge and experience from other subjects studies, and to develop their scholarly skills.
Handy to have: MODULE OUTLINE - an outline of assessment and learning outcomes in all modules, Early and Modern.
Have a look at the current handbook for Joint Honours Junior and Senior Fresh Years, and Junior and Senior Sophister years.
You'll find the essay submission form here (Word doc).
Junior Freshman Year
Modern Literature
Modern Irish Language History
Classical Irish Prose and Verse
Written and Spoken Language
Senior Freshman Year
Oral Literature (Folklore)
Scottish Gaelic Language
Modern Literature
Written and Spoken Language
Junior / Senior Sophister Years
Composition
Scottish Gaelic Language
Palaeography
Old Irish Saga
Optional modules may include:
Oral Literature (Folklore)
History of the Irish Language
World Literature - in translation
'Lament for Art Ó Laoghaire'
'The Midnight Court'
Ossianic Poetry
Classical (Bardic) Poetry
Máirtín Ó Cadhain
Aogáin Ó Rathaille
Autobiography in Irish
Early Modern Prose
Contemporary Poetry
Scottish Gaelic Literature