Department of Irish Publications
14.11.2014
The Art of Bardic Poetry: A New Edition of Irish Grammatical Tracts I
Eoin Mac Cárthaigh
ISBN: 978-1-85500-226-5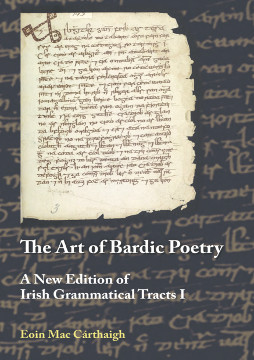 Bardic poetry dominated the Irish literary landscape for at least four centuries, from 1200 to 1600. The standardised language and metres developed for versification in this period and the poets' sophisticated analysis of them are among the outstanding achievements of Irish learning. The clearest record of this achievement is found in an immensely valuable series of treatises on these matters by master poets. A new edition of one of the most accessible and wide-ranging of these is presented here, accompanied by a comprehensive introduction, a line-by-line commentary, indexes and a translation into English.
Published by the Dublin Institute for Advanced Studies in 2014 and available from their own website.
Publications available for purchase from the Irish Department
22.11.2012 Publication and Launch of 'Féilscríbhinn do Chathal Ó Háinle'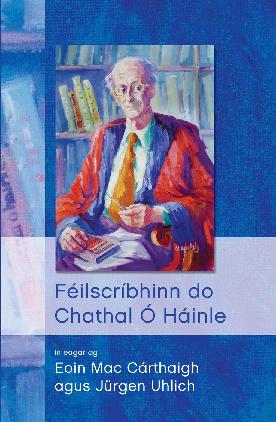 PRESS RELEASE
One of the biggest Irish language books ever will be published this month.
Féilscríbhinn do Chathal Ó Háinle is a collection of essays in honour of leading Irish scholar Cathal Ó Háinle, Professor Emeritus of Irish in Trinity College Dublin. It celebrates the major contribution he has made to the study of Irish language and literature since he penned his first academic article fifty years ago.
This thousand-page book consists of more than 40 articles by leading scholars in almost every aspect of our language and literature, from Old Irish to folklore to modern prose and poetry. All of the contributions are in Irish except for two articles in Scottish Gaelic.
The editors are Eoin Mac Cárthaigh and Jurgen Uhlich (both lecturers in Trinity College Dublin Irish Department) and the publishers are An Clóchomhar / Cló Iar-Chonnacht.
Damian McManus, Head of the Irish Department in Trinity College Dublin, says: "I am delighted that this wonderful book is being published. It is testament to the high esteem in which Professor Ó Háinle is held by the Irish scholarly community. This recognition of his life's work is richly deserved."
Contact: Eoin Mac Cárthaigh (01) 8963516 / emaccart@tcd.ie
19.11.2010 Publication of 'A Bardic Miscellany'
A Bardic Miscellany
Price: €50 for individuals, €100 for institutions. OUT OF PRINT! Please see the Bardic research page for a PDF copy.
500 bardic poems unpublished until now, collected from manuscripts in libraries in Ireland and in Britain. The poems range in date from the 13th to the 17th centuries and include some of the works of the most accomplished artists in the genre. Most poems are composed in the high register appropriate to the official poetry of the time (i.e. dán díreach) but a number, especially those of a didactic nature, are in the less strict ógláchas style. More information on the project from which this publication arises available through the link with the Database, or by clicking here. Edited by Damian McManus and Eoghan Ó Raghallaigh.
Unity In Diversity
Price: €10
A collection of essays centered around aspects of Irish and Scottish culture, between language, literature, culture and history. The similarities, the connections and the differences between both cultures are discussed. Edited by Cathal G. Ó Háinle and Donald E. Meek.
A Guide to Ogam
Price: €10
NEW in 2011! This book has recently been reprinted having been out of print for some time.
To purchase any of these books, contact the Irish Department by e-mail, or by telephone on (01) 896 1450.