Undergraduate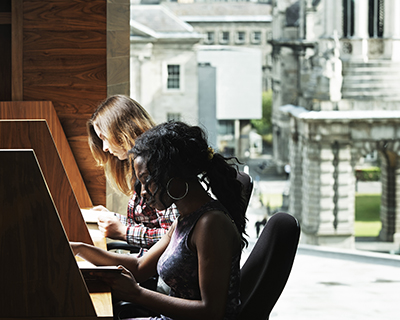 At Trinity College's Faculty of Science, Technology, Engineering and Mathematics (STEM), you will learn from professors who are world leaders in their fields of study and inspiring teachers. You can choose undergraduate degree courses across a range of disciplines in the Faculty. The Trinity curriculum is aimed at not just acquiring knowledge but at developing critical faculties of the human mind. Freedom of expression, willingness to engage in debate and express diverse points of view are valued and welcomed.
Our safe and friendly campus provides an ideal environment for studying, learning, relaxing and living. Located in the heart of Ireland's capital city, it has state-of-the-art facilities such as a modern Sports Centre, the Science Gallery and the Trinity College Library, the largest research library in Ireland and renowned throughout the world.
For comprehensive information on undergraduate courses, student life, college societies etc. please follow this link: https://www.tcd.ie/study/
Trinity College Dublin and Three Ireland Connect to STEM Scholarships 2022
Text that summarises the section



Trinity College Dublin and Three Ireland Connect to STEM Scholarships

Trinity College Dublin and Three Ireland are committed to attracting the best talent from Ireland and around the world to empower excellence and innovation in Science, Technology, Engineering and Mathematics (STEM). Through our partnership, we are taking steps to further promote diversity and inclusion in Trinity's STEM undergraduate student population, with a particular focus on women in STEM. Our aim is that students graduating from STEM will enter a richer more diverse environment across science and will pursue a variety of career opportunities in technology and industry.    
Three Ireland is supporting 25 undergraduate scholarships over the next 5 years. 5 awards will be made annually starting in the 2022/23 academic year. Each scholarship is valued at €20,000 (to be dispensed over the first 4-years of the undergraduate degree programme).

In 2022/23, the scholarships will target undergraduate women*, in their first year of studies at Trinity who resident in Ireland at the time of application, and have accepted an offer of a place on one of the following undergraduate degree programmes in:

School of Computer Science & Statistics
School of Engineering
School of Mathematics
School of Physics  

Or in the following course: 
Chemical sciences  

* Applications from gender-diverse and trans students are eligible.

Further information including the online application here

The online application opens on 26th September 2022.

The deadline for applications is 1pm on 7th October 2022.
No late applications will be accepted so please ensure you click submit on your completed application. Awardees of the scholarships will be informed early in November 2022 of the outcome.

The online application here is very simple. It requires some factual information about yourself and your answers to the following:
Please outline your academic achievements and any extra-curricular activities that you feel (i) demonstrate your ability and interest in STEM and (ii) your aptitude for your chosen course. [450 words]
Please explain how you would be an ambassador for diversity and inclusion in STEM. [450 words]
Please explain your motivation(s) for applying for this scholarship and what impact you think it could have for you personally, now and into the future. [450 words].
Prior to completing the online application here please read the Terms and conditions section

To find out more about Three Ireland please see here.
To find out more about Trinity's Faculty of STEM please see here.
To find out more about Trinity Access please see here.
Irish and EU Students
Information on applying for an undergraduate course can be found by following this link: https://www.tcd.ie/study/apply/. Further information on courses provided within the Faculty of Science, Technology, Engineering and Mathematics (STEM) can also be found here: STEM Undergraduate Courses
International Students
Several options exist for students at other Universities who wish to study to schools within the Faculty of Science, Technology, Engineering and Mathematics (STEM). If you wish to apply as a degree student from elsewhere around the world, please see the International Office website also our International Student Guide