Science Course Office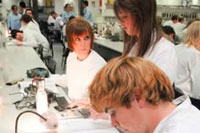 The first two years of the Science Course are designed to introduce you to and train you in the fundamental sciences. By the end of the Senior Freshman (second) year you will have moved far beyond the extent of science as it is taught at school and will understand better where your real interests lie. At this point you have the opportunity to focus on one of sixteen specialist areas for your final two years.
Teaching is by lectures, seminars, tutorials and laboratory classes, so you will become familiar with laboratory practice and the methodology of scientific research from the first year. Smaller seminar classes and group tutorials mean that you will also be able to discuss course work with lecturers and other students in a friendly and informal atmosphere.
Prospective Students:  If you are looking for excellent training in Science with maximum flexibility and choices please see our Prospective Students page.