HIU34508 The Troubles, 1968-1998: From Civil Rights to the Good Friday Agreement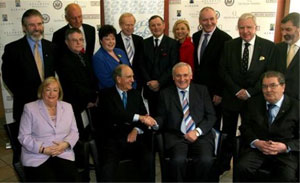 Module Organiser: Dr. Micheál Ó Siochrú
Duration: Hilary Term
Contact hours: 2 hours per week
Weighting: 10 ECTS
Assessment: 100% coursework (2 essays 40% and 60%)
This module will examine developments in Ireland, both north and south of the border, from the outbreak of the Troubles in 1968 until the signing of the Good Friday Peace Agreement in 1998. The course focuses on competing political interpretations (Unionist, Loyalist, Nationalist, Republican, Marxist etc.), as well as the interrelationship between Ireland, Scotland, England, Europe and the US. Particular attention will be paid to key events during this period, such as Bloody Sunday, Sunningdale, the Hunger Strikes and the Anglo-Irish agreement.
Learning Outcomes
On successful completion of this module students should be able:
Identify the main features of historical, journalistic and popular writing about the 'The Troubles'
Explain the different ways in which professional historians have approached the subject and why such differences have come about
Analyze the principal debates between different schools of historical thought on 'The Troubles'
Reflect on the public nature and applications of history as shown through official and unofficial memory, the refusal or acceptance by the state for past events, the impact of social groups lobbying for recognition of the past in new ways
Analyse and discuss 'The Troubles' using interdisciplinary approaches and techniques
Supply an individual synthesis based on critical reading of the secondary literature and the historical or artistic works dealing with 'The Troubles'
Write essays and make oral presentations defending such a synthesis.