HIU34555: Slavery in the First Millennium, c. AD 350 – c. AD 1050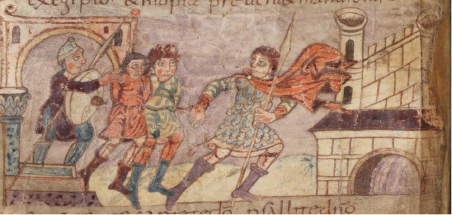 How much is it possible to know about the lowest strata of early medieval society – about the lives and perspectives of captives, the unfree and the enslaved? These questions will form the central theme of this module, which will explore the various institutions of slavery and unfreedom from the later Roman Empire onwards.
Module Coordinator:
Duration:
Contact Hours:
Weighting:
Assessment:
The classes will survey slavery in societies from across Europe and the Mediterranean, from Ireland and Scandinavia to Byzantium and Islamic North Africa. The economic importance of slavery, the slave trade, self-sale into slavery, the lives of unfree women and children, the development of categories of 'half-free' peoples, the influence of religion on the practice of slaving, and practices of manumission (the freeing of the enslaved) are all themes which will be explored in-depth.
A key feature of this module will be students' engagement with the sporadic, fragmented and often ambiguous evidence for early medieval slavery. Each week students will examine a primary source from a particular society in depth and will work together in class to understand how historians piece together the snippets of surviving evidence into coherent pictures of medieval societies. Particular attention will be paid to the methodologies of the history of slavery; in their discussions, in their reading, and in in their writing, students will be challenged to engage with the ongoing debates about how to best recover the lives, experiences, agency and perspectives of enslaved people in the first millennium AD.