HIU33103: Reading the Treaty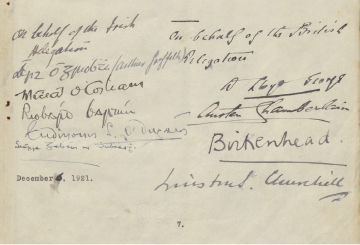 On 6 December 1921, after two months negotiating 'how the association of Ireland with the community of nations known as the British Empire may be reconciled with Irish national aspirations', Irish delegates signed articles of agreement with the representatives of the British government. 'The Treaty', as it quickly became known, is a short document, but it founded a state, changed an empire, and caused a civil war.
Module Coordinator:
Duration:
Contact Hours:
Weighting:
Assessment:
This module will explore this document that shaped modern Ireland, that asked Irish nationalism to define what it meant by 'independence', 'freedom', 'republic'. Using the Treaty, the Treaty debates, and a range of diverse primary sources, the module will consider that moment in Irish history when decisions had to be made about the nature of compromise, when politics became fixated with which side you were on. The module will use the Treaty as a way into the history of the Irish revolution, into its politics, its economics, its sense of what an independent Irish society might be. It will consider how the Treaty split has influenced our approach to the past, has informed a civil war of words over the century since it was signed.