HIU34527 The Melting Pot: Race and Ethnicity in the 19th and 20th Centuries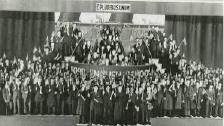 This List II module surveys the development of American ideas about race and ethnicity from the end of the nineteenth century to 1940. This is a course in intellectual history, and will appeal to students who are interested in the methods of this historical approach.
Module Coordinator:
Duration:
Contact Hours:
Weighting:
Assessment:
It explores how American intellectuals confronted the reality of a multi-ethnic society formed out of the history of settler colonialism, the enslavement of Africans, and mass European immigration. Was the U.S. truly a 'melting pot'? If so, for whom? And was the "melting pot" ideal a worthy one? Topics will include: scientific racism and its critics, cultural pluralism, the birth of the African American civil rights movement, and the Harlem Renaissance. Among the intellectuals we will study are Ruth Benedict, Randolph Bourne, W.E.B. Du Bois, and C.L.R. James.