HIU34053-54 Medieval Marriage I and II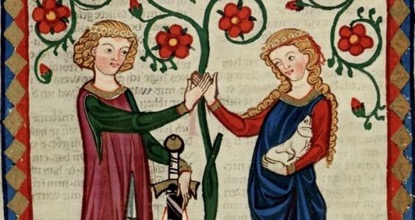 This module looks at the origins of modern systems of family formation in the Middle Ages and, at the same time, at the differences between medieval ideas of marriage and modern ones.  
Module Coordinator:
Duration:
Contact Hours:
Weighting:
Assessment:

Michaelmas term source analysis 40%, essay 60%; Hilary term essay 50%, exam 50%.
By reading a variety of medieval sources—religious texts like theological treatises and mystical works on the symbolism of marriage, legal texts like the "barbarian" law codes and canon law, court records both secular and ecclesiastical, letters, books of advice, imaginative literature, saints' lives, and autobiography—the module will build a comprehensive picture. The module will discuss Medieval Jewish and Muslim as well as Christian marriage.
Among other topics it will address the interplay of economic, social, and spiritual reasons for marrying; the degree of marital choice available to individuals (as opposed to families); the role of various authorities in deciding who can and cannot marry; the reasons why indissoluble monogamy became the Christian ideal; non-marital unions; and the prohibition of certain marriages, including those of the clergy; gender roles within the conjugal unit; the permissibility of sexual pleasure within marriage; and the role of reproduction. Students will gain skill in identifying what questions can be answered by close readings of different kinds of sources, as well as better understanding an institution that has shaped global culture.