HIU34031-32 Lordship and Dynasty: The Gaelic World and the Shaping of Britain and Ireland c. 1296-c. 1513 I and II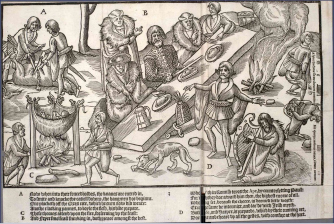 This module explores how events within the predominantly Gaelic-speaking world of Ireland and the Highlands and Islands of Scotland influenced the course of Irish and British history during the later middle ages.
Module Coordinator:
Duration:
Contact Hours:
Weighting:
Assessment:

Michaelmas term source analysis 40%, essay 60%; Hilary term essay 50%, exam 50%.
It is a rarely acknowledged fact that over the course of the later middle ages, nearly half the landmass of Ireland and Britain fell under the control of powerful Gaelic-speaking dynasties. In Ireland, these families included the O'Neills of Tyrone and the O'Briens of Thomond while east across the water in Scotland, the MacDonalds of the Western Isles and the Campbells of Argyll emerged among the dominant lineages. With large armies and, in many cases, fleets at their disposal, these dynasties could be influential players within the wider politics of the British Isles. Throughout the later middle ages, they were often courted as valuable allies of the English and Scottish monarchies during key conflicts such as the Hundred Years War and the Wars of the Roses. Through weekly seminar discussion, students will explore the rich meld of primary sources from across the Gaelics-peaking world (such as annals and bardic poetry) as well as governmental records and chronicles from the Scottish, English, and French worlds. The module explores the history and culture of this lost world along two thematic strands: (i) in the first semester students will examine the theme of power and identity in Ireland and Scotland; (ii) in the second semester students will study a number of cases studies and investigate how events within this lost world shaped the course of Irish and British history.