HIU12020 Kingship and Warfare: Ireland, c.1000-1318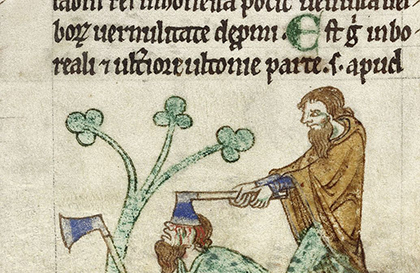 This module begins with the rise of Brian Boru from modest origins to become Ireland's most famous high king - a spectacular career that ended in the iconic battle of Clontarf in 1014.
Module Coordinator:
Duration:
Contact Hours:

2 lectures per week and 6 tutorials over the course of the term 

Weighting:
Assessment:

20% essay, 80% examination
We explore how Irish society and kingship changed in the aftermath of Clontarf as a result of inter-provincial warfare and the changing role of the church. The second half of the module examines the causes and implications of the English (or Anglo-Norman) invasion of the late 1160s, perhaps the single most formative development in Irish secular affairs. We study the interaction of cultures in its aftermath and the Irish opposition to English rule that saw the emergence of England's ongoing Irish problem through later centuries. The module closes with the most serious challenge to English power in medieval Ireland: the Scottish invasion (1315-18) led by Edward Bruce, brother of Robert Bruce king of Scots.
Learning Outcomes:
On successful completion of this module students should be able to:
Outline chronologically the key developments in Ireland c.1000–1318
Offer explanations for the key developments in the period
Evaluate the significance of those key developments and appreciate their impact on the subsequent course of Irish history
Search for, and critically appraise, relevant literature
Undertake an analysis of select contemporary records (in translation)