HIU34047-48 Ireland in Rebellion I and II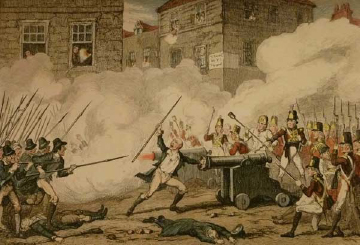 Starting with the 1916 Rising and then going back in time to the constitutional and revolutionary struggles of the late-eighteenth and nineteenth centuries, before returning to the dramatic events of the Irish Revolution, this module explores the different campaigns against British rule in Ireland. The focus is on the two competing strands in Irish nationalism in this period: the revolutionary tradition and the constitutional nationalist tradition, their competing strategies and objectives, and reassesses the careers of figures such as Theobald Wolfe Tone, Daniel O'Connell, Charles Stewart Parnell and Patrick Pearse.
Module Coordinator:

Professor Patrick Geoghegan

Duration:
Contact Hours:
Weighting:
Assessment:

Michaelmas term source analysis 40%, essay 60%; Hilary term essay 50%, exam 50%.
Exploring the development of the Irish republican tradition, areas covered include the 1798 Rebellion, Robert Emmet's Rebellion in 1803, Young Ireland, the Fenians, and the bombing campaign in England in the 1880s, as well as the road to the Easter Rising in 1916. In parallel with this, the module also looks at the great constitutional events, including the abolition of the Irish parliament in 1800, the struggle for civil rights in the nineteenth century, and the campaigns for Repeal and Home Rule. It will also look at some of the scandals and controversies of the period, including dirty tricks campaigns against some of the Irish political leaders. Using a mixture of debates, lectures, presentations, historiographical reviews and primary sources, there will be a focus on how these traditions developed and interacted, how close they came to succeeding, as well as how they have been remembered and commemorated.