HIU34049-50 Ireland's Colonial Legacies I and II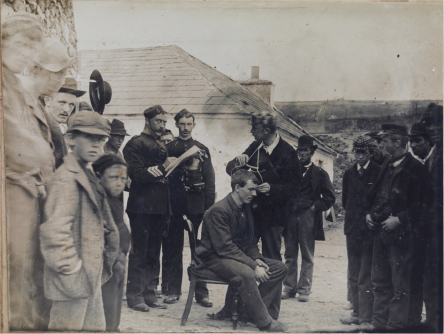 What are Ireland's colonial legacies and where can we find them? What part did Irish people play in the project of settler colonialism, or in the exploitation of indigenous people across the globe? What agency did they display in this, and to what extent were these legacies visible 'at home,' in the cities and in countryside? Did Irish people enslave people? How did people juxtapose these experiences with the lived or remembered experience of colonial victimhood and plantation in Ireland?
Module Coordinator:
Duration:
Contact Hours:
Weighting:
Assessment:

Michaelmas term source analysis 40%, essay 60%; Hilary term essay 50%, exam 50%.
This list I module tackles these topics from both a traditional perspective and a public historical one. We will look at structures of coloniality in Ireland and Irish diaspora communities from about 1780 to the present. In addition to tracking Irish entrepreneurs, soldiers, missionaries and colonists across the 'settler colonies' such as South Africa, Australia and New Zealand it will look at the Irish in India, West Africa, Argentina, and the West Indies. The course will also involve visits to various sites in Dublin that have a profound connection to empire – such as the National Botanic Gardens and St Patrick's Cathedral – but it will also interact with exhibitions, architecture, and monuments. It will also focus directly on many of the issues raised by the Trinity's Colonial Legacies Project and so allow students to interrogate their own university in relation to these global issues.