HIU34037-4038 Loaded with Dynamite: Ireland's Global Revolution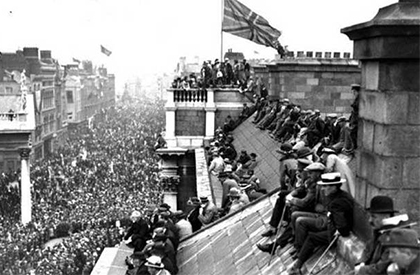 The Irish struggle for independence took place in a period of global revolution and counter-revolution, civil war, racial turmoil, pogroms and industrial unrest. Colonial peoples, ethnic minorities, women and workers across the world all sought change, some of them inspired by President Woodrow Wilson's promise of national self-determination, others by the Bolshevik call to revolution.
Module Coordinator:
Duration:
Contact Hours:
Weighting:
Assessment:

Michaelmas term source analysis 40%, essay 60%; Hilary term essay 50%, exam 50%.
These demands were especially potent coming as they did after the carnage of the Great War. Irish republicans were acutely aware of the need to gain international support. Dáil Éireann sent representatives across Europe, while Irish people were mobilized wherever they had settled. An eclectic range of allies was sought, from Russian Bolsheviks to Italian Fascists, while every opportunity was taken to raise funds and secure arms for the IRA. Those seeking self-determination in India and Egypt were inspired by Ireland, as were black nationalists and Zionists in the United States. But British policymakers were no less aware of the impact Irish independence could have on the empire, while Irish unionists sought to mobilize their own diaspora. This module examines why we cannot separate the story of the Irish Revolution from its context in a 'world on fire.'