HIU34554 Space and Identity in the Metropolis: Dublin c. 1880-1980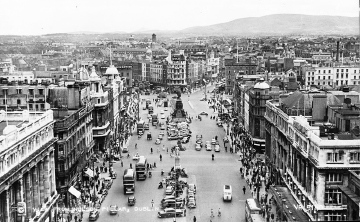 We live in an increasingly urbanised world. The relationship between urban space and different kinds of identities is receiving growing attention, as seen in urban protests against misogyny and racism, concerns about residential segregation, or conflicts about the use of the built environment for historical commemoration.
Module Coordinator:
Duration:
Contact Hours:
Weighting:
Assessment:
These issues are not new, and exploring them using examples from late nineteenth- and twentieth-century Dublin will allow them to be considered from the multiple viewpoints of a city that was once part of a vast imperial system but later became capital of a small nation state. By drawing on examples from Dublin, this module will explore broader urban history themes. It will examine the relationship between city space and gender, as well as explore the effects of the urban environment on issues of class, 'race', nationality, religion, and sexuality. The module will allow students to analyse the many diverse sources used in urban history including photographs, architecture, and film, as well as written documents. The module will emphasise the value of understanding the history of cities from multiple perspectives.