HIU34506 Creating a Colonial Capital: Dublin under the Anglo-Normans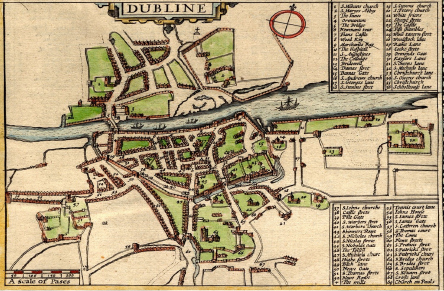 Dublin may have begun life as an Early Christian monastery but, if so, the latter was commandeered by Scandinavian raiders in the early Viking Age. Under its new masters, it became first a naval base, then a trading emporium, then an embryonic town, and ultimately a thriving metropolis, the largest city in Ireland and the country's de facto capital.
Module Coordinator:
Duration:
Contact Hours:
Weighting:
Assessment:
The greatest transformation in Dublin's fortunes took place in September 1170 when it was captured from its Irish and Hiberno-Scandinavian rulers by an Anglo-Norman army led by the famous Strongbow, after which point – for nearly three-quarters of a millennium – it was the nerve-centre of English (later British) rule in Ireland, headquarters of a colonial administration, and, in many respects, an English city on Irish soil.
This module examines that transformation. How did the Viking city of Dublin become an English possession in 1170 and how did it change as a result? What did this medieval city look like and how different was it from the Dublin of today? What was it like to live there and what traces of life in the medieval city survive in the archaeological and documentary record? How was it run and who ran it, and who were the Dubliners in the Anglo-Norman Age?