HIU12022 Early Christian Ireland c.400-1000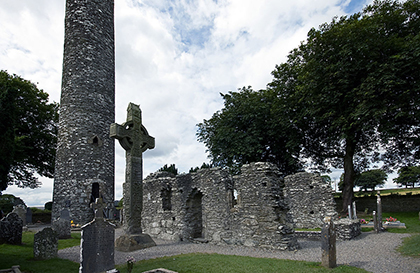 This module deals with what has traditionally been known as Ireland's "Golden Age".
Module Coordinator:
Duration:
Contact Hours:

1 lecture per week and 4 tutorials over the course of the term

Weighting:
Assessment:

20% essay, 80% examination
Having begun with a brief introduction to prehistoric Ireland, it covers in more detail the period from the arrival of Christianity in the fifth century to the eve of the first Viking attacks at the end of the eighth. The focus is wide-ranging, from early Irish politics and the emergence of a high-kingship to St Patrick and the impact of Christianization, from Brehon law and the bonds of society to the study of landscape and settlement and early Irish farming, and from Hiberno-Latin and Gaelic literature to the visual art that culminated in the creation of the greatest masterpiece of the Golden Age, the Book of Kells.
Learning Outcomes:
On successful completion of this module students should be able to:
Communicate analysis and argument in written and verbal format
Outline chronologically the key developments in Ireland c.400-800
Offer explanations for the key developments in the period
Evaluate the significance of those key developments and appreciate their impact on the subsequent course of Irish history
Search for, and critically appraise, relevant literature
Undertake an analysis of select contemporary records (in translation)