'Crowned by God': Europe in the Age of Charlemagne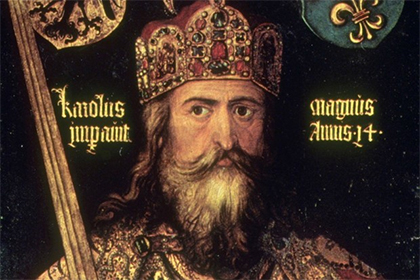 The Frankish super-state pieced together by bloody conquest in the reign of Charlemagne (768-814) comprised much of modern-day France, Germany, Italy, Catalonia and the Low Countries. It remains popularly seen today as at once a restoration of the western Roman Empire, and as a precursor to modern European unity.
Module Coordinator:
Duration:
Contact Hours:
Weighting:
Assessment:

100% coursework (2 essays 40% and 60%)
By consulting first-hand the remarkable variety of contemporary literature produced at the courts and monasteries of this age, together with the boom in modern scholarship on the subject published in recent decades, we will seek to deconstruct both these notions, and uncover instead a 'Carolingian Renaissance' on its own, eighth- and ninth-century terms: one of ritual, theocracy, and prophetic visions; of brutal violence, learned polemic, and carefully balanced consensus. Above all, the module will ask: how were such extraordinary political and territorial ambitions achieved and legitimised in a world of such rudimentary resources? And why, once accomplished, could it not last?