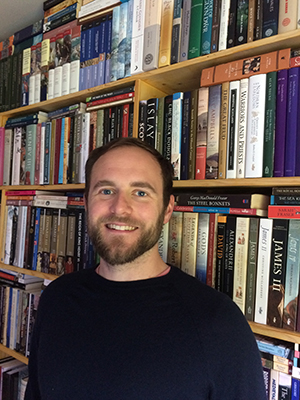 Dr. Simon Egan
Assistant Professor in Medieval Irish and British History
Simon Egan is an Assistant Professor in Medieval Irish and British History at Trinity College Dublin. Before coming to Dublin, Simon was a Marie Skłodowska-Curie Postdoctoral Fellow within the Centre for Scottish and Celtic Studies at the University of Glasgow. He held a one-year postdoctoral research fellowship from the Society for Renaissance Studies (2017-18) and before this worked as a part-time lecturer and tutor within the School of History at University College Cork (2011-2017).
Simon completed his PhD in History at University College Cork in 2016. His doctoral thesis was funded by the Irish Research Council and investigated the resurgence of Gaelic lordship in Ireland and Scotland c.1350-c.1513, with a particular focus on how events in these regions impacted and impinged upon the affairs of the wider archipelago. He is currently completing his first monograph which examines this topic in closer detail.
As a researcher, he is particularly interested in exploring the developing relationship between Ireland and Scotland and how events in these regions shaped the ambitions and concerns of both the English and Scottish monarchies throughout the period c.1100-c.1600. Simon's research interests also include piracy and warfare, lordship and nobility, and culture and society within the Gaelic world.  
Teaching
At undergraduate level, I teach on Freshman modules, 'Imagining History' and the 'Hundred Years War'. At Sophister level, I coordinate a List I module entitled 'Lordship and Dynasty: The Gaelic World and the Shaping of Britain and Ireland, c.1296-c.1513' and a List II module, 'Lancaster versus York: Power, Conflict, and Identity in the Wars of the Roses'. Both modules explore aspects of Irish and British history. I also offer a new module on the MPhil in Medieval Studies Programme: 'The Making and the Breaking of Britain and Ireland, c.1150-c.1550'.
Publications
Edited Collection:
D. Edwards and S. Egan (eds), The Scots in Early Stuart Ireland: Union and Separation in Two Kingdoms (Manchester University Press; Manchester, 2016) ISBN: 978-0-7190-9721-8.
Journal Articles:
'Lordship and Dynasty in the Late Medieval Irish Sea World: The Hiberno-Scottish Nexus', Cambrian Medieval Celtic Studies, 78 (Winter, 2019), 1-44.
'By Land and By Sea: The Role of the Maritime Sphere in the Expansion of O'Donnell Power, c.1380-1500', Journal of the North Atlantic (Special Edition, 2019), 12, 16-31.
'Richard II and the Gaelic World: A Reassessment' Journal of British Studies, 57:2 (April, 2018), 221-52.
'The Early Stewart Kings, the Lordship of the Isles, and Ireland, c. 1371-c.1433', Northern Studies 49 (2018), 60-77.
Book Chapters:
'A Playground of the Scots? Gaelic Ireland and the Stewart Monarchy in the Late Fourteenth and Fifteenth Centuries' in L. Clark (ed) The Fifteenth century XVI (Boydell and Brewer; Woodbridge, 2018), 105-121.
'An Irish Context to a Scottish Disaster: James IV, the O'Donnells of Tyrconnell and the Road to Flodden' in K. Simms and J. Mannion (eds.), Politics, Kinship and Culture in Gaelic Ireland, c.1100-c.1690: Essays for the Irish Chiefs' and Clans' Prize in History (Volume 2; Wordwell Books; Dublin, 2018), 10-16.
Contact Details
Department of History
Trinity College
Dublin 2
SEGAN1