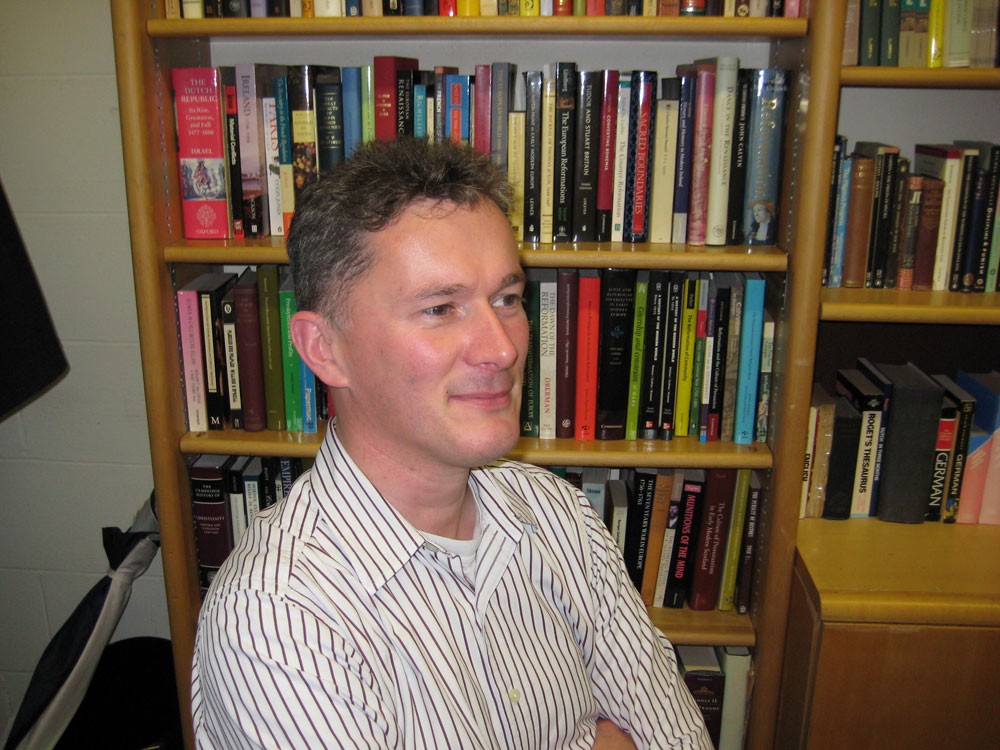 Dr. Graeme Murdock
Associate Professor in European History
Research Interests
I have two main areas of research. The first concerns efforts to promote strict standards of moral discipline in French-speaking Reformed communities during the early modern period. This involves analyses of attempts to reform sight, the body and sexuality. I also study religious life in Hungary and Transylvania. My research examines religious pluralism in Hungary and the character of the Hungarian Reformed community during the early modern period.
Select Publications
Books
The Hungarian Reformation: Books from the National Széchényi Library, Hungary (Advisory editor. Leiden: Brill, 2009).
Beyond Calvin: The intellectual, political and cultural world of Europe's Reformed churches, c.1540-1620 (Basingstoke: Palgrave Macmillan, 2004), pp. x + 191.
Confessional Identity in East-Central Europe (Ed. with Maria Cruciun, Ovidiu Ghitta; Aldershot: Ashgate, 2002), pp. xiv + 207.
Calvinism on the Frontier: International Calvinism and the Reformed church of Hungary and Transylvania, c.1600-1660 (Oxford: Clarendon, 2000), pp. 390.
Articles
'Responses to Habsburg persecution of Protestants in seventeenth-century Hungary', Austrian History Yearbook, 40 (2009), pp. 37-52.
'A magyar reformatus egyhaztortenet-iras', in G. Fazakas, D. Csorba & B. Barath, eds, Egyhaz es kegyesseg a kora ujkorban. Kutatastorteneti tanulmanyok (Debrecen: Harsanyi Andras Alapitvany, 2009), pp. 59-82.
'Calvin, clothing and the body in Reformed Geneva', Proceedings of the Huguenot Society of Great Britain and Ireland (2007).
'Did Calvinists have a guilt complex? Reformed religion, conscience, and regulation in early modern Europe', Studies in Church History, 40 (2004).
''Freely elected in fear': Princely elections and political power in early seventeenth-century Transylvania', Journal of Early Modern History, 7 (2003), pp. 213-44.
'Dressed to repress?: Protestant clergy dress and the regulation of morality in early modern Europe', Fashion Theory: The Journal of Dress, Body and Culture, 2 (2000), pp. 179-99.
'The Importance of Being Josiah: An Image of Calvinist Identity', Sixteenth Century Journal, 29 (1998), pp. 1053-59. http://www.jstor.org/pss/2543357
Teaching and Supervision
I teach undergraduate modules on European history during the sixteenth and seventeenth centuries. These include the Freshman (Level 1) survey 'Europe 1500-1700: Power and belief', and the Honors modules 'Europe Reformed, 1540-1600' (List 1) and 'The Fall and Rise of Early Modern France' (List 3). At postgraduate level I teach modules on 'Culture and Religion' and on 'Tolerance and Intolerance in Early Modern Europe' in the MPhil in Early Modern History. I also supervise doctoral research projects on a variety of subjects on religious and cultural history of early modern Europe.
Contact Details
Room 3149
Department of History
Trinity College
Dublin 2.
Telephone: +353 1 896 1826
Fax: +353 1 896 3995
Email: murdocg@tcd.ie